Hi all, I hope you're looking forward to a lovely weekend! I know I am thrilled it's Friday! Been a long week over here, and so I needed a quick and easy dinner that didn't require a lot of thinking on my part. Enter yummy homemade chili! Okay, so it might be semi-homemade considering I use canned chili beans, but whatever.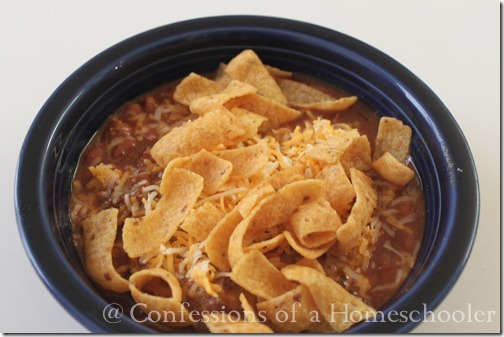 This is one of my go-to recipes for cold days, or nights when I'm in a hurry. It's great because you can let it simmer, or eat it right away depending on your schedule for that night. I also like this because as a kid I don't really remember liking chili. At all. As a matter of fact when my mom said she was making chili I cringed wondering if she'd let me opt out for cereal. But so far all of my kids enjoy this, even Turbo who doesn't like spicy, beans, or meat really. Go figure?
So that said, this recipe can be as mild or spicy as you like, I don't go overboard with the spice, but whatever works for your family is cool with me! And them I suspect. Anyway…let's get to it shall we?
Ingredients:
1 Family sized can of Kuner's Chili Beans (I get the mild ones, and the largest can they make. If you can't find the large one, use two smaller ones 12oz each. But you don't have to be precise with the amount here, just make enough beans man. And yes, I really prefer the Kuner's brand.)
1 lb lean ground meat
1/4 finely diced onion (I say finely diced because that way the kids don't realize they're in there, but you still get the flavor.)
2 Tbsp chili powder
1 tsp onion salt
1 tsp garlic salt
1 tsp ground cumin
Optional: approx. 1/4 cup cornmeal (You can also use masa-corn flour)
Optional: Shredded cheddar cheese and Fritos or cornbread
Directions:
In a sauce pot brown the ground beef with the onion until browned. Make sure to chop up the ground beef quite finely like you're making tacos. Drain grease and pour in the chili beans. Sprinkle on the chili powder, onion salt, and garlic salt to taste. I usually go over the top twice with the chili powder, then once for the salts. Next sprinkle in the cornmeal. I really think this gives the chili a sweeter flavor and also helps to thicken it up. Stir well, and simmer on low heat until ready to serve!
Serve with shredded cheddar cheese and Fritos. If you have extra time, it's also great with your favorite cornbread recipe!
And that's it y'all. No I'm not southern, but it seemed to fit. Anyway, really that's all there is to it! Super easy and it takes me about 15 minutes to throw it all together, and if I'm out of one of the spices I just skip it and no one notices. Except for the chili powder, don't skip that.
Tip: Make a double batch and freeze half in a Ziploc bag! Next time you need a fast meal, thaw it out in a sauce pan and bam! Dinner's ready!