Happy Mother's Day to all of you wonderfully talented and awesome moms out there!
I wanted to remind you if no one's told you lately, that your kiddos are so blessed to have a mom as patient and loving as you are! And yes, I'm talking to all of you! The task of homeschooling is no easy feat, and we all have our weaknesses. But we also have a heart to touch the hearts of our children and that's the stuff that counts!
In celebration of all things mom, I have a special Mother's Day treat for you today! Our good friends at What's in the Bible are offering a printable Mother's Day Card along with a $5 off coupon for you all.  Use Coupon Code: MOM5 to get your discount!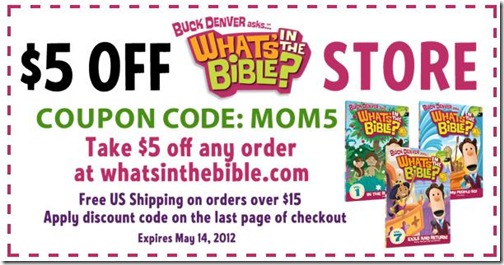 They created this cute printable card you can print out and let your kiddos fill out, maybe even with the help of Dad!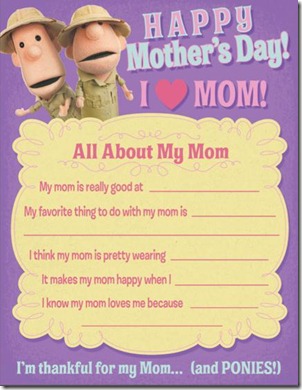 –> Click here to download the Mother's Day Printable <–
Who can find a virtuous woman?
She is far more precious than jewels…
Strength and honor are her clothing, and she can laugh at the time to come.
She opens her mouth with wisdom, and loving instruction is on her tongue.
She watches over the activities of her household and is never idle.
Her children rise up and call her blessed.
Her husband also praises her:
"Many women are capable, but you surpass them all!"
Charm is deceptive, and beauty is fleeting;
but a woman who fears the Lord is to be praised.
Honor her for all that her hands have done,
and let her works bring her praise at the city gate.
~ Proverbs 31:10, 25-31
Happy Mother's Day!