Hi everyone! It's that time again! The Good Morning Girls are gearing up for their fall Bible study on Colossians! If you're interested in joining my group, I've set up a Colossians Facebook group again for all of us to talk, encourage, and bless one another as we study through Colossians together.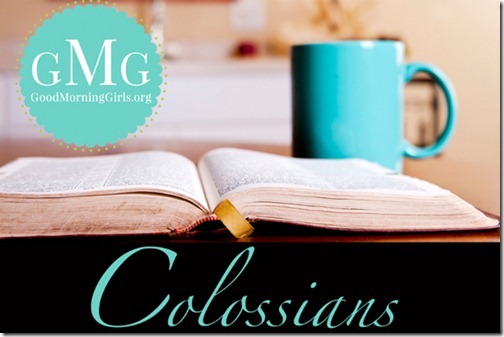 Session Dates: September 17th – December 21st
Don't forget to join the Confessions of a Homeschooler Colossians Facebook Study Group
Downloads: To get the free downloads simply subscribe to the GMG blog. You'll also get M-F updates on the study, and encouraging words from the leaders. Once you subscribe the links to download the documents can be found at the bottom of your GMG welcome email.
What is Good Morning Girls? (GMG)
"If you have never heard of Good Morning Girls before here's a little explanation. "Good Morning Girls" is a title for a group of women who use email, Facebook, Twitter, Skype or text messaging to keep each other accountable for their quiet times. For 3+ years, I have been a part of a group of girls who email each other each daily after we have our quiet time. We say "Good Morning" and then share what we read in our quiet time. Some of us have our quiet time first thing in the morning, while others squeeze it in during children's naps or at bedtime. The time of day doesn't matter…..our focus is just being in God's Word daily!" ~ Good Morning Girls Blog
Visit the Good Morning Girls blog for more information on who can join, what the commitment is and how to subscribe!
See you Monday for day 1 of our study!