Hi everyone! I have another fun giveaway from What's in The Bible? today! They just released their new Volume 8 DVD "Words to Make us Wise"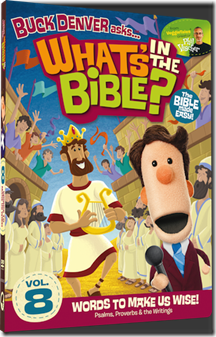 "Words to Make us Wise" (Psalms, Proverbs & The Writings) includes two 25 minute episodes!
Poems in the Bible? Learn about the Bible's poetry, the amazing story of Job, and Psalms – the Bible's song book!
Wisdom from Above: Solomon shares his wisdom in the book of Proverbs, then Sunday School Lady finds the meaning in Ecclesiastes and explains how the Song of Solomon – a book of love songs – ended up in the Bible!
What's the cost? $10.00 (reg $14.99)
Our thoughts: My kids absolutely LOVE the What's in the Bible DVDs! The characters are fun and have catchy songs and themes to keep them interested. Our only real issue is the accents of the characters. Sometimes they're kind of hard to understand due to their accents, but my kids still usually end up getting the point by the end of the show.
So far they have released Volumes 1-8 in their DVD series.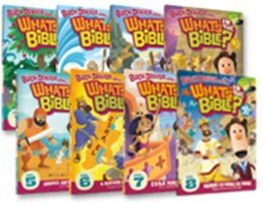 Titles include:
In the Beginning (Genesis)
Let My People Go (Exodus)
Wanderin' in the Desert (Leviticus, Numbers, Deuteronomy)
Battle for the Promised Land! (Joshua, Judges, Ruth)
Israel Gets A King! (1 & 2 Samuel)
A Nation Divided (Kings and Chronicles)
Exile and Return (Ezra, Nehemiah & Esther)
Words to Make Us Wise (Psalms, Proverbs & The Writings)
My kids are visual learners for the most part, so they remember the Bible a lot better when they SEE it in action! And thanks to VeggieTales creator Phil Vischer, the What's in The Bible?  series of DVD's is the perfect way to do that!
Can't Wait?
What's in The Bible?  is offering 50% off Volume 1 DVD for my readers! Use Code: COAH50
Ready to win?
What's in the Bible is offering a free set of What's in the Bible? DVDs Volumes 1-8 to one of you!