Guess what tonight is!? Yep, it's "Mini-Van Express" night at the Confessions home! Whoot whoot!
So what are these golden tickets good for? Besides sheer excitement from most kiddos?
Ready to start a Christmas tradition that the whole family will enjoy? I know you've all seen The Polar Express, well, this is our own version of that fun adventure! Each year we hide the "Golden Tickets" in our kids' beds, then get ready for a night full of fun!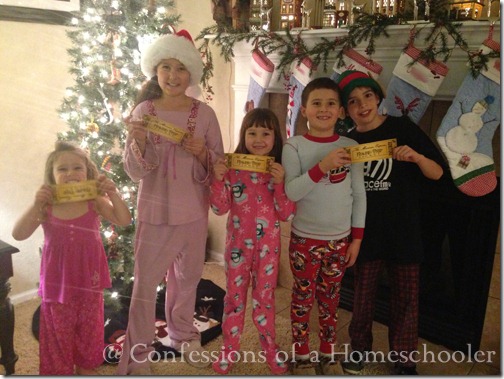 Toot toot, All Aboard The Minivan Express!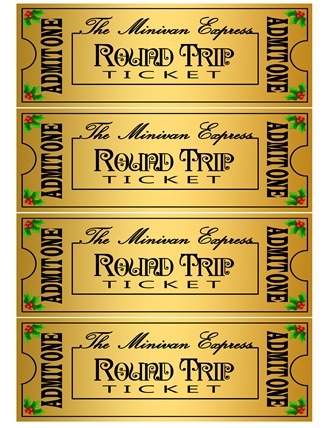 Click here to download your golden tickets!
P.S. Don't drive a mini-van? Don't worry, page 2 has "Christmas Express" tickets, so you can make it work for your family no matter what you're driving, it could even be a sleigh! ;o) wink…wink…
So what the heck is the "Mini-van Express" you're asking yourself?
We usually start off with a make your own pizza night:
Right after dinner, usually an early dinner…*wink, wink*… I have the kids go get ready for bed.
While daddy is helping everyone get ready, I'm downstairs preparing for the Mini-Van Express. Last year we used our Plastic Rudolf Cups to hold popcorn. This year, we're bringing along some of the yummy snacks we made earlier in the day. Some yummy fudge, recess peanut butter cookies, pizzelle cookies, and regular peanut butter cookies.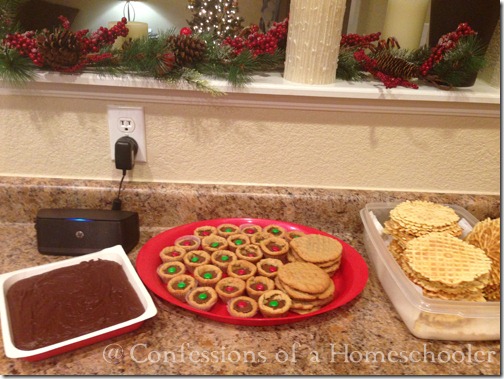 I did decide to let everyone have hot chocolate, but don't be afraid, I put sippy cup lids on them so my van didn't get destroyed in the process. (This picture is from last year, but you get the idea.)
So, as soon as they climb into bed, they will find the beautiful golden ticket hidden under their covers! Get ready for lots of giggles and screams as they all find their tickets!
Next they are all instructed to grab their slippers and head for the car where Daddy is waiting for them.
Upon entrance to The Minivan Express, all of the kiddos get in a line and my husband hole punches the tickets (you know for effect and all.)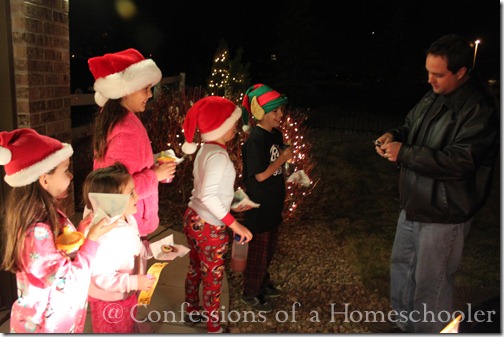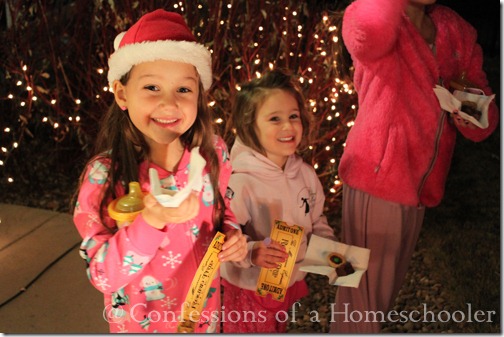 Next we drove around to find the best Christmas light display we could find. One year we went to a live reading of "The Polar Express" at our local Barnes & Noble bookstore.
This year we opted for lights…here were a couple of our favorites!
Now that they know what the tickets are for, they wait eagerly each year for the night when the coveted tickets will be found hiding in their beds! Maybe I'll do something crazy and pull them out in July or something and we can go do a fun night out for yogurt or something…hmm…
Some more trip ideas for you:
Check online for best Christmas Lights in your area! Pack up your car with popcorn in Rudolf cups, hot chocolate in coffee mugs (with a lid!), and Christmas music. Enjoy driving around your neighborhood checking out all the Christmas lights!
Check your local Barnes & Noble, most years they do "The Polar Express " for story time, all the kids come in their jammies, and ours gave out little jingle bells to all the kids!
Ice Skating: If you have a local outdoor ice rink, check out prices and times, and go ice skating!
Polar Express Lapbook Printables: Since this idea was taken from The Polar Express, I thought I'd add a link for more fun activities: The Polar Express.
North Pole: Check online for North Pole exhibits in your area, some even have a train the kids can ride on!
Santa Claus: Pack the kids in the car and take a trip to see Santa at your local mall and get their pictures taken!
Merry Christmas!