Hi girls! Okay, so I have another great product to share with you today…sorry about all of these, but I'm on a roll apparently! If you really hate them, let me know and I'll stop immediately

! Today I'm talking nails. Nail polish and nail polish organization.
I don't know about you, but I'm very rough on my nails. Having four children, homeschooling, taking care of a home, and blogging all take a serious toll on my nails. Typically they break easily, and nail polish? Oh forget it. I just didn't even bother since I knew it would get chipped off that very night as I did dishes.
But then…
I found Revlon Colorstay Top Coat and Revlon Colorstay Basecoat.  Oh my heavens…yeah! No kidding ladies, this is my new holy grail for no-chip nails.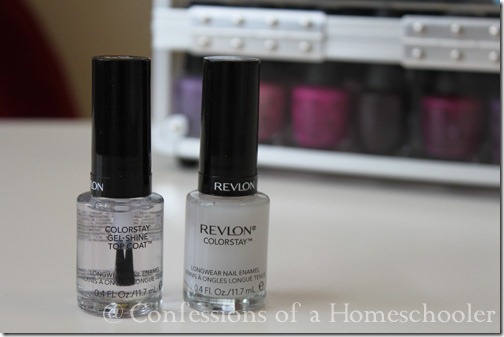 I'm not sure what's in these…probably something terrible…but whatever it is, my polish actually…gasp…stays on! No chips, no kidding.
Really my polish lasts so long with this, I'm usually bored of it and end up taking it off before I see any chipping!
The other thing that I've noticed is that my nails aren't breaking either. It doesn't say anything about strengthening your nails on the packaging, but I think it does. I don't let my nails get long anyway, too impractical for my life style, but at least they're all about the same length now and long enough to look nice when polished.
Now, let's talk polish. My numero uno polish brand is O.P.I. It is good quality, they have a TON of colors to pick from, and they glide on smoothly which I like.
I recently found this cute acrylic cosmetic case hiding underneath my sink. It's been there for years and had VERY old makeup in it that was from a gift of some kind. Probably from back when I was a teenager or something. But I kept it, and now I'm finally using it!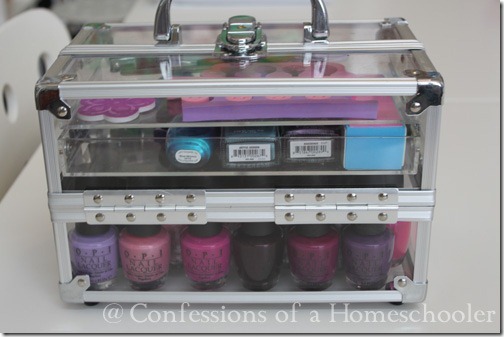 (I'm so sorry, I can't find this exact one online, but I've seen similar type things at Target, Wal-mart, The Container Store and Ulta. I did find this Small Craft Organizer from The Container Store, not as cute, but still functional!)
So, little to my knowledge this thing makes a great nail polish caddy! When opened fully, it has two drawers that fold out to give some added space for all of your supplies.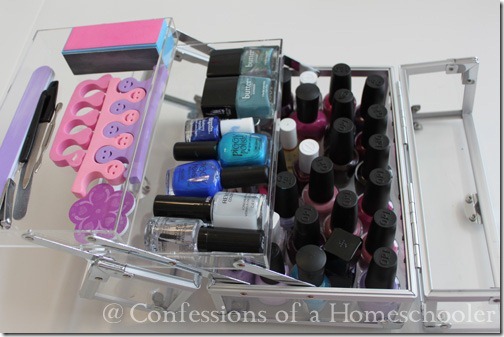 And with 4 girls in the house…lets just say we paint a lot of nails. SO the top drawer holds all of our supply type things, files, clippers, toe separator thingies, and a buffing bar.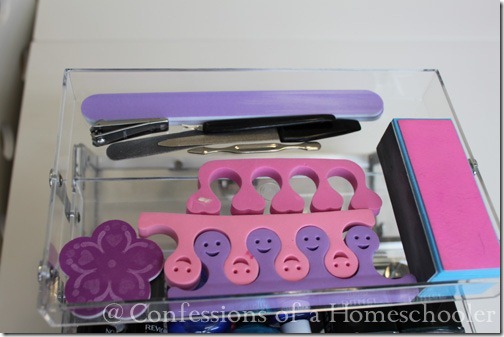 The next one holds my top/base coats, and some of the crazier colors…namely blue…and really ones that were flat enough to fit in the tray.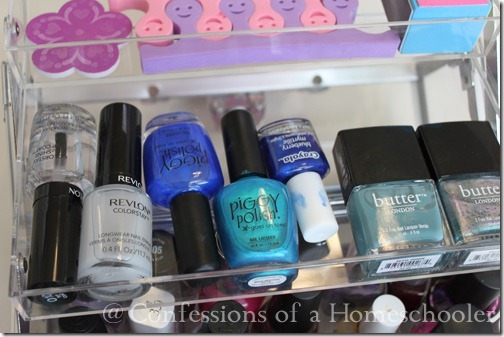 The bottom large container holds all of our polishes. You'll notice that most of them are O.P.I. I'd just rather pay for them than purchase the cheap ones that actually peel off your nails in about 5 minutes.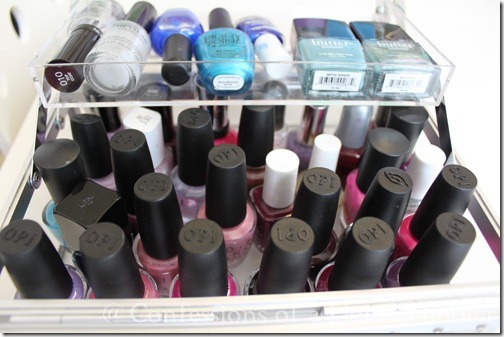 So here it is, our nail polish organization caddy all closed up. It has a nice handle on it too that allows us to grab all of our colors at once and have a painting party. Or a painting assembly line which is more what it's like at our house.
Today's post is brought to you by the color Anti-bleak from O.P.I. One of my new favorites, kind of a cranberry color.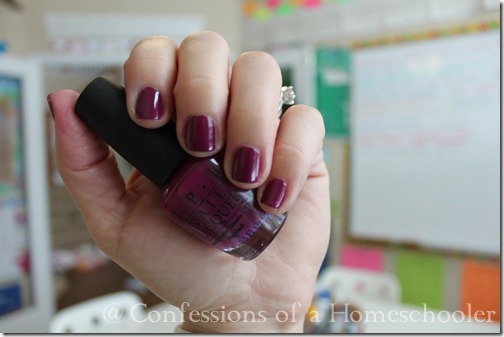 Just kidding about the "brought to you" part above. I'm not affiliated with any of the companies above, just wanted to share some great stuff with you, my awesome readers!
Have a favorite nail polish or polish organization tip to share? Leave a comment below! Now that my polish actually stays on, I'm game for new colors! YAY!