Hi everyone! I know you all love the Family Time Fitness giveaways I've been doing, and they just keep getting better! The month of March is the 2013 Fitness 4 Homeschool Ultimate Giveaway!
So included what's this ultimate giveaway?
A PC Samsung Galaxy Tab 2 7.0 Tablet, with a 7" Screen, 8GB Storage, Android 4.0, Bluetooth and Wireless PLUS The Platinum Fitness Package is Pre-Loaded on the device!
And another 5 winners will receive the Platinum Fitness Package as well which includes: Core 1, Core 2, Basketball Module, K-1st Workbooks Volume 1-4, 2nd-3rd Workbooks Volume 1-4, 4th-5th Workbooks Volume 1-4…
Giveaway Discounts:
If you have wanted this curriculum or just saw it for the first time, now is the time go get it! Select products are featured at a 20% Discount for the length of the contest, so make sure to visit Family Time Fitness soon to get the discount!
What happens if you purchase the product and you win? Family Time Fitness will refund the money you spent when you purchased your products during the giveaway. So buy with peace of mind, if you win you get your money back!
Why do such an awesome giveaway? Proceeds from the 2013 Fitness 4 Homeschool Ultimate Giveaway will help support these amazing children's charities: HSLDA (Homeschool Legal Defense Association), and the Easter Seals Disability Services. Both charities are dedicated to bringing hope, creating happy memories, and improving the quality of life for children who've experienced life-altering situations. And your participation can help!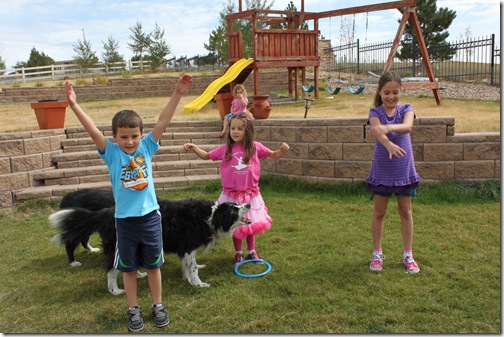 Why do we like this program?
We've been using FTF for about two years now and the kids are STILL loving the activities, and I like that they're super easy to do without a lot of prep work on my time. I simply print my lesson plans as they are sent to me. I keep them all in a binder for easy access, then whenever we are ready for our lesson I bring out my binder and flip to the next lesson and get started!
One of the things I like most is The Family Time Fitness YouTube channel.  Here you can see videos on all of the exercises to make sure you are doing them correctly, and also informational videos as well! Very helpful!
What does the curriculum include?
Each lesson is planned out for you from start to finish
Detailed instructions and videos to help you teach the skills
Easy to customize to your schedule
Motivational reminders sent to your inbox
Most activities can be done indoors or outdoors with minimal space requirements
30-45 minutes per day
Increases physical health and well being
Program develops fundamental movements, agility, and balance
Includes progress chart
Activities are progressive and sequential
Daily Food Diary
Grocery List
Meal Planner
Nutrition Log
Tracking Calendar
 Ready to win?
The giveaway will run from today until March 31, 2013!
Simply click the link below and signup to win!
–>  Family Time Fitness Tablet / Platinum Package Giveaway <–