Hi everyone! Wow, I guess it's time for another monthly meal plan for you. Sorry it's late, I actually forgot it this month. I've been swamped and apparently the new month came without my noticing! Thankfully, I have another meal plan to the rescue to help save my sanity and keep my family fed!  Hope you enjoy it, and that it relieves a little bit of your daily stress level.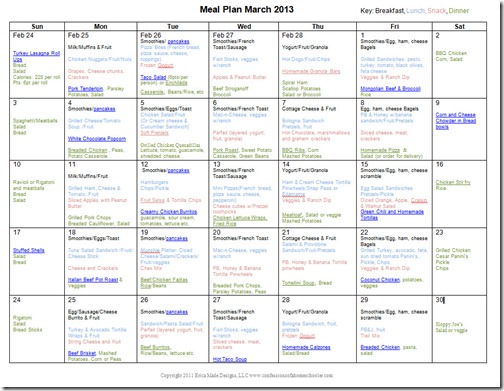 Click below to download your preferred meal plan:
Looking for some smoothie recipes? Check out our ideas below!
I get a lot of questions about my smoothie recipe, and frankly I typically throw in whatever frozen fruit we have and call it good! But here it is in more detail for those of you who are wondering…
Ingredients:
1 banana (frozen is better, but you can use one at room temp.)
2 cups frozen strawberries (Again, room temp is okay)
1 cup milk
1/2 cup vanilla yogurt (We prefer frozen yogurt)
1/2 cup orange juice
Optional: Ice, if you have not used frozen fruits, stick a handful of ice in there to help blend it together.
Optional: 2-3 tablespoons honey to taste (The plain fruit can be a bit sour, but the orange juice helps with this, so try it before adding any sweetener)
Directions:
Add all ingredients into a blender and mix until smooth! Pour into glasses and serve!
This usually serves my 4 kiddos and me, but they all get half glasses. If I need a little more, I'll just add in some more milk or juice. It makes the smoothie a bit runny, but no one seems to mind and it's cheaper that way!
Note: Really you can use any type of fruit you prefer! Some of our favorites alternatives to above:
Mango, peach, & banana.
Raspberry, Blueberry, and Strawberry