Welcome to our final state study as we've trekked across the United States using our Road Trip USA Geography Curriculum! Today we have finally made it to the wonderful state of Wyoming!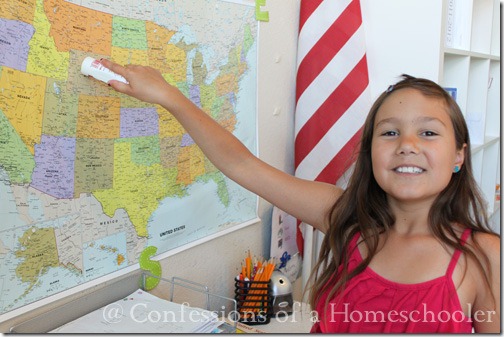 Wyoming was named the 44th state on July 10, 1890. It is known as "The Equality State" because it was the first place where women were granted the right to vote. The law allowing this was passed in 1869, 21 years before Wyoming became a state.
Here are some of the things we learned about this week:
Located Wyoming on our wall map
Read our National Geographic Atlas and located Cheyenne, WY using the map coordinates.
Worked on memorizing our US Presidents Song
Learned about the state and it's flag
State Bird: The Western Meadowlark
State Mammal: The American Bison
State Flower: The Indian Paintbrush
Famous People: Jackson Pollock
State Sport: The Rodeo!
Food: Buffalo chili (Recipe included in the curriculum.)
The state flag of Wyoming was adopted in 1917. The Wyoming state animal, the buffalo, is centered on the flag. The state seal is branded on the bison. It has a blue background with white and red borders. The red represents the Native Americans who knew and loved the country long before settlers came, and also the blood of the pioneers who gave their lives reclaiming the land. White is for purity, and blue the color of the sky and mountains, fidelity, justice and virility.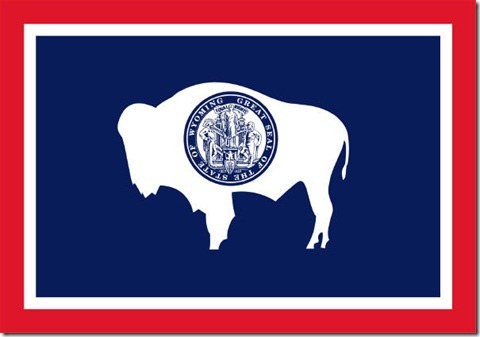 Here is my white board for the week, we use this to review all of the state facts and symbols each day.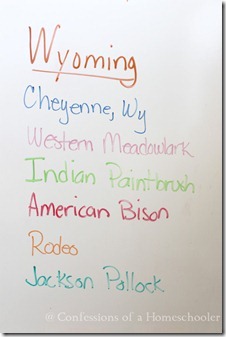 Jackson Pollock, an artist known for his abstract paintings, was born January 28, 1912 in Cody, Wyoming. He was introduced to liquid paint in 1936 and later used paint pouring as one of several techniques on canvases in the early 1940's. He would lay his canvases out on the floor and use what was later called his "drip" technique to splatter paints across the canvas. His unique style was thought to be one of the origins for the term action painting. Visit http://www.jacksonpollock.org/ to create your own Pollock style work electronically, or make your own action painting on paper! Here is our version, and you can see our entire unit study on Jackson Pollock here!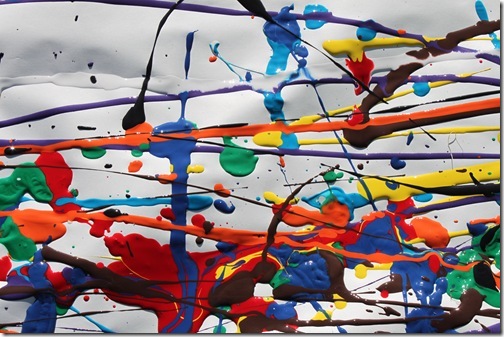 Yeah, no one liked this at all…tossing paint around haphazardly…right out of the bottle…HAHA! I think this was one of our favorite activities of all time!
We made designed a postcard from Wyoming, and wrote a fictitious letter to a friend. Apparently slightly influenced by the rodeo they recently attended.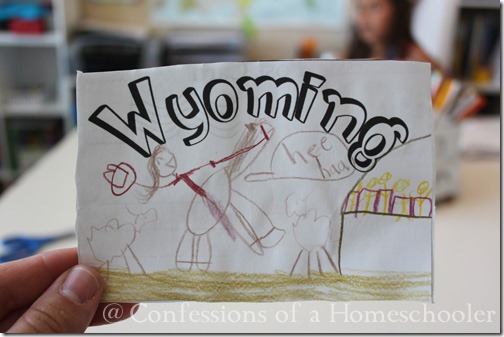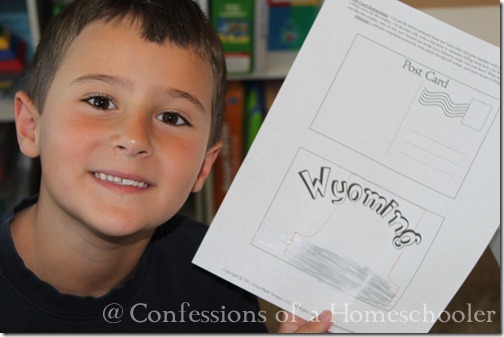 We read through all of the fun facts on Wyoming from our Which Way USA Highlights Subscription. If you can, this is a really fun United States subscription. The magazines have fun games, and the fold out you see below has pictures with lots of fun facts along with a full sized map of the state on the other side.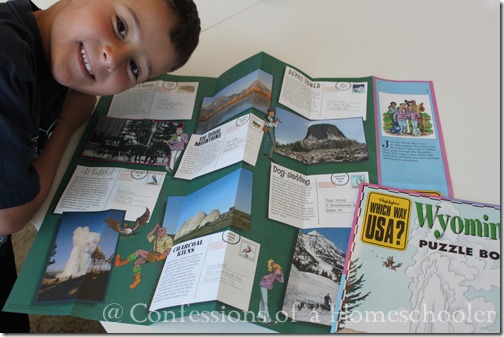 After learning about the animals symbols for Wyoming, we classified and added the animals to our USA animal wall!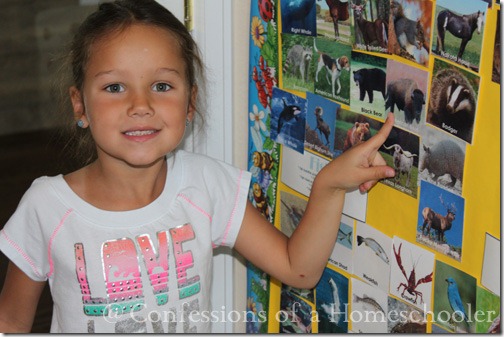 Turbo added Wyoming to our United States Bulletin. After that we reviewed all of the states we've learned so far on our travels.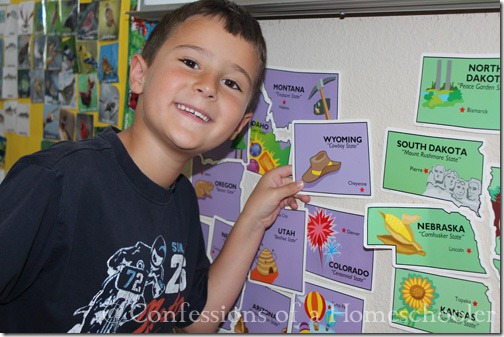 We took turns perfecting our mapping skills by locating Cheyenne, Wyoming in our National Geographic Atlas.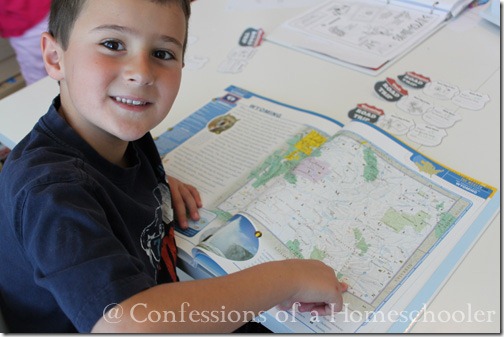 They all completed their state worksheets as we read through all of the Wyoming state facts in our curriculum: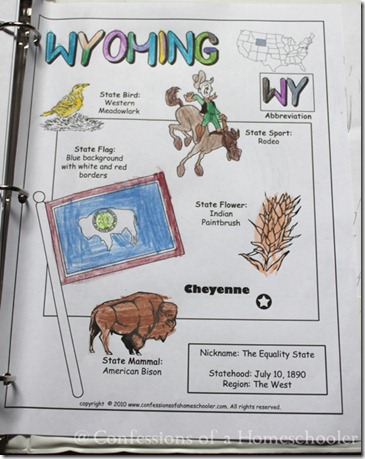 Then Tinker Bell had the honor of adding the state to our wall map. I've had lots of questions on this, and the directions are in the curriculum, but we purchased two of these Trend USA Wall Maps and then simply cut one up into states, then used small velcro dots to attach them as we travel through our state study.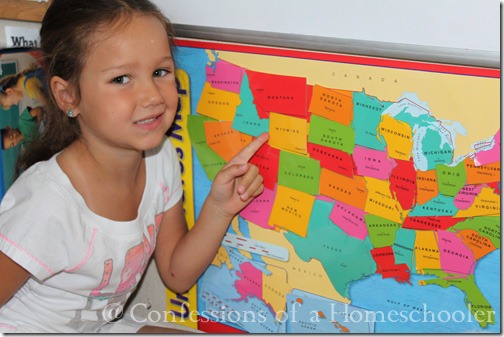 Finally we concluded our week by adding the Wyoming state flag to our Travel Log. It's our last state in the Road Trip and we've had a total blast!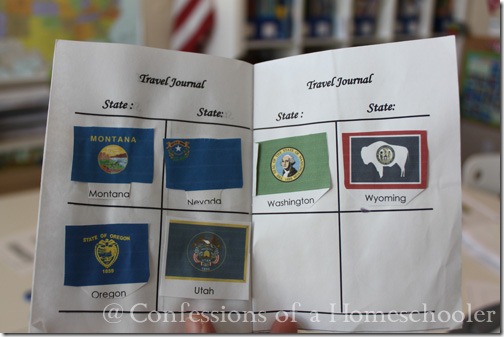 Next we added our final States to "The West" notebook divider page to complete that section.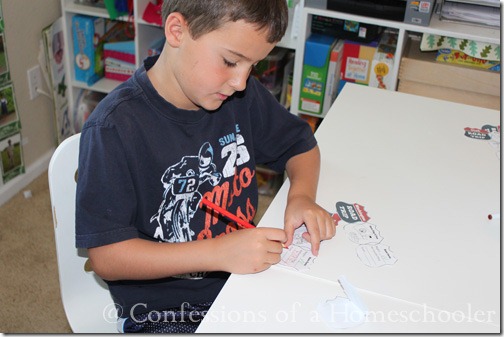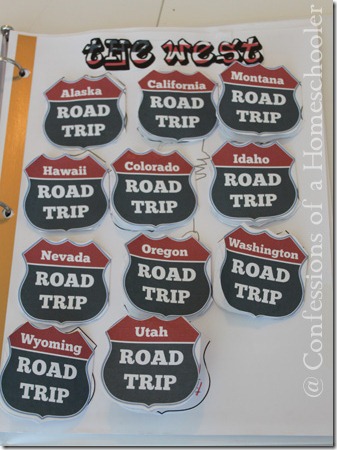 Since we are done, we took some time to review as well. Turbo reviewed his states and capitals using the flashcards from my curriculum.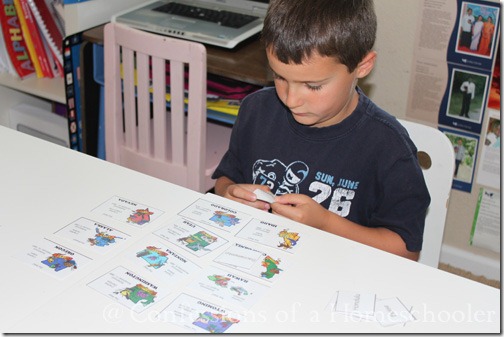 Then they each took a turn working on putting together our United States puzzle that comes in the curriculum as well. I simply laminated the pieces to make them more durable. They did slide around a bit on the table, if I did this again, I would put magnets on the backs so they could work the puzzle on our whiteboard and pieces would stay put!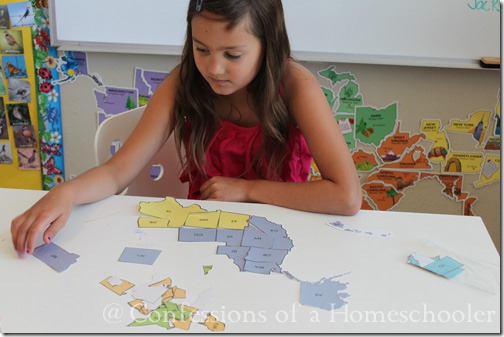 And the completed masterpiece…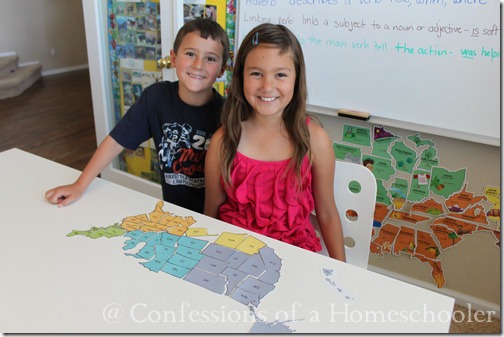 And that wraps up our Wyoming study and our United States study as well! To commemorate the completion of our curriculum, everyone received a certificate of completion and headed out for a special dinner night at a local restaurant that specializes in buffalo recipes!
If you'd like to come along with us on our Road Trip USA journey, click the image below to learn more! And thanks so much to all of you who came with us on our Road Trip! I hope you enjoyed the ride, and learned a lot about the United States of America!