Hi everyone! Welcome to the Teeny Tot Tuesday post on the Letter P! This week our Teeny Tot had fun going through some of my Letter P for Pumpkin and Letter P for Princess preschool activities. I hope you enjoy our peek into the Teeny Tot's school week.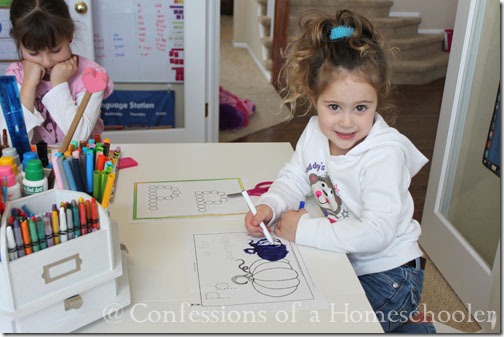 Letter P Memory Verse:
Praise the Lord; for it is good to sing praises our God. Psalm 147:1
Put on the full armor of God so that you can take your stand against the devil's schemes. Ephesians 6:11
Reading: Don't forget to read Chicka Chicka Boom Boom and put up the letter P on your Alphabet Tree! You can download my small alphabet letters here. (Here's a link to my Chicka Boom tree) This is an older picture, but I wanted to include it so you can see how to set up your own tree.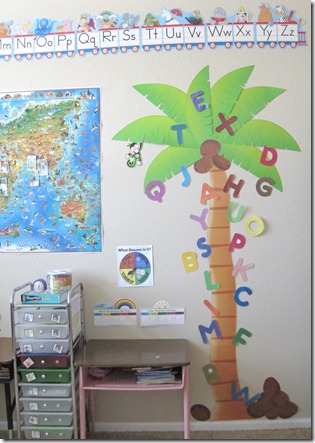 We're also starting to work on Letter P Blend Ladder: I use these for pre-reading practice, she sounds out each blend and sometimes we add an ending consonant to make CVC words.
Princes Size Sorting: Simply cut out each princess card, then sort by size. Discuss which is smallest, largest and medium!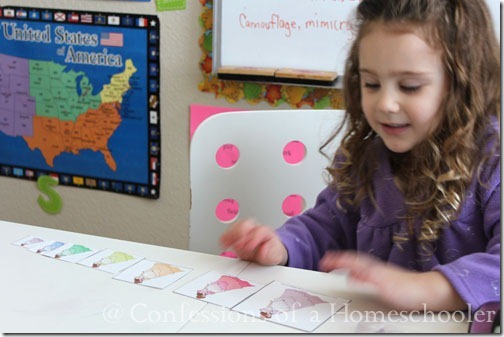 Pp poke page: I found this fun idea on Activity Mom. Instead of tracing, we are going to use a toothpick, or we have these cute Oversized Push Pins, to poke holes through the paper in the shape of the letter. Print on regular paper for easier poking, and do this one on carpet

Another idea would be to hole punch along the lines of the letter as well. Both work on motor skills!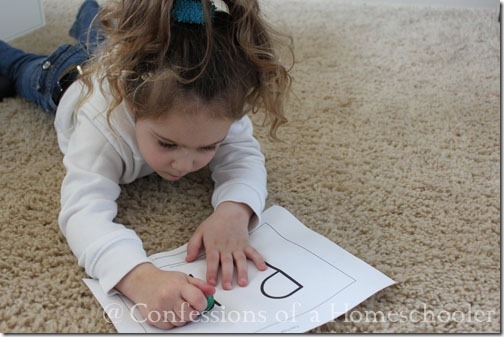 Letter P Cutting Practice: Cut along the dotted lines to help increase fine-motor skills!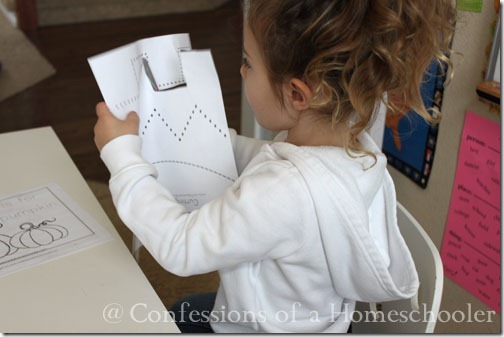 Dot-A-Dot Letter P Page. We love our Dot-A-Dot markers, so I've been looking for more ways to use them! If your child can do it on their own, I'd just give them a blank piece of paper and have them dot the letters!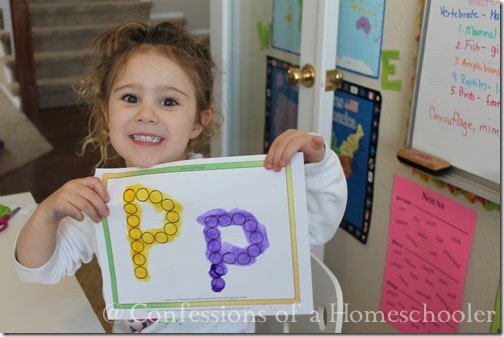 P is for Princess Magnet Page: I use a cookie sheet and small round magnets with this game, but you can also use it with Do-A-Dot Markers for more fun!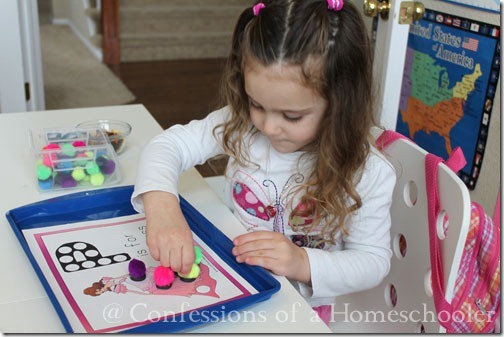 Large Lacing Pumpkin: Laminate and punch holes around outside edge.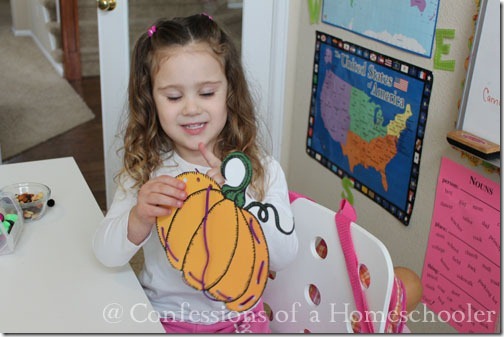 Numerical Order Puzzle: This is actually an item from my K4 Curriculum! Simply cut out each strip of the puzzle, then arrange in numerical order to complete!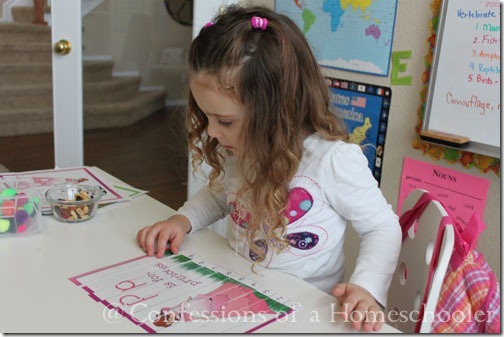 Pumpkin Pattern Activity: Just use the pieces to practice pre-math pattern skills and pattern making.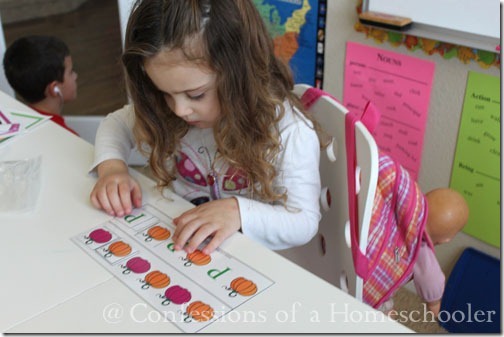 Pp Pumpkin Puzzle! Print, laminate, then cut in 6-9 pieces, whatever your child can handle.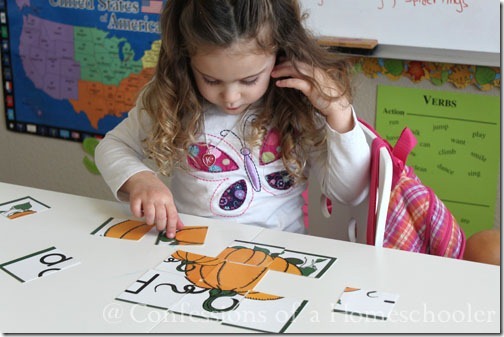 Color Matching Pumpkin Puzzles, I printed, laminated, then cut each pumpkin in half in different ways.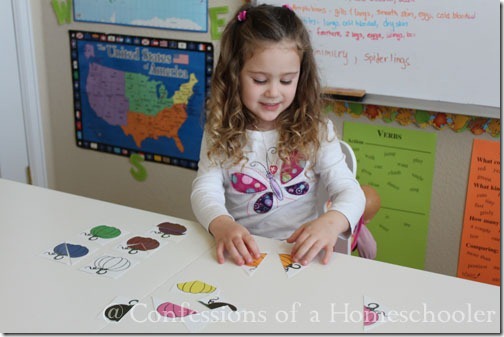 Pumpkin Number Cards: Put these in numerical order or play the 'missing card' game. Place all the cards in numerical order, have your child close their eyes then remove a card and see if they can tell you the missing number!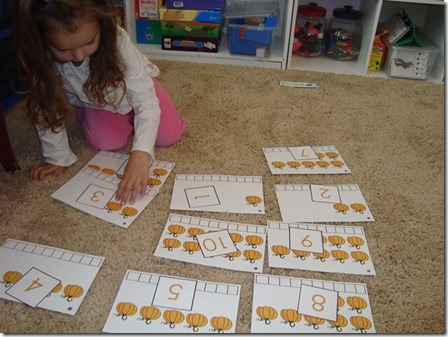 Pumpkin Pre-Writing Practice: I laminate this and use with Expo Dry Erase Markers for pre-writing practice skills. You can also print this in grayscale and use for more scissor skills practice!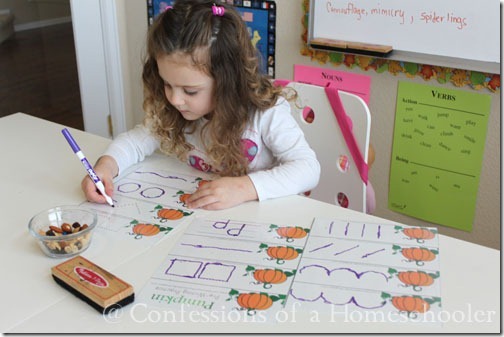 Large, Medium, Small Pumpkin Sorting! Laminate pieces then have fun sorting by size!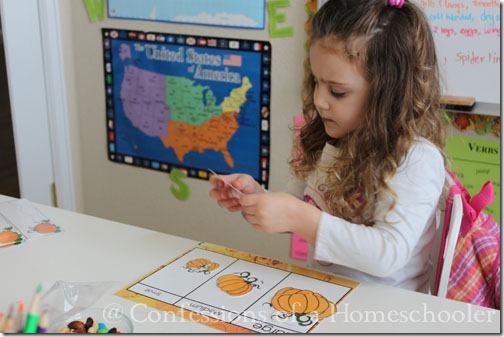 Pre-Writing Activity: Help the Princess get to her castle! Laminate these cards and use with dry-erase markers.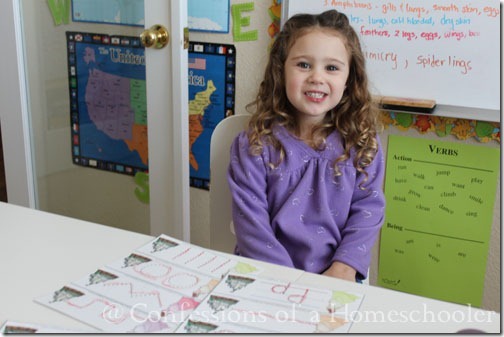 Math Activity: Princes Counting! Count the princesses on each card, then place the correct number tiles on each card.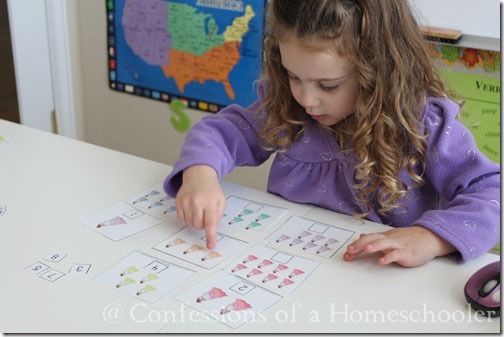 Princess Reading: Do Princesses wear Hiking Boots? by Carmela LaVigna Coyle (See bottom of post for more books by Carmela LaVigna Coyle)
Snack Time: Have a formal Tea Party! Make sure attendees dress up in their finest, then serve mini-cucumber and cottage cheese sandwiches along with other fun finger foods! Serve pretend tea, or warm tea, or even hot chocolate if tea isn't your cup ;o) This is an old picture, but it was so cute I had to include it!
Family Fun Night: Take a trip to a pumpkin patch, and have pepperoni pizza for dinner!
Letter Collage Worksheets: The download includes letters A-Z as well as a collage idea sheet. We use the collage items as objects to decorate our letters for an alphabet book. We also color, paint, and stamp them. Since we use both upper and lowercase, I have provided both for you! Click here to download the Letter Collages:
Those are just some of my letter P preschool activities! Click here to see all of the Letter P for Pumpkin and Letter P for Princess preschool activities.These activities are taken from my K4 level expansion and my Letter of the Week Curriculum, click on the images below to see more.