Hi everyone! I made a video of the Teeny Tot's workboxes for you today. She's just turned 4 years old and is about half way through my Letter of the Week curriculum. This week she's working on the Letter N for nest.
So if you're interested to see what is in the Teeny Tot's boxes for the day, click here to watch our Preschool Workboxes video!
So that's what the Teeny Tot is doing for today. As she works, she simply pulls out an activity and completes it. When she's all done she puts it to the side making a pile of "completed" activities. This makes it really easy for me to put the used activities away, as well as leaves her drawers empty for me to quickly refill for the next day.
While she typically gets through all of her activities per day, sometimes she leaves a game or two untouched which is fine. I just leave them in there for the next day and refill the other boxes with new activities.
I hope you enjoyed the video of the Teeny Tot's boxes! If you are using the Letter of the Week curriculum, and have a fun post to share, make sure to leave it below in the comments!
More helpful links:
These are just some of my preschool Letter N activities, click here to download all of the  Letter N preschool activities for free, or check out my Letter of the Week preschool curriculum to get the entire alphabet all at once!
The Letter of the Week is a full 26 week preschool course designed to give your student a head-start on preparing for kindergarten!It's packed full of hands-on educational activities that focus on the letter recognition, sounds, number recognition, counting, basic math skills, pre-writing practice, and all the necessary fine-motor skills that will be required for your preschooler to be ready for kindergarten! Included are weekly lesson plans that cover all the subjects a preschooler needs and more!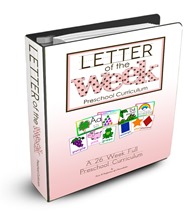 Is my Letter of the Week Preschool Curriculum a little too easy for your student? Are you ready for something a little more challenging? Then the K4 Curriculum is for you! The K4 Curriculum is geared towards kids ages 4-5 who are kindergarten ready and want a fun hands-on kindergarten curriculum.