Hi everyone! Today I have a great giveaway for all of you art lovers out there! I was excited to review the See the Light Tiffany Window art project DVD.
If you haven't done a See the Light DVD before, they're great. They offer basic skill art class DVDs, bible story lessons, and an art project series where students learn styles of various well known artists.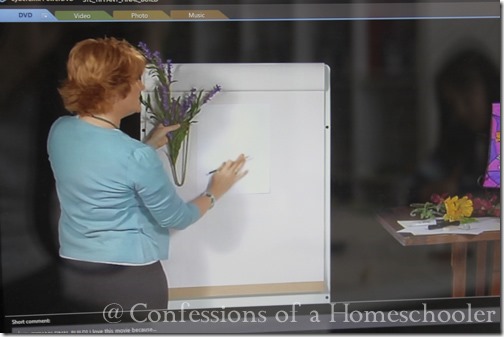 These videos are especially great for those of you who aren't great at teaching art class because, well, you don't have to! A very nice woman named Pat teaches them for you!
Pros:
Videos are detailed, and various skills are explained quite thoroughly.
You can pause & review the DVD as needed for your students.
Lessons are fun and engaging.
Lessons end with a nice completed project.
Cons:
Videos can be long, so sometimes you have to break in a lesson and complete it the following day.
Want more information?
We've reviewed See the Light Art Class DVDs before as well and they're all so fun! These are specific projects that teach the artistic style of Louis Comfort Tiffany.
During this project your students will plan their composition, learn the "rule of thirds", learn a bit on color theory and background shapes, and then finally complete their masterpiece using colorful markers, black sharpie, and pencil.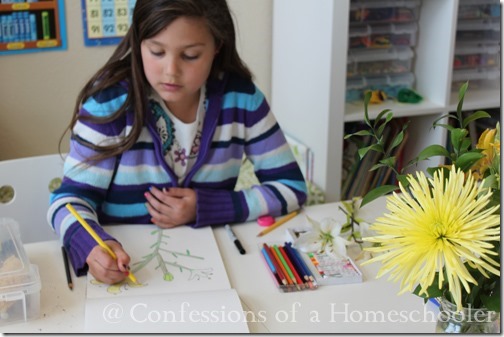 They start out with a basic pencil drawing, then go back in to add color. Finally they create the multi-colored background shapes to make the project reflect a true stained glass type window image.
Strawberry shortcake chose to use watercolor pencils, so when she was finished with her drawing, she went over it with water to blend each color. If you haven't tried these pencils before, I highly recommend them! The effect is wonderful!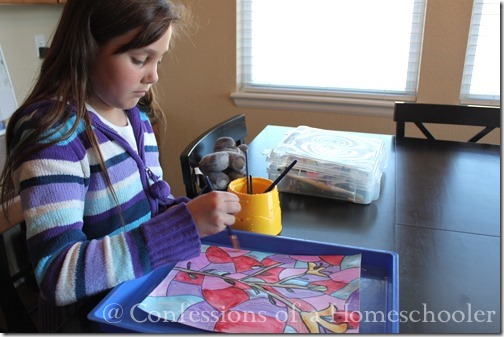 Here is her completed masterpiece, along side her inspirational flower arrangement.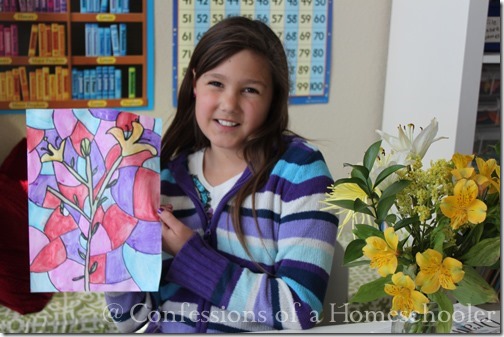 Have I peaked your interest?
You know I wouldn't do a review without a giveaway for you all too! So check the raffle copter below to win a FREE See the Light Tiffany Window Art Project DVD for your homeschool!