I'm going to do a short series of posts titled 'Daily Homeschool Schedule' for you all. I've had countless questions about our homeschool schedule. And you can see a basic overview of our daily schedule here.
But more specifically you've been asking questions about how long we do each subject, how many days per week, and what our day looks like hour by hour for each grade level.
So for the next few weeks I'm going to share our schedule in a more detail by each grade level.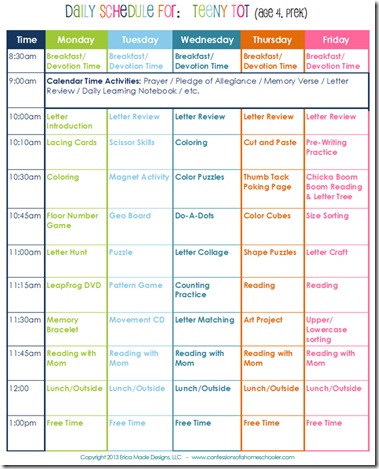 Download a copy:
Today we'll be taking a closer look into the life of the Teeny Tot. She's currently 4 years old and doing preschool this year. Since she won't be doing kindergarten until next year, we'll be doing another round of Letter of the Week and add in a few of the K4 activities as she's ready.
Here's our Basic Preschool Schedule:
8:30am   – Breakfast / Family Devotion Time
9:00am   – Calendar Time & Daily Learning Notebook
10:00am – Phonics
10:10am – Fine Motor Skills
10:30am – Color / Shapes Recognition
10:45am – Math Activities
11:00am – Logical Thinking
11:15am – Large Motor Skills
11:30am – Art
11:45am – Reading
12:00 noon – Lunch/Outside
1:00pm  – Free
Her schedule is pretty simple, and it can vary from day to day. While I just shared our basic frame with you, keep in mind we do not rigidly follow this schedule, and our days vary quite a bit.
The other thing I'd like to mention is that if the Teeny Tot were my oldest I would probably not be doing school with her every single day. I would more likely do a Monday-Wednesday-Friday schedule with her.
But since we have older kiddos doing school, the Teeny Tot likes to be included daily. She even usually stays in the school room by choice after she's done with her own activities.
Since she's doing my Letter of the Week curriculum again, she is focusing on one letter each week. I sort out the activities so that she's doing a bit of each skill every day.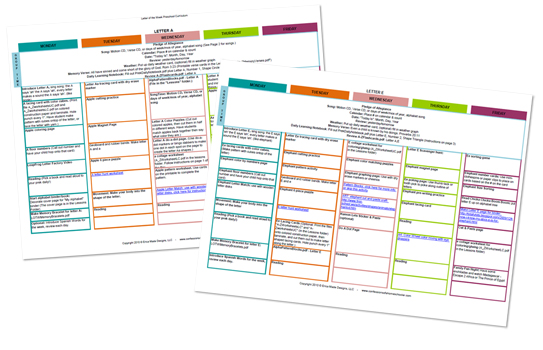 In the Letter of the Week lesson plans (shown above), these activities are planned out for you, so you don't have to do a schedule like the one at the top of this post unless you prefer to modify the curriculum.
Click here to see a SAMPLE LESSON PLAN
On most days the Teeny Tot does school from about 9am – noon. Like I said, it can vary. Often times she is done before that, it just depends on how long her activities take her that day.
And that's about it!
I'd love to hear some comments what you do for preschool each day!
Leave a comment below!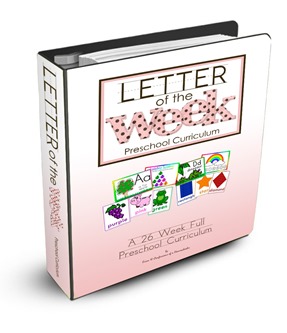 The Letter of the Week is a full 26 week preschool course designed to give your student a head-start on preparing for kindergarten! It is a 26 week curriculum that's full of educational activities that focus on the letter recognition, sounds, number recognition, counting, basic math skills, pre-writing practice, and all the necessary fine-motor skills that will be required for your preschooler to be ready for kindergarten! Included are weekly lesson plans that cover all the subjects a preschooler needs and more!