Hola and welcome back to another world geography trip down memory lane! This week we're reviewing the beautiful country of Panama!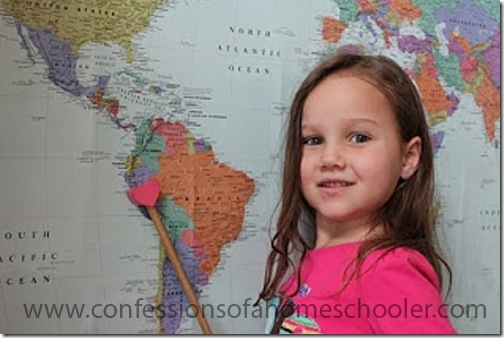 As usual, we started off by locating Panama on our World Map.
Here are some of the activities we did this week along with things I managed to capture on film!
Learned to say "Hello" in Spanish: Hola (hello) , "Thank You" : gracias
Locate Panama and capital Panama City on the wall map
Prayed for the people of Panama
Geography from A-Z pg 22 Gulf, Pg 25 Isthmus
Learned about the Panama Canal, did you know the average toll for a ship to pass through the Panama Canal is $56,000!
Made a Panama mini-lapbook component
Made tropical fruit snacks: Mango, papaya, coconut, bananas
Completed mapping and flag worksheets
Learned about and classified 6 animals of Panama
Animals from Panama mini-book
Did a pottery painting activity
Were supposed to make empanadas, but didn't quite get to it ;o)
Stamped our passports and moved on to Venezuela!
Here's my whiteboard for the week. We did the song from Brazil again as it was kind of hard to learn, and we didn't have one specific for Panama.
We worked on our flag and mapping worksheets:
Did our Panama Animals lapbook component:
Added our favorite animals to the Expedition Earth Animal Wall!
Did a mini-book on panama for our world lapbook that we're working on. Each country has a small mini-book. I have great plans to put them all in one big World Lapbook at the end of the year…we shall see, we shall see…
And we finished off our week by stamping our passports!
Click here if you'd like to follow along with our Expedition Earth Geography Curriculum Journey!
Expedition Earth is a hands on world geography curriculum that covers 31 countries across the world. It is designed primarily for K-5th grade students. Students will learn the continents, oceans, people, cultures, animals, climates, try new foods, crafts and more, all through hands-on activities!