I APOLOGIZE, iHOMESCHOOL NETWORK HAS RETIRED THESE ITEMS. THEY ARE NO LONGER AVAILABLE.
Hi everyone, are you thinking about starting a blog? Do you wonder how to make some extra income for your family at the same time? Well, we have iBlog and iBlog Pro bundled for you at a discount yipee! But you'll have to hurry the sale ends April 20th at midnight!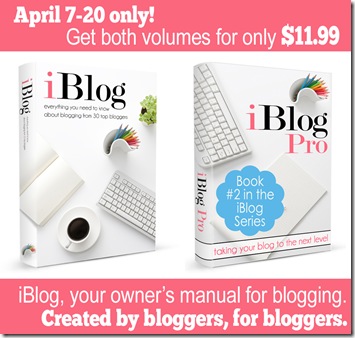 Disclosure: I am a contributing author for the iBlog ebooks. The link to purchase this eBook is an affiliate link and I will receive a percentage of the sale from purchases completed through my link.
iBlog:
I think the best way for me to explain the awesomeness of this book is to share our Table of Contents. There are 37 chapters with close to 400 pages full of helpful of information. I've teamed up with 30 other top bloggers to produce this new eBook! This resource is basically a blogger's "how-to" manual to help you start and maintain a successful blog. It's literally packed full of tips and advice from 30 influential and successful bloggers.
We bloggers share everything we have learned along our blogging journeys, from photography tips, how to get traffic, best practices for researching and organizing your content, joining link-ups, writing a media kit to attract advertisers, how to balance blogging, marriage, motherhood and much much more!
I was so excited to write a chapter titled "Using Freebies to Build Your Blog".   As you all know I love to offer freebies to you all, and sort of stumbled into selling my own products as well!
You can read more about iBlog in my post here.
iBlog Pro:
There are 49 chapters packed full of amazing blogging tips, tricks, and technical information on how you can create an awesome blog! It was created by 30 top bloggers. This bad boy really gets to the nitty-gritty of blogging.
Topics like how your blog can make money for you, how to maximize your time, setting up a business, accounting and taxes (ugh), working with vendors and sponsors, creating and selling products, and more are included in this amazing resource!
It also includes chapters on Technology and Tools, managing and mastering social media, creating your own ebook, productivity, writing motivation, and the best blogging conferences!
Seriously I can't tell you how much information is packed in this book! I have even learned a thing or two myself!
I've had so many questions from you all that are answered in DETAIL in this book!
This time I contributed a chapter on creating and selling eBooks which is an excellent way to contribute to your income.
And that can be really valuable to a stay-at-home mama!
So HURRY and get your bundle now! The sale runs from Monday, April 7th to Sunday, April 20th Midnight! Just click the link below to get your hands on the best blogging bundle ever!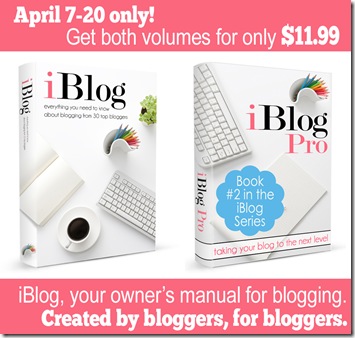 Then start blogging away!