I had the pleasure of meeting an amazing author this weekend at the Rocky Mountain Super Conference! His name is Chuck Black and he has a series of books for younger readers (and honestly I loved them as well) that will blow your socks off!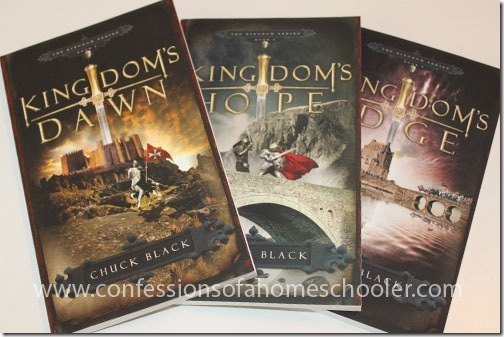 The Kingdom Series:
"Don your armor….Fasten your sword…Mount your Steed!

And get ready to embark on an epic journey of biblical significance into a kingdom of warriors, battles, swords, villains, and knightly heroes!"
The Kingdom Series books are a medieval adventure allegory of the entire bible that takes readers on an exciting journey over the course of 6 adventure packed books!
Each book also includes discussion questions and answers that you can use to help your readers make the biblical connections and character traits through out the stories.
After talking with Chuck for awhile and looking at his amazing books, I asked if I could do a review for his Kingdom Series, which I thought our kiddos would love! He agreed, and has even supplied me with the first three books in the series to giveaway to one of you as well!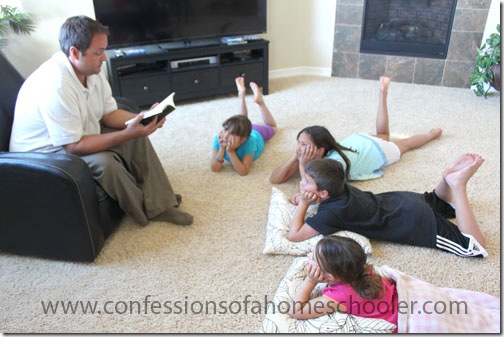 We received the first three books for review. My husband and I have been reading them as well and are loving them! I can't wait to get the rest of the series to see what happens. So far the books are fairly exciting to read, and even our girls have gotten into them as well. Chuck not only has strong male characters, but also strong female leads that help engage all readers.
He was also careful not to include any questionable material such as sorcery or wizardry in his books. Though I will say there is some violence in them. Mostly in the form of sword fights, and your basic knightly duels.
Kingdom's Dawn:
In his first book, Kingdom's Dawn, Leinad and Tess encounter adversity and challenges as Leinad discovers he has been chosen by the King for an important mission only he can fulfill. The loyal Leinad chooses to follow his King's commands no matter the consequences. Kingdom's Dawn spans the time from Adam to Moses.
Kingdom's Hope:
Kingdom's Hope, the 2nd book in the series, spans from the time of Moses to Malachi. In this novel Lord Fairos has sentenced Leinad to death in the Banteen desert. But Leinad returns as a true Knight of the King. His skill with the sword is unmatched this side of the Great Sea and he is determined to free the people from their bondage to Lord Fairos.
Kingdom's Edge:
Kingdom's Edge, the 3rd book in the series, spans the time from Jesus to the tribulation. In this novel Cedric meets a stranger who he discovers is a master of the sword. And he soon finds himself in an epic battle between good and evil!
What do we think?
We're currently reading these novels as a family to all of our children, and so far they're begging us to keep going! Each night we read a few chapters until lights out. Today Turbo said "I can't wait until tonight!"
When I asked him why he said, "Because we can't wait to see what's going to happen in the next chapter with Leinad!"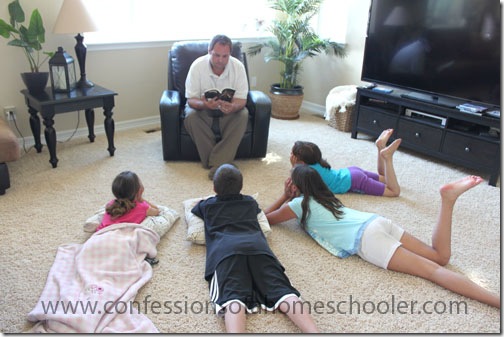 It took a few chapters to get into it, but even the girls are excited for story time now. We've chosen to read them together as a family to help with some of the more difficult wording that the kids might not understand. And to help them make the biblical connections as well. Plus it's just a fun series to go through together as a family.
Chuck recommended the books for ages 7 and up, however I think the reading would be a bit difficult for most younger children. Both Turbo (4th grade) and Strawberry Shortcake (5th grade) can handle the reading level, but like I said we're doing it as a family so the younger ones can be involved in the stories as well.
If you were to assign these out independently, I would probably recommend them for 4th grade and up. As an adult I'm also enjoying them as well. And as a homeschooling mama I also like the discussion questions and answers in the back. It definitely helps readers make the biblical connections as well as encourage critical thinking skills in relation to the allegory and character traits weaved through out the stories.
That said, we're absolutely loving these novels and can't wait to move on to the next one!
What's the cost?
The books retail for $8.99 each, but you can also get a discount for purchasing them in a set. Chuck also has another series, and more products on his website as well, so make sure to check it all out!
Want more information? Check out the links below!
Win it!
Chuck has graciously offered the first three books in the series to one of my readers! Just enter below to win!
{Disclosure: I received these products free for review on my blog. The opinions expressed in this post are my own, and were not influenced by the company or free product provided.}