Hi everyone! I have a super cute crochet penguin hat to share with you all today! Since I've made so many fun things for the girls, Turbo has been asking for something as well. And since he loves penguins I thought this might be right up his alley!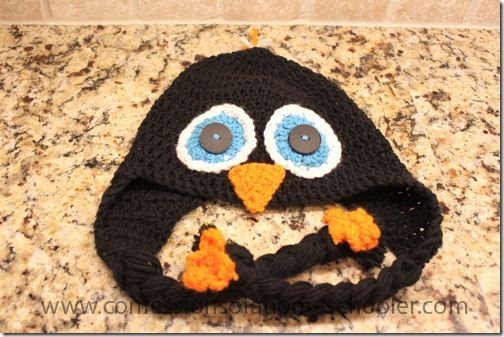 You Will Need:
1 5mm crochet hook
1 Skein black yarn (We used Red Heart medium worsted weight yarn. 
1 Skein accent color (We used some left over orange that I had from a previous project.)
1 Skein white (Vanna's Choice® Lion Brand medium in white.)
1 Skein blue for the eyes (Red Heart medium weight in Turquoise. The picture below is navy, I changed to the lighter blue because it stood out more.)
Two 3/4" black buttons for eyes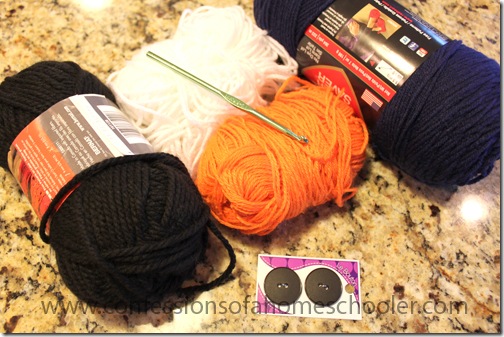 Some abbreviations you'll need to know to follow the pattern:
ch – chain
sl st- slip stitch
SC – Single Crochet
DC – Double Crochet
HDC – Half Double Crochet
HDC Decrease – Half Double Crochet Decrease
TC – Triple Crochet
If you haven't crocheted much I would encourage you to look up video tutorials on those stitches prior to beginning. There are plenty of them to choose from and I found them really helpful when starting the pattern.
You'll also want to watch the below video tutorial on creating a magic ring to help get your hat started. I found this DC Corochet Magic Circle Tutorial that starts with a Double Crochet and it helped greatly! Thanks Rebecca From ChemKnits!
Directions:
For the hat portion I used the pattern posted by Repeat Crafter Me. She has patterns for infant to adult so you can tailor it to fit your child's size. For Turbo I used the teen hat pattern.
For the nose I used this Triangle Shape crochet tutorial.
And then I added the little clover feet using this Shamrock Tutorial then just stitched it to the end of the ear flaps.
For some added pizzazz I laced a couple of pieces of the white and orange yarn into the top of the hat, so it sticks up like a little hair tuft.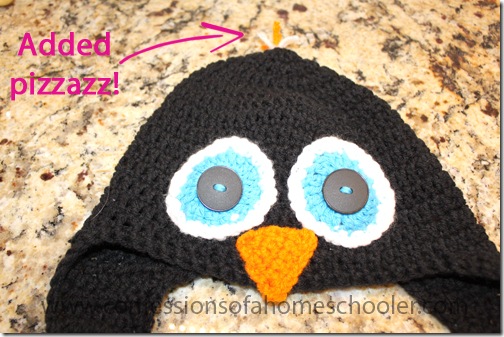 And that's it! This little hat was fairly easy, and I think it turned out great! Have a fun kids craft to share? Make sure to leave a comment below!