Good morning readers! I hope you're all enjoying my Christmas posts thus far. Today I have a very SPECIAL giveaway for you all and I'm so excited! Spielgaben has come up with a new and improved version of their amazing product and I have one to giveaway for you all today, so keep reading!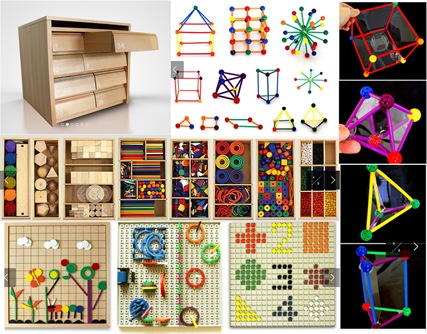 For those of you who don't know, Spielgaben is a company that produces environmentally sustainable and non-toxic child friendly materials. The Spielgaben set comes with all of the colorful materials you see below, including the 3 wooden trays and a chessboard that store all of the materials together. The set also comes with learning resources that include learning activities, user guides, over 30 sets of interactive worksheets, 65 inspiration cards, and more!
I thought their original product was pretty cool, but they've upgraded it to a new version 4.0. You can see my full review of version 3.0 here! It's the same amazing product just updated and made even better!
The new version comes with 2 sets of play boards. It includes a wooden checker grid, and a dual sided plastic board to help make use of some of their smaller manipulatives a bit easier.
It also comes with extra geometrical figures, as well as vortex balls and rods to help foster creative building and learn about core basics of mathematics through hands-on play.
The new version also includes an improved, expanded, and fully revised curriculum based digital learning resource to help you incorporate the play based learning into your daily routine.
What do we think?
We're still enjoying our set! And even though we do lessons with it during school, the Teeny Tot gets it out often just to play for fun after we're done for the day. And we're enjoying the lessons that come with the product as well.
Personally, while I like that it comes with curriculum, I really love how the set encourages creativity and free play among my children. They all love to play with this set, even my older kiddos.
While it is an investment, I think it's a great way to promote creativity as well as logical thinking skills and so far it's been a great addition to our homeschool!
Want to stay up to date with Spielgaben? Make sure to follow them on social media below!
Win it!
Okay folks, here's where it gets good! The awesome people at Spielgaben are offering a FREE Set of the new Version 4.0 kit for one of my readers! That's a $449.50 value for you! YAY! Enter to win below!