Are you looking for a fun way to have your 3rd grade students practice their sight words? Look no further!
I've had a ton of requests for a manuscript version of my 3rd grade sight word sentences, so today I'm sharing the 3rd grade sight word manuscript sentence printables with you. (I have 3rd Grade Cursive Sight Word Sentences here.)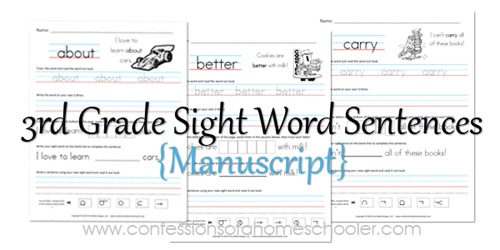 Each worksheet has the sight word along with a funny sentence. Students will practice tracing the word, reading the word several times, then writing it on their own.
They will also fill in a sentence using the word as well as practice reading the sentence.
Students will also cut out the letters then glue them on the sheet to spell the word correctly to complete a sentence. This not only makes the activity more hands-on, but it also helps with spelling practice.
I have also added letter tracing to this activity to help with handwriting practice.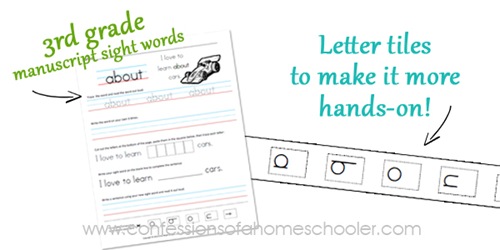 Finally they will make up their own sentence using their newly learned sight word! The repetition along with the variety of activities really helps students remember their sight words.
This download includes 41 3rd grade level sight words from the Dolch sight word list.
–> Download the 3rd Grade Manuscript Sight Word Sentences HERE! <–
More Sight Word fun:
TIP: If your browser does not open the document in your browser window, RIGHT click on the download link an select "save as" and the file should download to your computer.
Note: I'm sorry, due to the large number of requests and my own time constraints I cannot create individualized worksheets.