What's WIP you ask? It stands for "work in progress". And I suspect you'll be seeing a lot of WIP posts from me in the future.
I know I haven't posted much on my quilting projects, but that is because I'm kind of a new addict. So today marks my first, and hopefully not last, WIP post!
I started quilting just before Christmas 2014, so only a couple of months ago. But I'm totally hooked! I think it appeals to the graphic designer in me. And have you seen all of the beautiful fabrics they put out now? For some reason I was never drawn to quilting because it seemed like something that just my grandparents generation was into. But oh was I wrong!
There are so many beautiful fresh fabrics, amazing blogs, and fantastic tutorials out there now, that it's really lured me in! I'm a sucker for eye candy, and I love to create things, so this just had my name written all over it.
My first quilt was a fun little rag quilt project I made for Tinker Bell, you can see it here.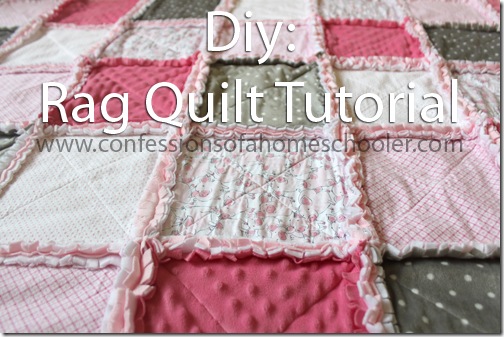 That one was quite simple, and so I wanted to challenge myself to try something a little more complicated. I found this lovely and free pattern from Little Miss Shabby called Tiled Blooms and new I wanted to give it a try. I figure if I can master applique right out of the shoot I won't be afraid of anything!
The Tiled Blooms is for Strawberry Shortcake. She picked out Horizon by Kate Spain for Moda fabrics because of all of the lovely blues, teals, greens, and purples.
I've started on the main blocks which might look a bit complex but really they're not. The pattern from Little Miss Shabby is easy to follow, and if you're in doubt about how to do any of the steps there are a TON of YouTube quilting tutorials out there. It's how I've learned what I know thus far anyway.
I changed some of the sizes a bit because I wanted my quilt to be a little larger.
I started off by cutting all of the pieces so I didn't have to stop once I got sewing.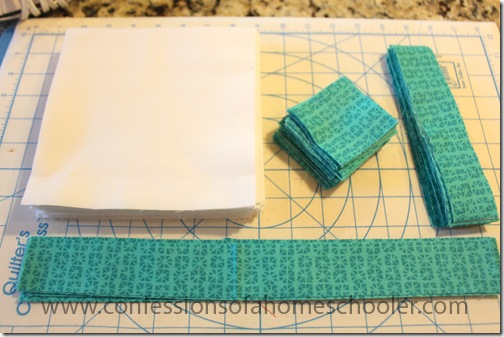 Next I added a small 2" teal square to the bottom of a 6 3/4" white square. I stitched  diagonally from point to point of the small teal block and then folded it open to reveal the small teal corner.
To make it easier, you can draw a line from corner to corner on the backside of your 2" square. I used a Frixion pen because they disappear with heat, so when you iron your block, the lines are gone! Poof!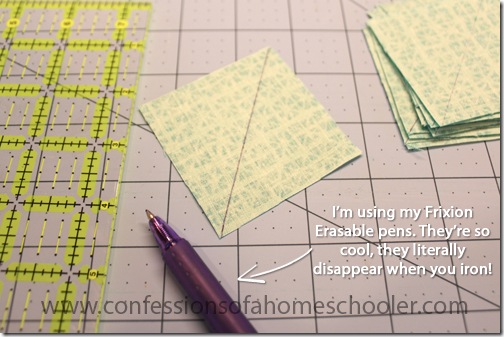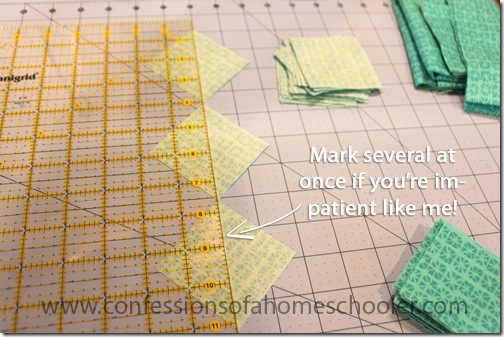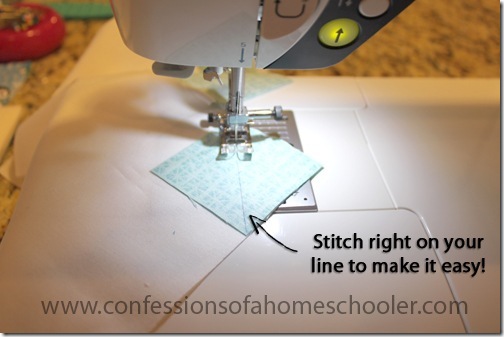 After stitching all of my little corner pieces on, I trimmed the excess fabric at 1/4" from the stitch line, and repeated that process with the remaining 64 blocks. Next I pressed so my seam was going towards the dark side. Otherwise you'd see a bit of blue showing through on your white and that would be no bueno. And there you go, a nice little start to our quilt!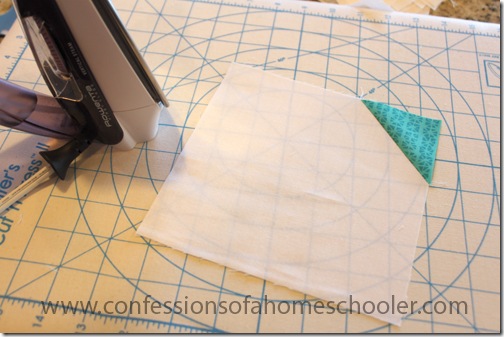 I set up my work area in the kitchen so that I had a lot of room to work. The stack to the far right is sitting on my tabletop ironing board. It's very handy!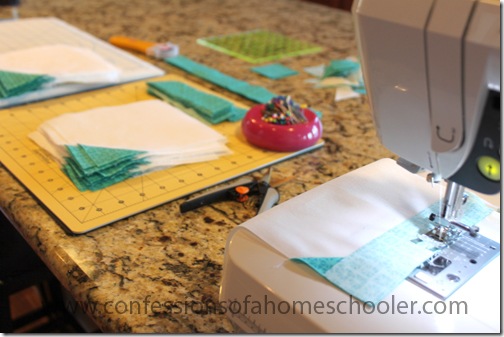 Next I positioned the blocks so that they came together in the center and added in a 1 1/2 " x 6 3/4" sashing strip between them. Sew the sashing to one block first, right sides together, then sew the other block to the other side of the sashing all with 1/4" seam.
I'm doing my best to use a 1/4" seam as most quilting guides suggest, but I'm just starting out, so mine aren't perfect yet!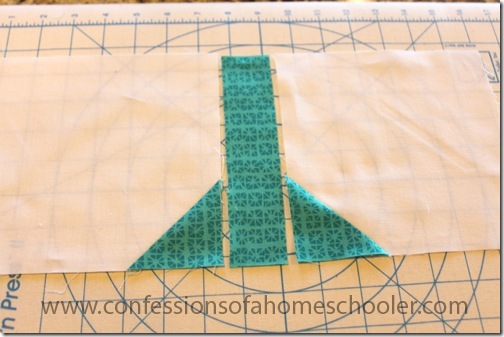 After stitching together all of the blocks, I then positioned them together like below and added another piece of 1 1/2" x 14" sashing between them. Repeat the process from above to complete the block.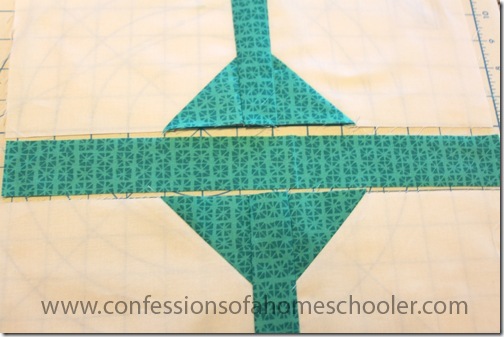 And voila! I have my first completed block! A little crooked, but completed none the less!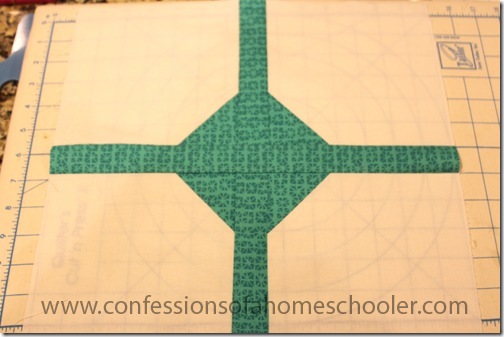 Next I used my ruler to square up my blocks. I made mine 14" square blocks, because I wanted them larger. I believe the pattern uses 12" blocks.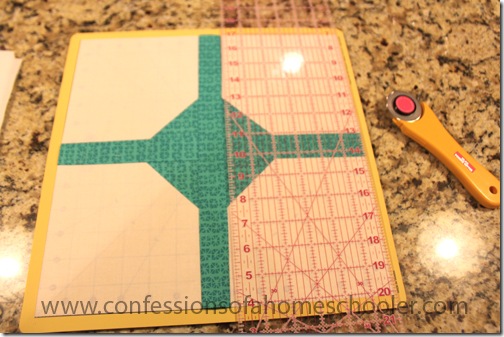 And that's where I'm at so far. Next up are the petals. They are applique petals and so I need to go get some Heat-n-bond light and get at it!
I'll keep you posted on my progress, and for now happy quilting to anyone out there who might be into it!
You might have also seen my other WIP the Playful Petals quilt top that I'm currently working on as well. It's a copy of the cover quilt from Playful Petals by the amazing Corey Yoder. I'll do a more detailed post on this later, but man I love it!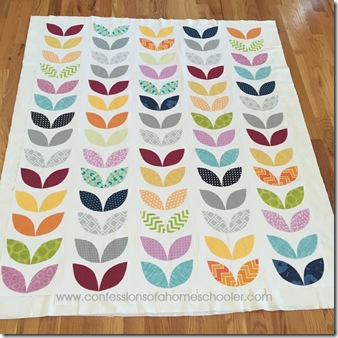 I'll probably keep the quilting posts to a minimum on my blog, but if you want to keep up with more frequent updates, make sure to subscribe to my Instagram account where I'll be posting updates!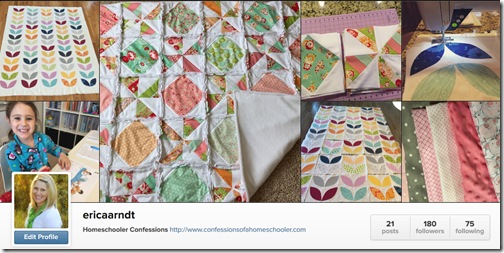 .