It is with a sad heart I write today. You see, an amazing woman, my grandma, passed away yesterday morning. She was 101 years old, and would've been 102 this May 18.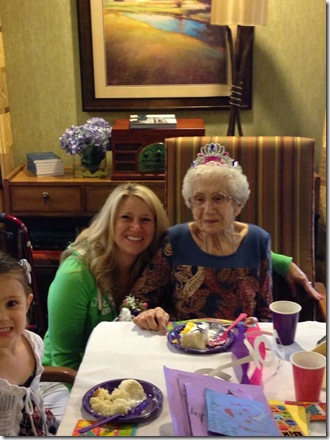 This is my grandma and me at her 100th birthday party two years ago. She was doing quite well and enjoyed all of the attention of the day.
101 is quite a long time to live these days, and I think of all of the amazing things she witnessed and lived through. Here is just a small list of things that my grandmother has lived through:
Wages in 1914 were just $5/9 hour work day at the Ford Motor Company.
Milk was $0.32, Bread was $0.06/loaf, and eggs were $0.30/dozen.
In 1915 Alexander Graham Bell and Thomas A. Watson conducted the first telephone conversation.
World War I
The Great Depression
World War II
Korean War
Vietnam War
Cold War
Atomic Bomb
First man into space.
Manned landing on the moon.
The Civil Rights Movement.
Robotic landings on Mars.
Space telescopes.
Commercial air travel.
Fall of Communism.
Votes for Women.
Heart surgery and transplants.
Improved medical treatments.
Explosion of all science.
The motor vehicle developed.
The birth of her 2 children.
The birth of her 4 grandchildren.
The birth of her 12 great grand children.
As I reflected back on what her life must've been like I realized just how much I probably didn't know about her. How much she's seen in her time, and how little of it I am even aware of.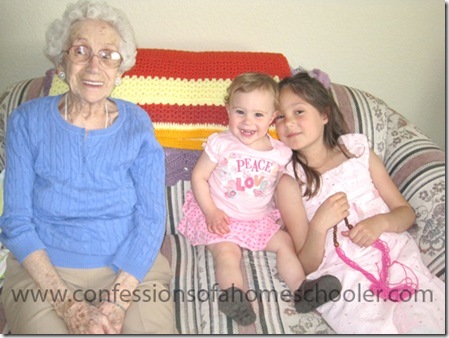 What I do remember are stories she's told, times we've spent together, and her smile. She smiled a lot.
When I was little I used to go and have sleep-over's at her house. I remember how warm it was, and the scent of her perfume. I remember cooking with her in the kitchen, and her finicky little Pomeranian named Simon. He was a giant puff ball, and he loved her.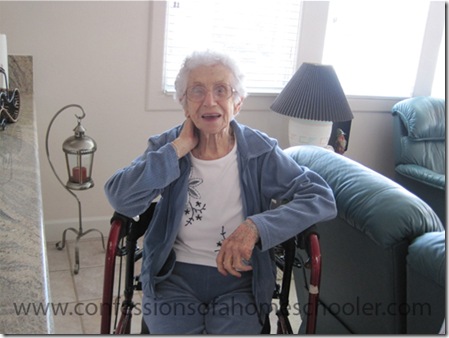 I remember stories of days when she worked as an administrator for the local school district. She would take me to work with her and let me pretend work at her desk. You can tell from the picture that I was a hard worker.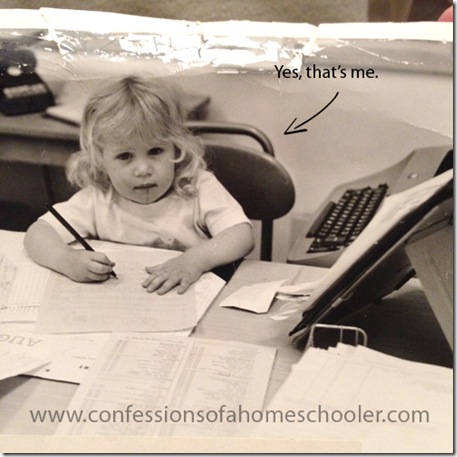 She had one of those old fashioned type writers, the kind where you have to press the key down about an inch, then a metal arm swung up and smacked into a black ribbon there by imprinting a letter onto a paper. I had to explain this process to my children since they had no clue what a type writer was.
I also remember how fierce she was. She didn't take any baloney from anyone, she always voiced her opinions, and she could hold her own. My grandfather passed away when my mom was only 11, so I only have memories of my grandma being on her own. She was feisty and could definitely take care of herself. It was normal for me to get a call saying "grandma is up on the ladder again trimming her trees."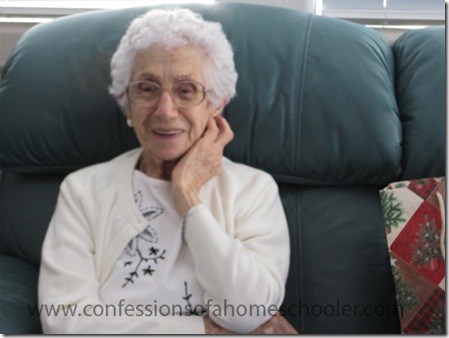 Or to hear stories of her getting speeding tickets for drag racing with the students from her school. She was always getting into some kind of trouble! But everyone who knew her, loved her. "Oh your grandma is so spunky!" they would say to me.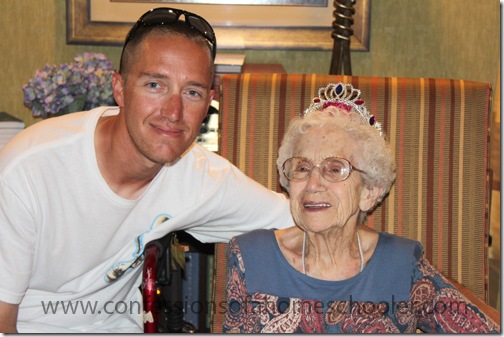 That's my brother, isn't he handsome! She really loved him. She told me so often.
She was also a very strict mama. She took good care with raising her two daughters, and didn't let them get away with much. My favorite story was one of my father dropping my mom off late after a date. My grandma was waiting for him on her front porch waving a broom in her hands. Rumor has it my dad didn't even stop the car, though he claims he slowed down just enough for my mom to get out…before squealing off.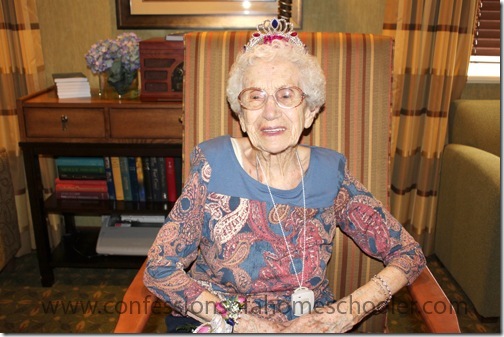 It is times like this when we look back at our lives, and where we spent our time. Do we have any regrets. Have we spent our time well?
I think one will always wish they'd spent more time with the people in their lives, and it's something I strive for. One of my resolutions this year is to invest in the lives of my family more, spend more time with God, and be present in today. I have a tendency to focus on tomorrow and thus miss today in the process. The passing of my grandmother reminded me today that my 2015 goal was a worthy one.
My grandma always told me one thing every time I saw her,  "Take care of your babies." she would say. Don't worry grandma, I will. As a matter of fact, while I was writing this the Teeny Tot came walking up to see the pictures. She said, "Oh I remember that! That was a good time mom." I replied, "Yes in deed sweet baby, it was!"
And that's what it's all about, our memories, and all of the moments we shared. We'll always wish we had more, but we're forever grateful for the times we had.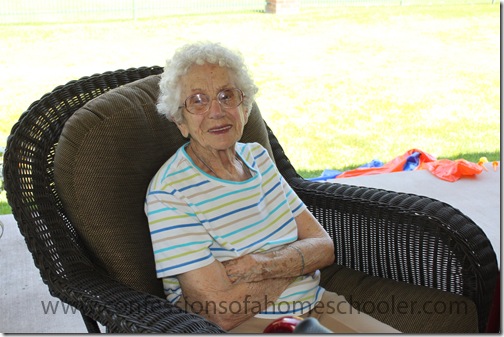 We miss you very much, we love you, but we are comforted knowing that today you are in the presence of God. And while our hearts are grieving, we know that the angels are rejoicing.
In loving memory of my grandma Clara's sweet time here…May 18, 1913 – January 7, 2015.