Greetings readers! In our neck of the woods it's officially back-to-school time! And for me that means I have about 5 minutes of free time a day. Which means I don't have that much time to think about or plan meals for our family. And with 6 people in the clan eating out all of the time isn't exactly budget friendly. Or healthy for that matter.
So, you've probably guessed by the title, it's time for my monthly meal plan! I can't tell you how much sanity this plan saves me during school time. I tend to fall off of my meal plan band wagon over the summer just because we're always doing different things. And I'm a lot more flexible with my time. Which means I have time to cook, run to the store here and there, and so I make whatever sounds good.
But as soon as school & sports start back up I have zero time to be worrying about meals. So that means that I need something I can just hang in the kitchen that will tell me what to do each day. Kind of like my homeschool curriculum.
So here it is, my solution to the craziness of back-to-school!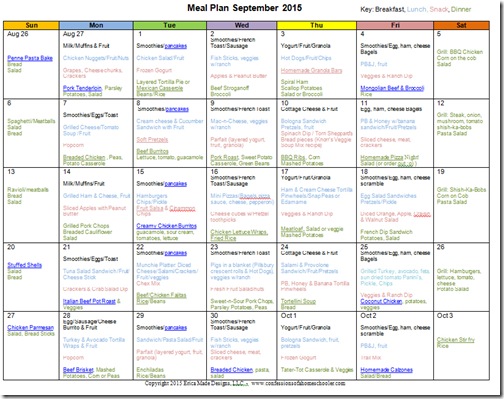 Download the 2015 September Monthly Meal Plan:
What are some of the things that help save your sanity during school? Head over to my COAH Community and share in the discussion as well as glean helpful tips and tricks from fellow homeschooling peeps!
If you haven't already used this before, you can click on any of the underlined menu items to get to the recipe. For more fun recipes, visit my Recipes Page!
Here are some of our favorite smoothie recipes, just click on the image below!