Good morning readers! I promised to do a video review of my Road Trip USA Geography & History curriculum, and I've finally had a chance to get it uploaded for you all. We had so much fun using this curriculum to learn about the United States! It's packed full of interesting state facts, symbols, crafts, recipes, activities, and more!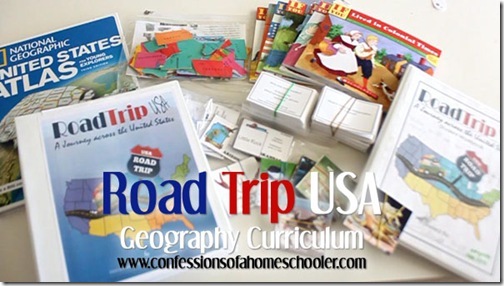 Want to see more details on what it looks like? Check out my Road Trip USA Video below!
So I hope you'll come along with us on an exciting journey learning about the U.S.A! From the signing of the Declaration of Independence, to the wild west, you'll uncover all the secrets this Nation has to offer! Within this curriculum you'll discover the sights and sounds of all 50 states, including state symbols, U.S. Presidents, famous people, landmarks, historical events, and much more! For you history buffs, this is a great introduction for young learners!
You will start out learning about the Constitution, Declaration of Independence and Revolutionary War. Then you'll move south to learn more about the Civil War and Underground Railroad. From there you'll journey with Lewis & Clark through the mid-west, live with the Hopi in the southwest, then venture out into the wild west on a covered wagon ride!
What age is this for? These unit studies are intended for elementary students ages Kindergarten – 6th grade or so, but I'd even use it for 7th grade.
–>Click here to download a sample<–
Want to join in on the fun? Head over to my store to get your copy of the curriculum, then grab your Travel Logs, and pack your bags! It's time for a Road Trip!