Hi everyone! If you're following me on Instagram you might have already seen these, but I also wanted to share them on my blog. Because I got so many questions on our art curriculum for this year, I thought it would be helpful if I did a post on what we've been working on so far.
This year we're using our Home Art Studio DVDs for art. I received 3rd and 4th grade DVDs last year to review, but our year was packed and so we only got to a few of the projects before they made their way onto my shelf and stayed there. This year, I vowed to be better at getting art done. The kids love it, and while I'm not a huge fan of large messes, I love to see their creativity flowing!
The first lesson was on the color wheel. They've done color wheels before, but this time they created their own blends using the paint, and I think it was great practice for them to see how much they can change a shade with a little mixing.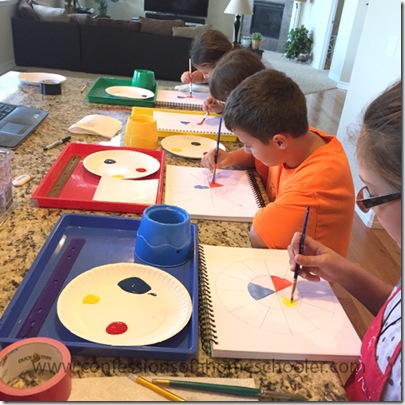 We just set up my laptop in the kitchen and then everyone gets their own area to work while watching the DVD. I like that you can pause it, and then restart once everyone is caught up with the project.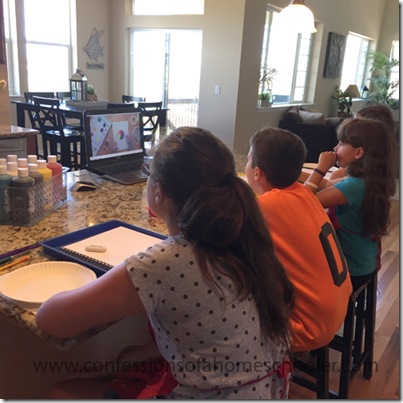 We're using 9×12 Canson Mix Media paper pads this year to keep our work in. The paper is nice and thick so it can withstand acrylic, watercolor, pen an pencil, etc. If we do a project that cannot be done in the spiral, we are just taping it in once the project is completed. I bought these at Michael's, but you can get them online as well.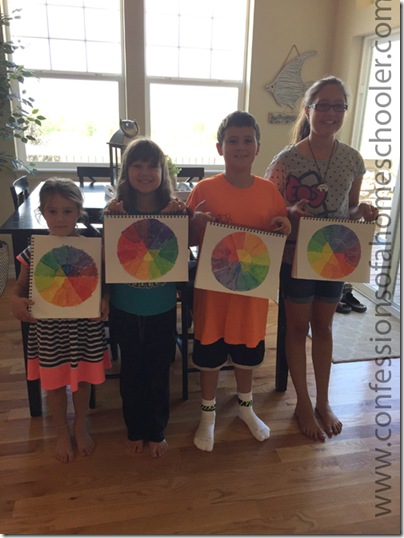 The second project we did was the analogous colors pumpkin project. For this project we used the  Cray-Pas Junior Artist soft pastels. I like that they're not chalky and messy. We're also using Artists Loft water colors as well this year, not for this project though.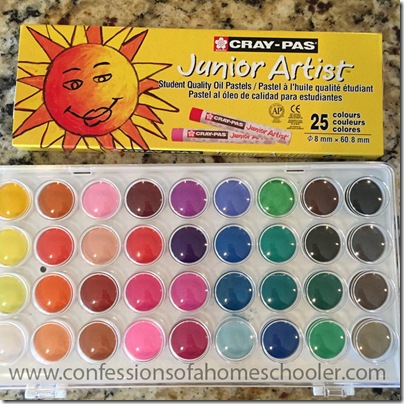 As you can see below, we used our color wheels from the previous week to help locate analogous colors on our color wheel.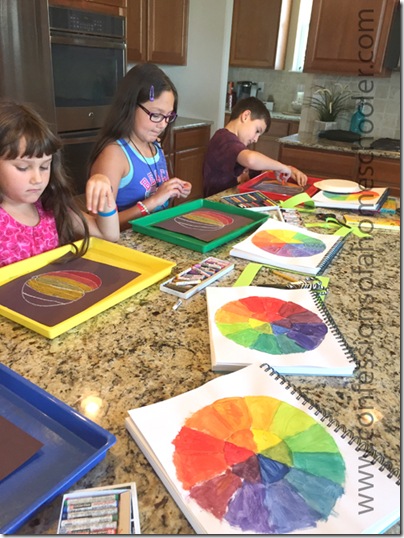 And here were the finished projects. I think they turned out great, and it was a fun way to learn about colors. Except for Turbo who refused to make a pumpkin "weird" colors haha!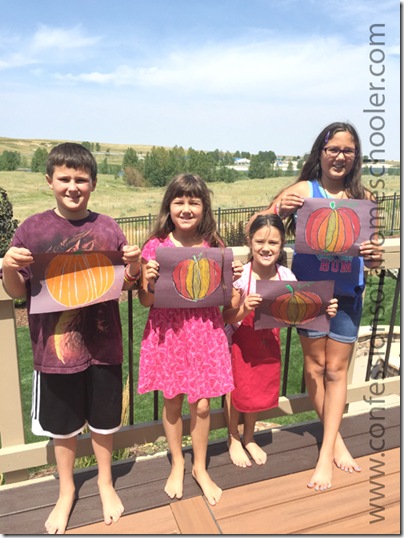 The DVDs I'm going through are a little easy for my older kiddos, so we'll just see how the lessons proceed.  They're of course too easy for my oldest, but she loves drawing and art, so she's happy to do the lessons regardless. I think if I get more DVDs I'll probably go with a higher level. I think Miss Lady Bug will do fine keeping up with the harder lessons. If that doesn't work, I might just have her do her own DVD with headphones while the others work on a higher level DVD. But for now having them all do the same lessons is easier on this mama!
So that's it for now! I'll be posting more of our art projects through out the year, hopefully I'll do a better job at keeping up with them this year!
Happy Homeschooling!
Disclosure: Sometimes I receive free products in exchange for an honest review. The opinions expressed in this post are my own and were not influenced by the company or free product provided. This is not a sponsored post.