Welcome to Teeny Tot Tuesday where  you get to see how I attempt to keep my toddler busy and engaged during school time. Our Teeny Tot is 3 years old now and she's quite the busy bee. She likes to participate in school, and is pretty good about working through her own activities, but sometimes she goes and gets other things to play with and that's fine with me.
Our school "stuff" is pretty open to her. I don't really limit the use of our school games.  I figure if people are having fun learning, who cares if it's during official "school hours" or not?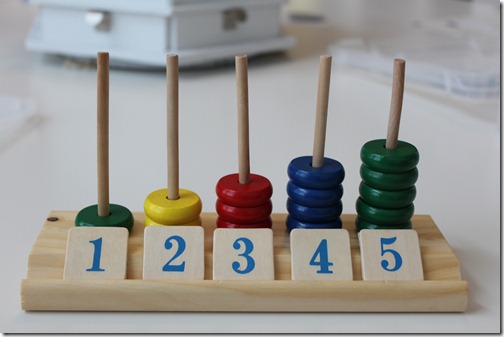 We're trying to work on counting these days. One of the kits I've had around for years is the Lakeshore Learning See & Solve Manipulative Kit.  I just grabbed numbers 1-5 (the kit comes with 0-9) and then enough disks to let her put the correct amount by each number. After she was done counting, she just played with the disks adding and taking them off the pegs.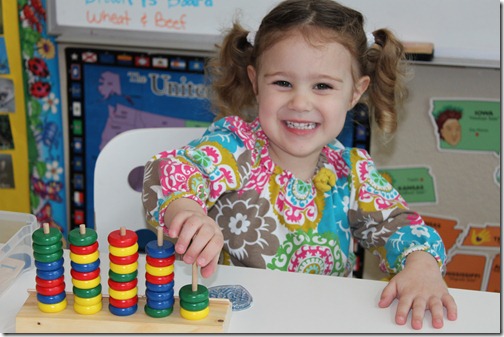 I also let her work with our colorful dice in dice and the Clear the board game from my Dice & Domino Math Fun Kit. I placed all our dice in a box with a hole in the top. She grabbed one out without looking and then was allowed to remove a matching Unifix cube from the chart. She repeated the actions until the chart was all cleared.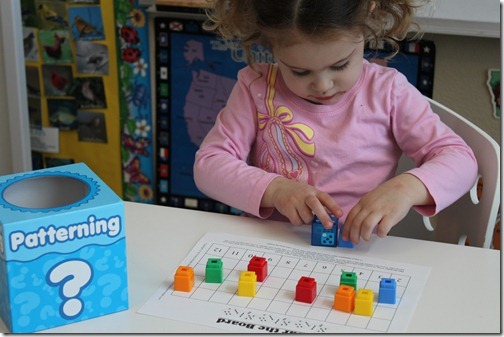 The Teeny Tot went and grabbed her Parents Bristle Blocks and started building a little thingy-ma-bob. I don't recall now what she said it was. It's all good though the Bristle blocks are great for little ones because they stick together well and are fairly easy to assemble together.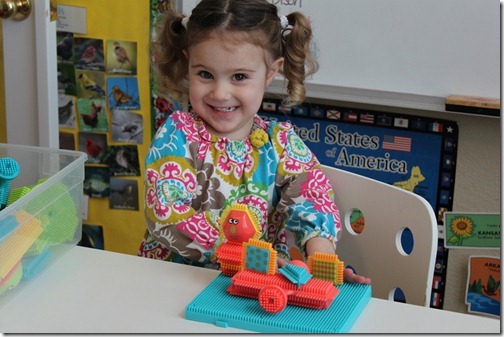 Later she took out our Jumbo Dice in Dice and started stacking. She actually got them all piled up before knocking them down for fun.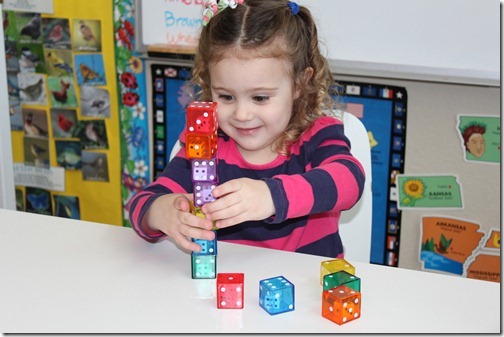 Since she totally loves our Jumbo Dice in Dice , I let her play with our Preschool Probability sheet. She rolled one and we counted the dots together, then she colored in one cube for whatever number we counted. Repeat.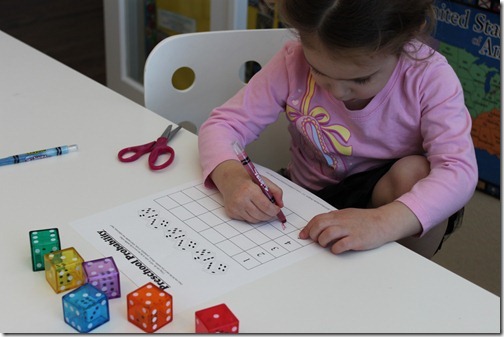 Since she was nicely occupied by all of the fun with the dice and unifix cubes, I turned my attention to the older kiddos. About 3 seconds later I looked back and saw this…We used it as an opportunity to match all of the colors back up.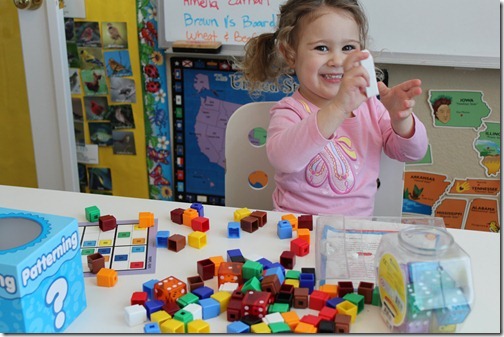 One of her favorite games is the Educational Insights Hot Dots Jr.  She loves hearing Ace the talking dog tell her if she's doing a good job or not!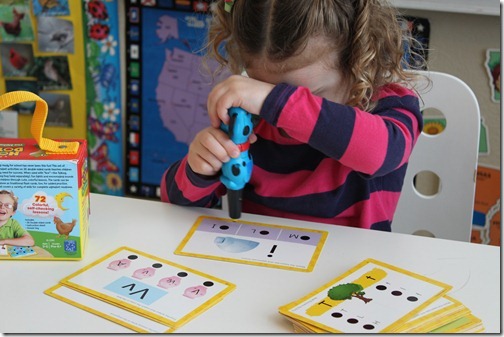 We're also working on her tracing skills to get her fine-motor skills going for preschool. Before having her trace using a pencil, I started her off getting the idea using stickers to trace numbers. Once she got bored with that, I let her use our Mini-Stampers from Lakeshore Learning. They're in the shape of a fat marker, but the tips have a shape on them like a stamp.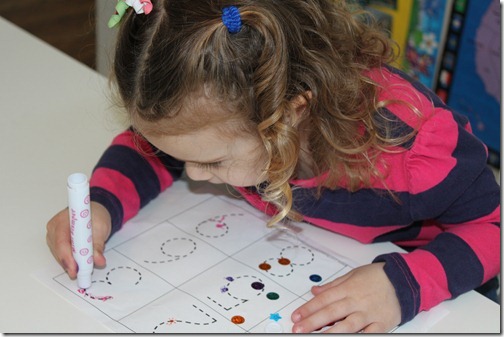 Next I pulled out our Letter A for Apple tracing sheet and let her have at it with a dry-erase marker. She was essentially coloring along the lines, but doing a great job! Now that I know she can do that…bwaahahaa look out Teeny Tot! Here comes mama with some Letter of the Week stuff for you girl!  ;o)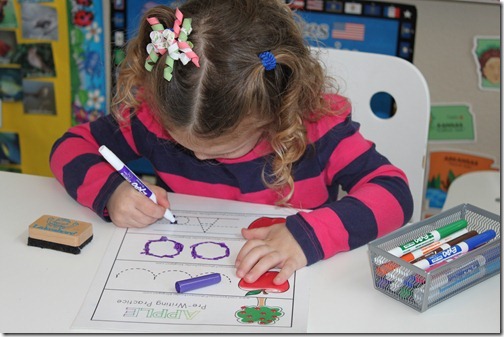 Here are some of the items the Teeny Tot found in her boxes:
1. Lakeshore See & Solve Manipulative Kit
2. Alphabet Alley Jonah Memory Game
3. Biggie Beads
4. A is for Apple letter tracing
5. A is for Apple magnet page with do-a-dot markers
6. Guidecraft Nesting Sort & Stack Cubes
7. Pattern Block Cards and Blocks
8. Educational Insights Hot Dots Jr.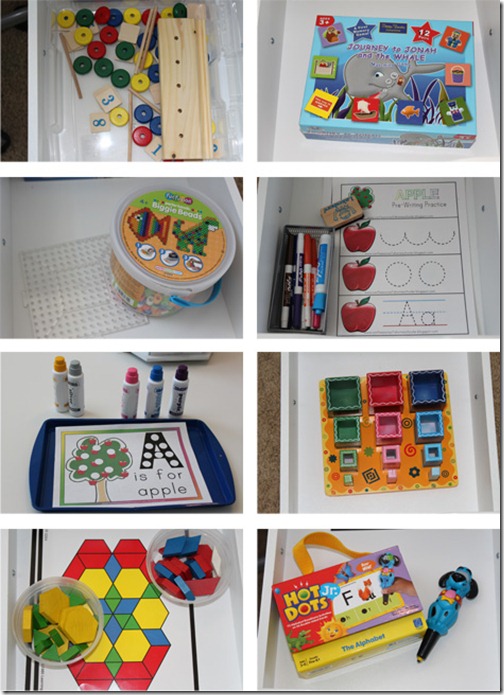 Have some fun Tot School ideas to share? Make sure to link up below to share!