Welcome to our World's Greatest Artists study on Henri Matisse! We are having a total blast learning about famous artists and creating our own unique art as well!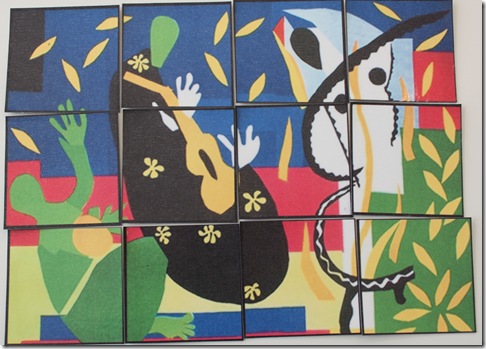 Henri Matisse was a French artist known for his use of color. He was born in Le Cateau-Cambrésis , France in 1869. After an attack of appendicitis, his mother brought him some paints to work with while he recovered. It was then that he first began painting. Matisse is credited with leading the movement of Fauvism, a short-lived group of artists whose works emphasized strong color. After a surgery in 1941, Matisse started using a wheel chair. With the aid of assistants, he began creating cut paper collages, often on a large scale, called gouaches découpés. Matisse's final work was a stained-glass window installed at the Union Church of Pocantico Hills near New York City.
If you haven't seen the previous posts, this year for art we are studying 8 different world famous artists. We have chosen to do art twice a week, and we'll cover one artist each month. We're currently using my World's Greatest Artists Vol. 1 curriculum!
We took a few lessons and discussions to read through the Henri Matisse World's Greatest Artist series by Mike Venezia. We talked about all the different styles that he was known for, and took lots of time to familiarize ourselves with and critically assess his works of art.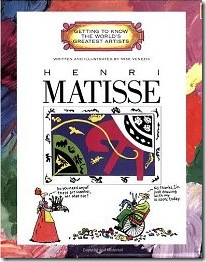 As we learn how to critically assess a piece of artwork, here are some of the things we discussed for each painting:
Describe what we see in this work of art.
How do they think the artist was feeling when they created it? Why?
How it makes your student feel looking at it?
Does the use of color help convey mood?
Is there something unusual or unique about the piece of art?
What is going on in the work, is there a story that can be told about it? (Each of them had a few minutes to share their version of what they thought was going on in the story with us.)
What kind of style and medium did the artist use in this work?
Overall do you like the painting, if so yes, why? If no why not?
Once we familiarized ourselves with Matisse's main style, we did a collage type piece like in Matisse's later works of art. This was Tinker Bell's impression of his stain glass work.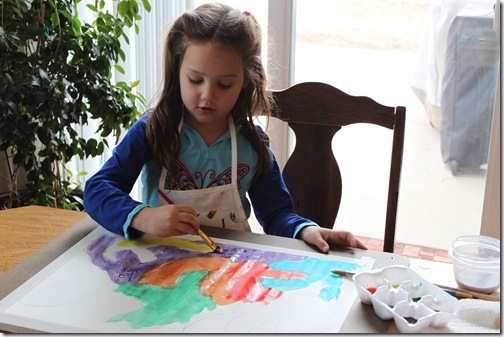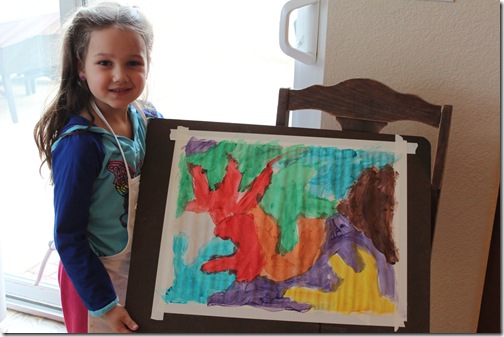 After learning the works listed in our book, we filled in our mini-art collection book and added it to our artist lapbook.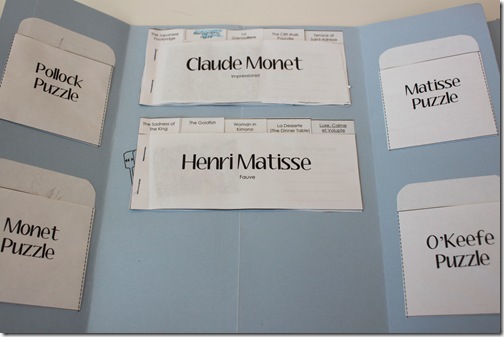 We also filled in our artist flashcards. I let the kids decide what they want to put on these cards to help them remember each artist.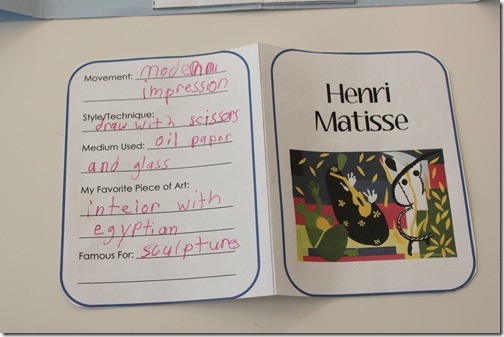 Then we add the cards to our lapbook for safe keeping. We also take a minute to review the other cards that are in there thus far.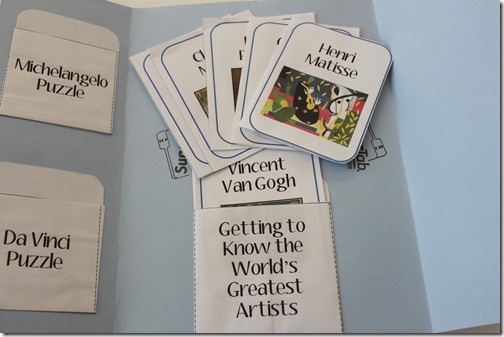 They each take turns working the puzzle. I have to say that this one was fairly difficult! We certainly couldn't do it without looking at the original for reference that's for sure!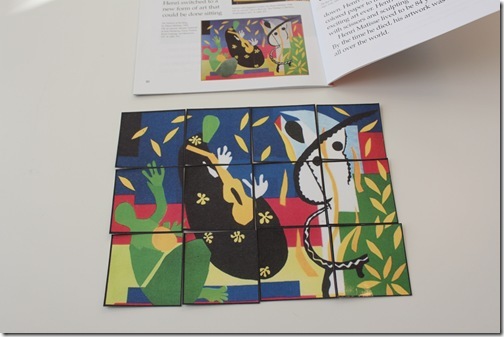 We also worked on a self-portrait this month. Since kids tend to love themselves, I think this was one of the more exciting things for them.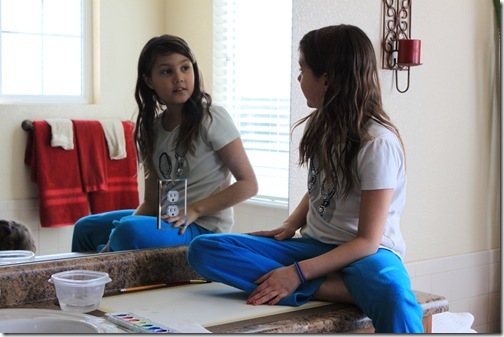 We used pencil and water colors to do our self-portraits.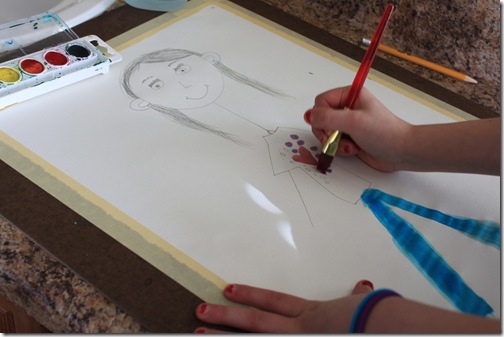 Yes, we are in my bathroom here. I couldn't figure out a better way to do it, and since there were big mirrors in there…we did our art in the sink!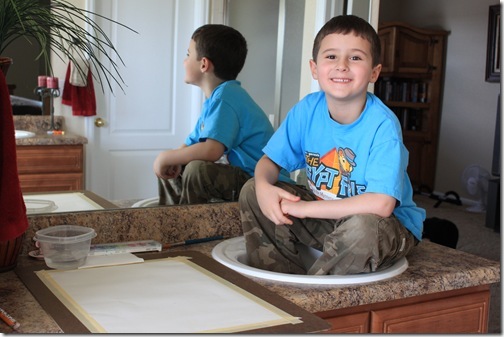 Tinker Bell and the Teeny Tot took to the floor once they got their main drawing completed for more space.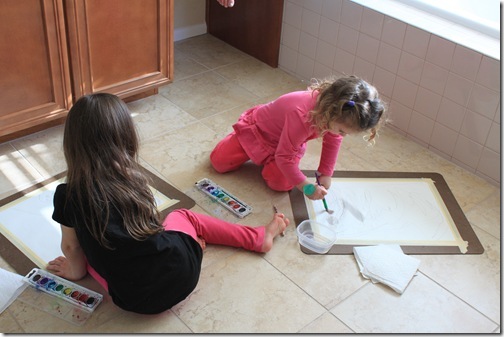 Here are our finished pieces: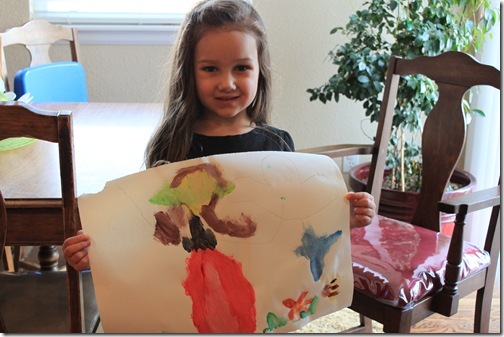 Strawberry Shortcake and friend…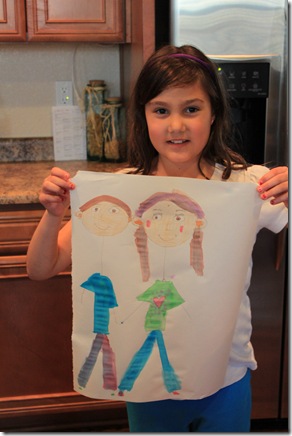 Turbo…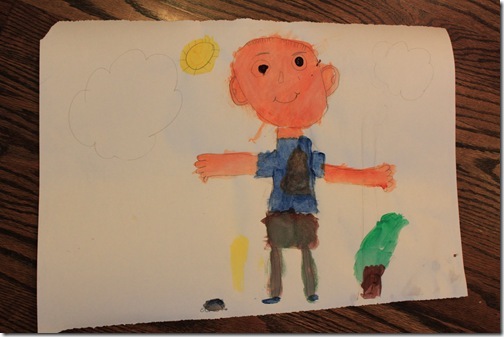 Next we tried a collage in honor of Matisse's Sadness of the King. This was one of the harder things I think. Kids are used to trying to emulate what they see in real life, but to ask them to do something abstract was definitely a challenge as you'll see based on our final pieces. I encouraged them to cut up random pieces of paper, then place them in a visually pleasing pattern on their paper.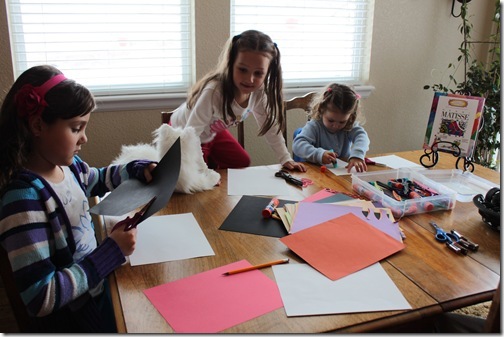 Here is what Turbo came up with. Trucks are visually pleasing to him. You probably can't tell from the picture, but the truck is actually comprised of several smaller pieces of paper put together.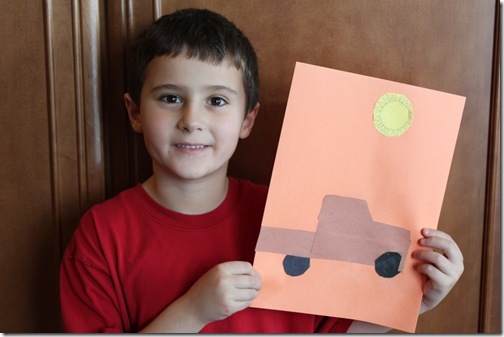 Strawberry Shortcake did a carousel.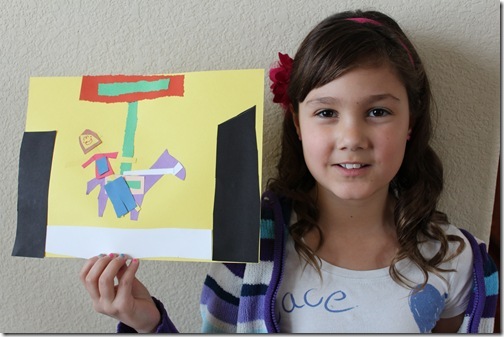 And Tinker Bell did a nice collage of abstract pieces.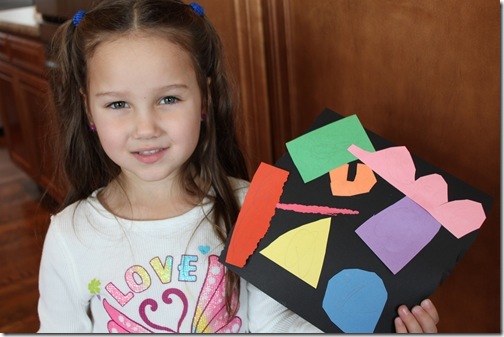 And that completes our study on Matisse! I hope you are all enjoying your time learning about the world's greatest artists, I know we are!
Click here to see the other World's Greatest Artists that we've covered so far!
Are you participating in the World's Greatest Artists, or have some Matisse ideas you'd like to share? Make sure to link up below!
Click here to get The World's Greatest Artists Vol. 1