Hi everyone! It's time for another Holidays and Fun Days post for the new year.  I hope you all enjoy these, and that they help make your homeschool day a little more fun!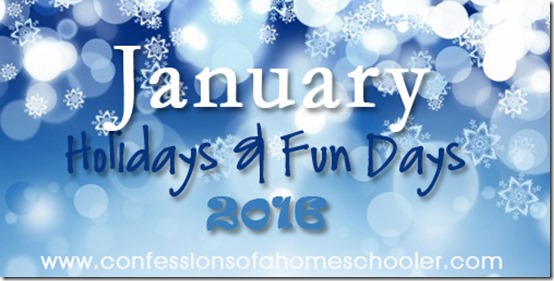 There aren't too many big dates this month, but there were definitely a ton of goofy days! I tried to pair them down for you a little to help weed out the really weird ones, so here's my list for this months fun days:
Holidays:
January 1 New Year's Day – I hope everyone had a safe and awesome 2016!
January 18 Martin Luther King Jr. Birthday, celebrated on the third Monday – click here to learn more about Martin Luther King Jr.
Fun Days:
January 3 Fruitcake Toss Day – right? haha!
January 4 Trivia Day – Play a game of Trivial Pursuit Family Edition for school today!
January 5 National Bird Day – Go on a nature walk and take notes of all of the feathered friends you see today! Then come home and look them up and learn more about the birdies in your neck of the woods!
January 6 Bean Day – I'm thinking refried beans and burritos for dinner?
January 6 Cuddle Up Day
January 8 Bubble Bath Day – Sounds good to me!
January 15 National Hat Day – Have a fun hat? Make it crazy hat day in your school today!
January 18 Thesaurus Day – take out your thesaurus and use a new word!
January 18 Winnie the Pooh Day -The Birthday of Winnie's author A.A. Milne, make it a Winnie the Pooh movie night, or head to the library to find some Winnie the Pooh books to read together!
January 19 National Popcorn Day – Sounds like a great afternoon snack to me! Check out this fun popcorn recipe to make it special!
January 20 Penguin Awareness Day – Take out a few minutes to learn about penguins today!
January 21 National Hugging Day – Yay! My favorite day! Everybody line up mama's coming for her hugs!
January 22 National Blonde Brownie Day – Hmm, I don't think I've ever had blond brownies, anyone have a good recipe to share? Leave a comment below!
January 23 National Pie Day – Yum!
January 23 National Handwriting Day – Oh, sounds like a great excuse to motivate the kiddos to do an extra neat job on their handwriting today!
January 24 Compliment Day – Spread the love and give everyone you see a fun compliment!
January 25 Opposite Day – I'm not doing school today! (Just kidding, it's opposite day right? So that means we ARE doing school of course!)
January 27 Chocolate Cake Day- I don't like cake, but if you do, sounds like today's a good reason to get you some!
January 29 National Puzzle Day – Yay! Everyone bust out their favorite puzzle for some afternoon fun! Great idea when it's chilly outside too!
January 31 Backward Day – Want to add a little fun to your homeschool? Institute a backwards day and have everyone dress backwards LOL!
January 31 Inspire Your Heart with Art Day – Make sure to add some fun art into your homeschool today!
And that's it for January 2016 folks!
I hope you take advantage of some of these fun days and add a little pizzazz into your homeschool!