Hi everyone! I have a fun new planner for you all today! It's my new 2016 Weekly Planner layout!
I actually created this for myself, and thought I'd share it with you as well. Even though I'm a homeschooler, I'm also a work-at-home mama, and then we have all of our personal commitments so I really wanted a planner that I could use for everything.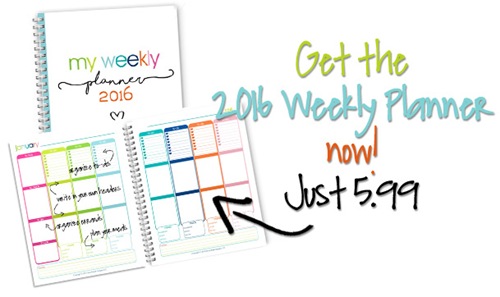 In past years I've used a separate blog planner to keep track of work stuff, but I was also carrying around a planner for our daily activities, my iPhone to help remind me of things, and sticky notes to remind myself of things to pick up or to do. Obviously with a family of 6 that just isn't working very well.
So I created my own weekly planner that has spots for everything, so I can hopefully track it all in one place! I'll show you how I intend to use the planner below, but I've left most of the spots blank so that you can customize it to fit your needs too.
The planner comes with a 2016 & 2017 yearly overview, along with a monthly overview spread, followed by weekly planning pages for each month.
NOTE: THIS PLANNER RUNS January 2016 -December 2016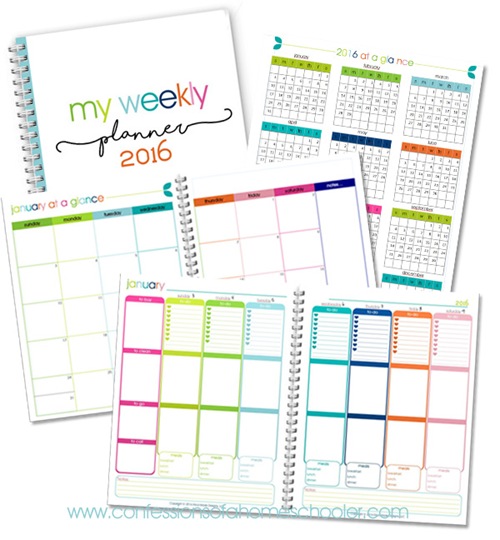 –> Click here to get the 2016 Weekly Planner! <–
Included in this planner:
Year at a Glance
To-Do Lists
Bills & Payments
Contacts
Weekly Meal Planner
Grocery Lists
Monthly planning pages
Weekly planning pages
Notes
Extra Information: Social Media, Pinterest Ideas, Recipe Ideas, Websites, etc.
This planner runs from January 1, 2016 through December 31, 2016.
Here's a close-up of a weekly spread. The far left side has sections to write in things to purchase, a cleaning schedule, errands to run, and people to call for that week. There is a to-do list at the top of each day as well.
Then I left the other headers blank so you can write in your own. You might choose to separate them out by category, for example family and work like I'm doing. Or you can use them more like time slots during the day like morning/afternoon/evening, or whatever works for your family. It's totally up to you!
There's also a small section for meal planning at the bottom of the planner as well where you can jot down ideas for the week to help with creating your shopping list.
I've also included a notes section at the bottom of each page for extra notes if needed.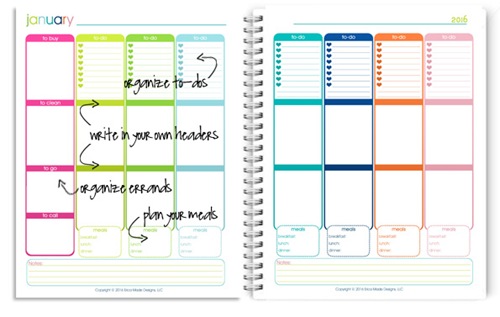 Below is a sample of how I'll be using the planner and filling in my information for the week.
Please note that this is NOT a replacement for our homeschool lesson planner. There is simply too much information in my lesson plans, especially with four children, to be able to squeeze that into a regular planner. So for now that is kept separate. However I will add things I need to purchase for our homeschool week, or library books that need to get picked up, etc. on this planner so that I can get them while we're out.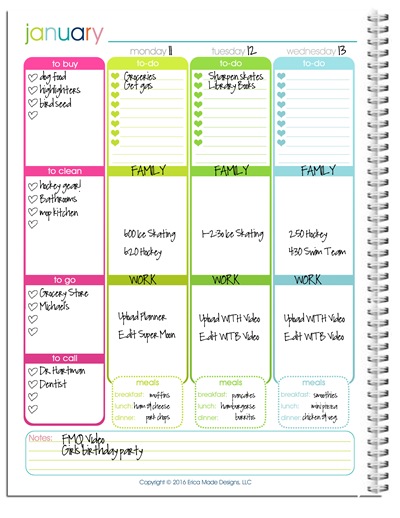 The planner also comes with extra pages in the back to help you organize your life even more! They include:
Contacts
Bills
Grocery List
Weekly Meal Planning pages
Extra Information (Websites/inspiration, recipe ideas, Pinterest ideas, social media info)
Notes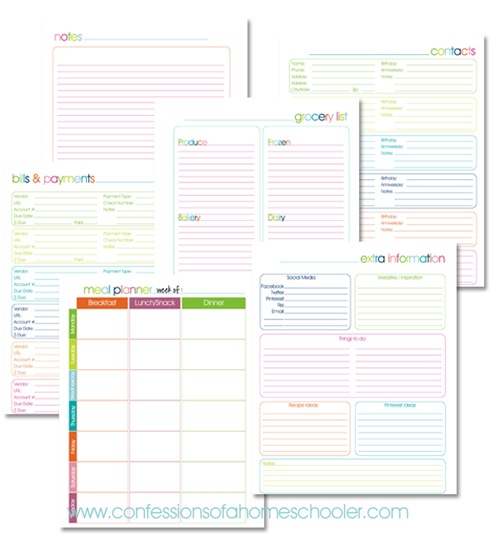 BONUS FREE STICKER SHEETS!
After using my planner, I decided that I would like to have some pre-printed sticker labels for things that I knew I would be doing regularly! So I went ahead and added them in for you too! I also included blank sheets that you can customize as well.
To use: Simply print the sticker sheets on full sheet label paper, then cut and use as desired in your planner!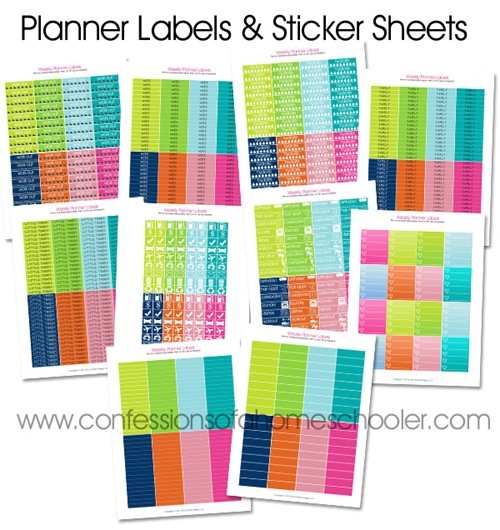 Printing Suggestions:
I print my planner pages double-sided on light weight cardstock so that the ink doesn't bleed through. I also highly suggest getting your planner spiral bound at your local office supply store as well. It's usually only a couple of dollars, but makes using your planner much easier! Of course you can always punch holes, and stick your pages in a 3-ring binder too! Whatever works best for your needs.
If your printer has a double sided printing feature you can use that. If not you can print the ODD pages first, then flip your paper over and printed the EVEN sides so it comes out double sided.
I also picked up some of the Pilot FriXion Erasable Gel Pens. I wanted to try them before recommending them to you. I have to say that these things are so cool! The ink literally and completely erases from the page! The only thing to be careful of is that the eraser can also erase the lines on your planner depending on the ink you use, so I just try to be careful around those areas :o)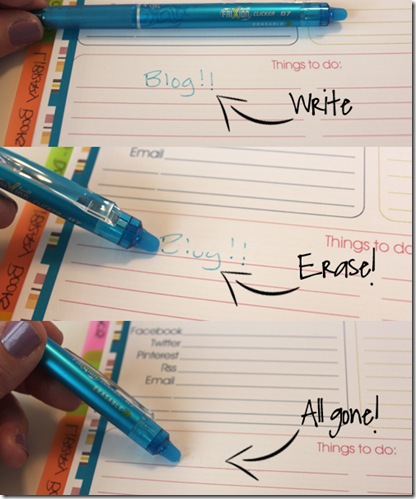 I  hope this planner fits your needs, and makes keeping your life organized a little bit easier and more colorful!
–> Click here to get the 2016 Weekly Planner! <–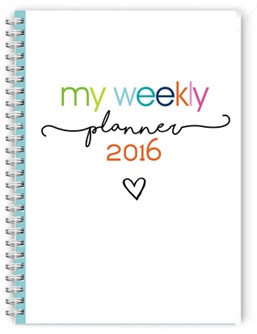 Please NOTE:This planner is a digital download product. You will NOT receive a printed planner via mail.
Happy Planning!