Hi everyone! Have you ever wanted to just quit homeschooling? Well I have! And I would venture a guess that you probably have as well.
I'll never forget our first day of homeschooling. I was so excited, and so was my daughter. She was only 3 at the time, so she didn't really know what was headed her way and honestly neither did I! We had started early with her because I was eager. I decorated our dining room like a school room with fun wall hangings and lots of color. And I had certainly a vision of what I thought homeschooling should look like. (Insert images of my children studying quietly, making fun history and art projects, and kids snuggled up on the couch reading together.)
What I didn't foresee was how hard homeschooling would turn out to be. It also never occurred to me that my doe-eyed babe wouldn't necessarily share my enthusiasm for school work. Enter our first "bad" school day, and my first thoughts of bagging the whole homeschool plan and sending her off to school with the other kids in the neighborhood.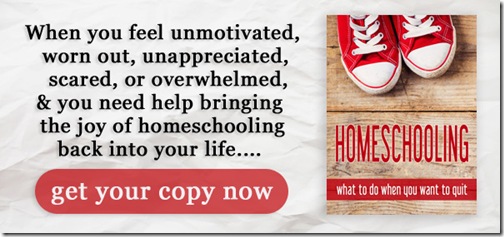 Whether you're just starting out, or a seasoned homeschooler, discouragement hits us all at one point or another. We all doubt our decisions from time to time. We all have experienced good days along with bad days. And we've all seen the flashing lights of that yellow bus and considered for just a quick moment about putting our kids on it.
I want to encourage you…
Hang in there.
You are not alone.
Remember, tomorrow is a new day.
Don't give up.
Don't flag down the yellow bus.
There's help out there for both you and me! Several bloggers have collaborated again through iHomeschool Network to bring you this great resource called "Homeschooling: What to do when you want to quit".
I was honored to write the foreward for this book, and I've also read through the contents of this book and it's amazing!
It's full of information to help motivate and encourage you to stay the course. And best of all these nuggets of wisdom have come from many homeschooling parents who have blazed the trail before you. We've struggled just like you will and we've overcome obstacles just like you will. We wanted to give you some tips and tricks that we wish we had and that will hopefully help alleviate your fears and concerns. But mostly we came together as a group of homeschooling parents to provide you with helpful tools to stay on the homeschooling course, to encourage you, and to let you know that you are not alone on this journey!
So if you're in need of some encouragement I highly recommend getting your copy of this gem today!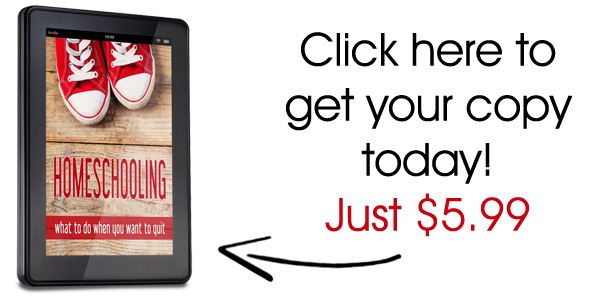 –> Click here to get Homeschooling: What to do when you want to quit <–
It's only $5.99 and is currently available via download or Kindle, and hopefully soon to be hard copy via Amazon. You can see a copy of the full Table of Contents here (PDF) to see exactly what all 56 chapters are about. This is a digital product in PDF, MOBI, and EPUB formats with over 250 pages of uplifting, but not sugar coated, practical help for 56 different reasons you might want to quit homeschooling.
Immediately after purchase, you will receive an email with a link to download this digital resource.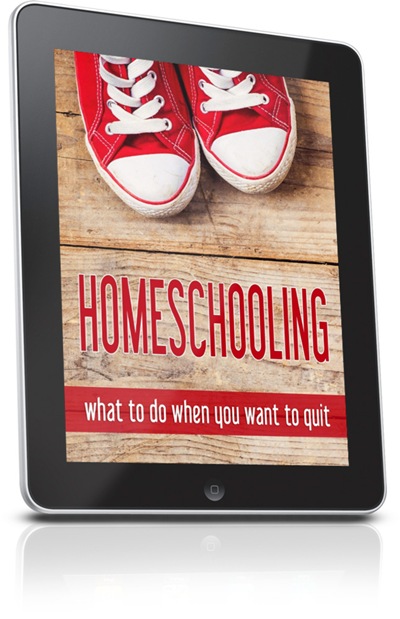 As a funny side-note, every time I went to type in "quit" I automatically typed in "quilt". And yes, some days I just want to skip school and quilt instead LOL! The struggle is real people.
But seriously, this is a great resource to add to your homeschool arsenal!