Hi! I'm back with another Tip Tuesday video for you all! Today we're talking about what to do with all of your child's school work. Man that stuff can pile up!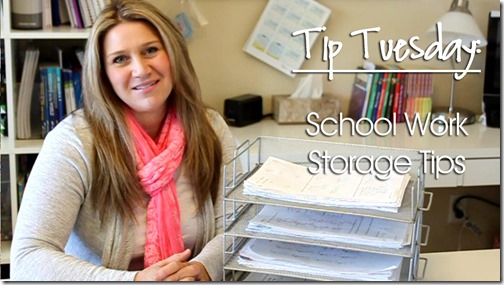 As homeschoolers, we literally have a ton of papers, art projects, and crafts taking up our precious space. Unfortunately we don't have space to keep everything that we do.
Do you store it all somewhere for safe keeping, or purge and move on? Find out how I handle the school work dilemma in today's Tip Tuesday Video: School Work Storage Tips.
Hope Chest:
Another fun suggestion is to get a bankers box and have your child decorate it as their own. Next store just the meaningful projects, artwork, writings etc. that are special to you and your child. They'll be fun to browse through later on when your children are older, and it makes a great keepsake too!
P.S. Make sure to check your state requirements for record keeping before purging!
I hope this helped make your homeschooling a little more organized and less cluttered. Do you have some fun storage ideas to share? Make sure to leave a comment below.
I hope you enjoyed this week's Tip Tuesday, and…
Happy Homeschooling!