Hi everyone, I'm back today with another fun Tip Tuesday for you all.
I remember when we first started homeschooling. I had visions of kids cuddling up and reading quietly on the couch during the afternoons. It was just one of the many preconceived notions that I had about homeschooling.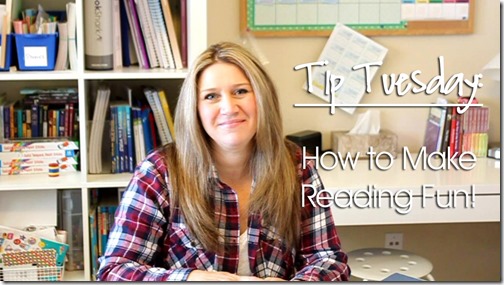 But just like all of my other stereotypes, my envisioned reading scenario wasn't playing out in our home. Now that's not always a bad thing, because I've learned over the years that each homeschool looks different. And that's okay, flexibility is what homeschooling is all about!
However I do want to teach my kids to enjoy reading. I want them to read for both fun, and to learn about things that are interesting to them.
Over the past several years we've tried all kinds of structured reading programs. And today I want to share what I've learned over the course of our homeschooling years, and how we've moved out of the structured reading curriculum box and into a whole new world of learning!
Find out how in today's Tip Tuesday: How to Make Reading Fun!
I hope you found today's video helpful. And remember, whether you're a home full of readers, or one struggling to get your kids interested in reading, it's okay! Each homeschool is different. So make sure to do what works best for your family.
And don't forget to check out my Reading Incentives post to help motivate your students!