Hi friends! Want to learn all about the United States in a fun hands-on way? Look no further! As promised, I have our Expedition Earth World Geography study on the United States of America for you today.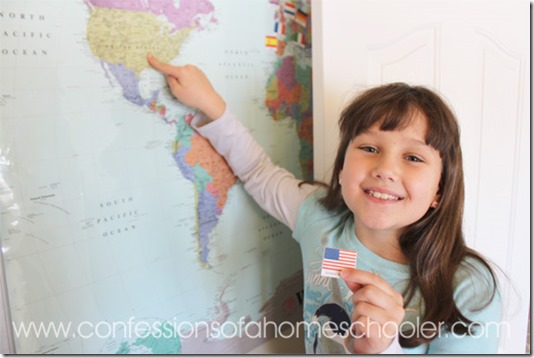 Here are some more of the fun things we learned about on our expedition this week:
Recited the Pledge of Allegiance (we do this daily anyway)
Sang the USA National Anthem
Located the USA and Washington D.C. on the world map
Learned about the USA Flag
American Flag Graham Cracker Snacks: (recipe below)
Learn about the Statue of Liberty
Sang an American Classic Song
Vocabulary: Butte, Canyon, Geyser, Rapids, Gulch
Learned about Mount Rushmore
Watched a video of Old Faithful Geyser, Yellowstone National Park
Learned about the Great Lakes
Learned about USA animals and classified them on our wall
Animals from USA mini-book
Learned about the Washington Monument
Learned about the Navajo People
Made a Navajo Sand Painting craft
We learned some fun facts about the United States and filled in our mapping worksheet.
We learned all about the U.S. flag and what the stars, stripes, and colors represent.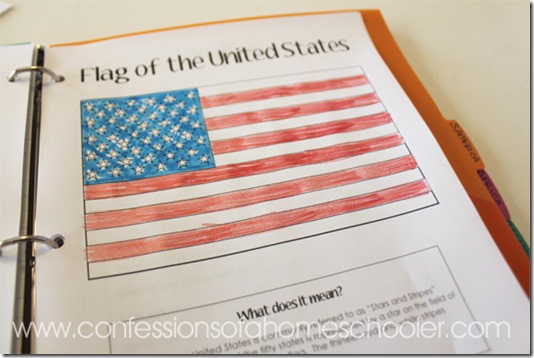 The Statue of Liberty was designed by French sculptor Frederic Auguste Bartholdi. It was given to the United States as a gift by the people of France. The statue is of a robed female figure representing Libertas, the Roman goddess, who bears a torch and tablet upon which is inscribed the date of the American Declaration of Independence, July 4, 1776. It states as an icon of freedom and of the United States serving as a welcome sight to immigrants arriving from abroad.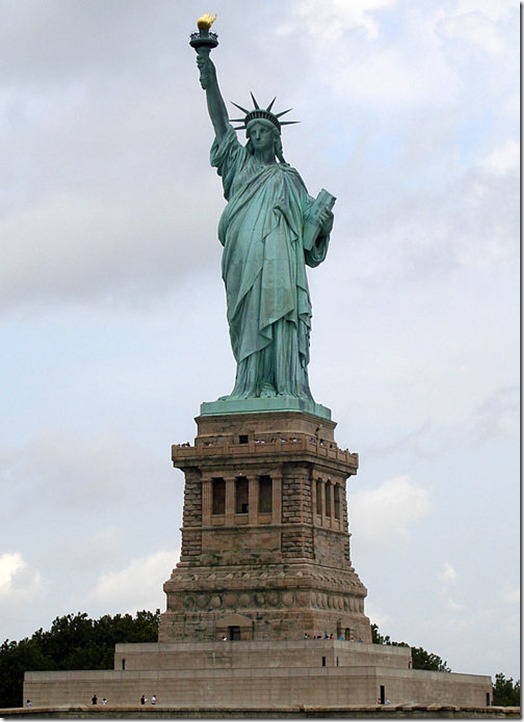 OId Faithful is one of the most photographed geysers in the world! My husband took a motorcycle trip there a few summers ago with his dad, and had some amazing pictures! It was named in 1870 during the Washburn-Langford-Doane Expedition and is one of the most predictable geographical features on earth. It erupts every 35-120 minutes with eruptions shooting between 3,700 to 8,400 gallons of boiling water to a height of 106 to 185 feet in the air!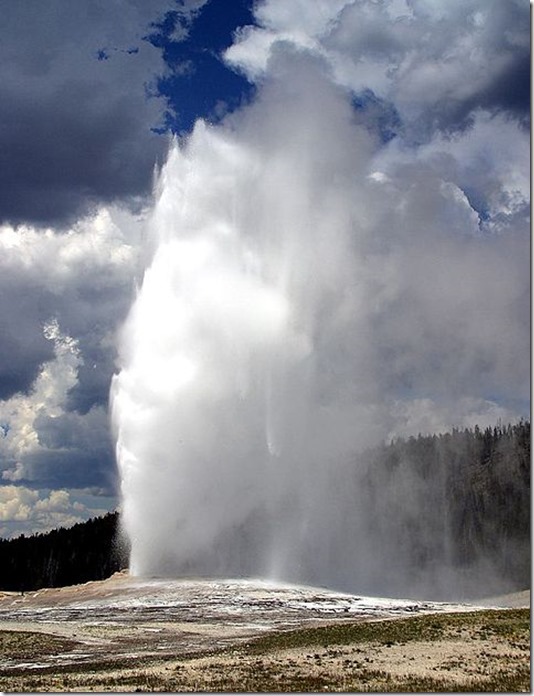 The United States Capitol Building, often called Capitol Hill, is located in Washington, D.C. at the eastern end of the National Mall on a plateau 88 feet above the level of the Potomac River. It is the seat of the united States Congress, the legislative brand of the U.S. federal government.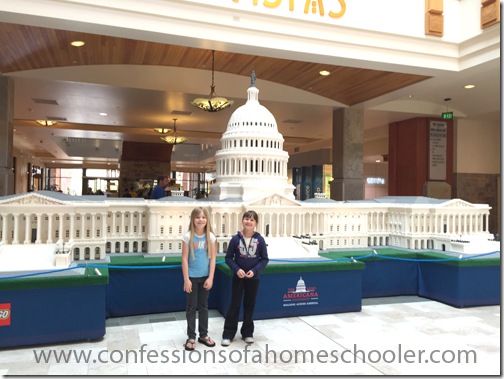 Last year we took a field trip to Mount Rushmore National Memorial. It is an absolutely breath taking sculpture carved into granite on the side of the mountain. The construction begin in 1927 and features 60-foot sculptures of the heads of four of the United States presidents: George Washington, Thomas Jefferson, Theodore Roosevelt, and Abraham Lincoln.
The park offers a beautiful trail hike where you can get even better views of the mountain as well as an indoor museum and lots of historical information on the creation of this magnificent memorial.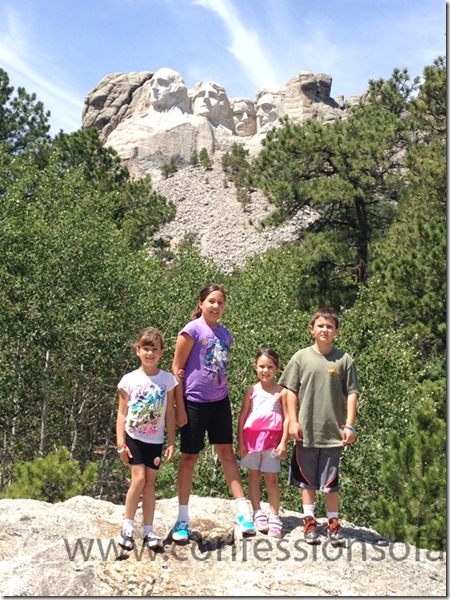 After learning about some of our countries cool landmarks, we made post cards to add to our collection.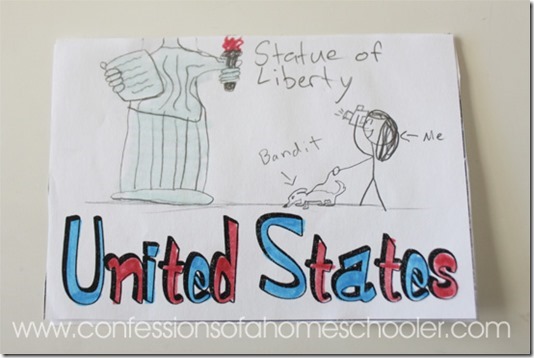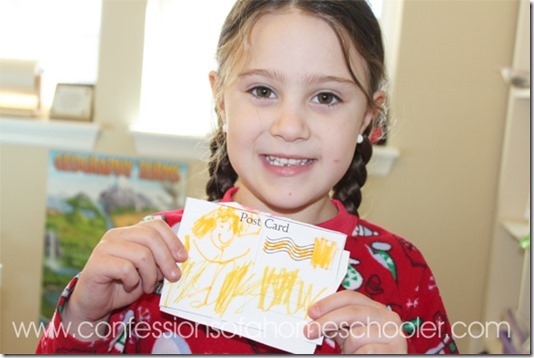 We learned about animals found in the U.S. and added them to our ever growing animal wall! I think I may have underestimated the size I needed to make this, we've long since expanded past the borders of my bulletin board! Oops!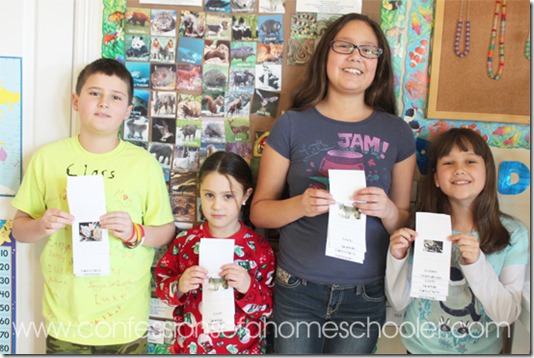 We added our mini-book to our world lapbook under the North America section.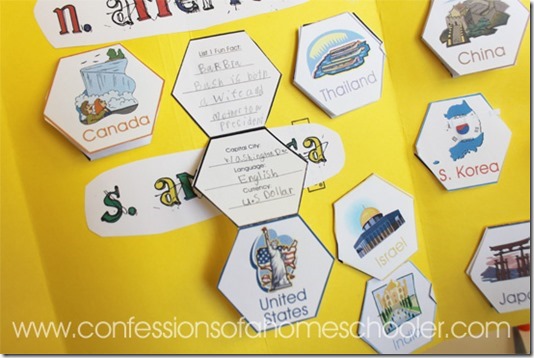 And finally we stamped our passports with the U.S. flag and our entry date!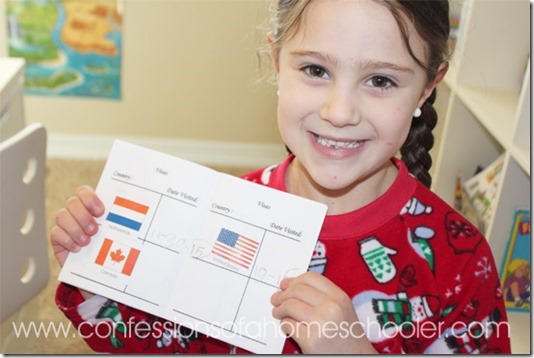 TBT 2010:
As we were enjoying this yummy snack, my daughter asked me "mom, do people from the US really eat flag snacks?" I said "Well, you live in the US and you're eating one, so I guess so!"
USA Flag Snacks: Ingredients: Graham crackers, 8oz cream cheese block, 8oz marshmallow cream. 1 C blueberries, 1 C strawberries, julienned. Directions: Mix cream cheese and marshmallow cream until smooth. Spread onto graham cracker, use blueberries for stars then add strawberries for stripes.
Next we made Navajo sand paintings. This was super fun, and super messy! I suggest doing this one on your plastic trays or cookie sheets to contain some of the sand! Also, prepare the base coat of sand the night before so it has time to dry, I forgot to do this so we had to postpone our craft until the following day!
Here's our USA whiteboard, we review these facts each day and sing our USA song for fun!
Thanks for joining us on our expedition through the United States of America, we're on to Mexico next week!
Click here if you'd like to follow along with our Expedition Earth Geography Curriculum Journey!
Expedition Earth is a hands on world geography curriculum that covers 31 countries across the world. It is designed primarily for elementary students grades Kindergarten – 6th. Students will learn the continents, landmarks, oceans, people, cultures, animals, climates, try new foods, crafts and more, all through engaging and fun hands-on activities!