Hey guys! I have a super fun giveaway for you all today. As many of you know Stitches_N_Giggles4U is one of my favorite Etsy shops and she is always up for doing a fun giveaway for my readers.
Now I know it's mid summer for most of us, but that's the perfect time to start a Christmas quilt! Yep, you heard me! If you start now, you have a really good chance at getting this baby done in time for the holidays!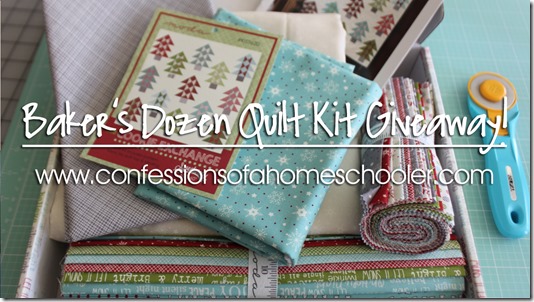 And since I love Sweetwater Fabric, I chose this super cute Christmas tree quilt kit called Baker's Dozen by Amy Friend for Moda Fabrics. The kit includes the pattern and all the fabric you need to complete the quilt top & binding.
Here's what the inside of the box looks like. As you can see you get a great selection of the fabrics and then they also provide you with the creamy snowflake print for the background.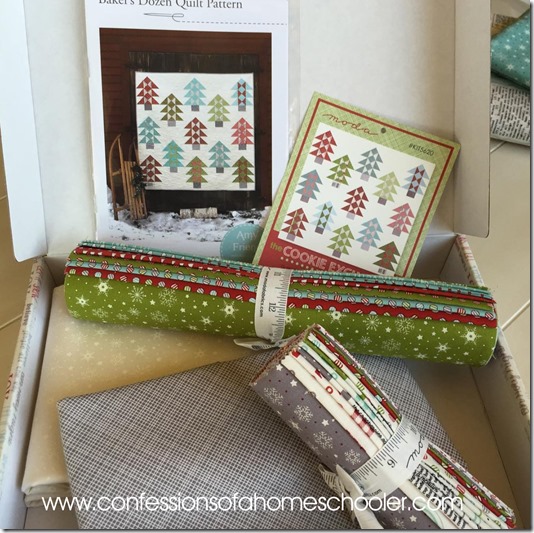 The kit came with the grey cross weave material for binding, but I went ahead and ordered some extra of the red print since I like red binding.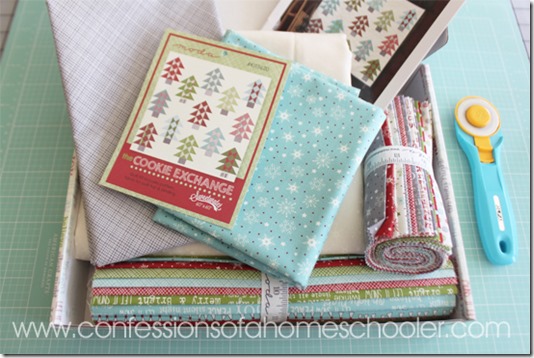 I also added a blue snowflake print around the edges for a border just to make my quilt a little bigger. But you really don't need to do that! This quilt already finishes at 60"x 60" so it's a great size for snuggling by the fire!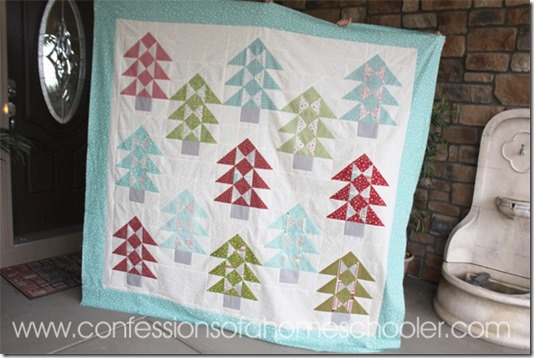 Here's the info if you want to add in an extra border like I did, and it will finish at 76″x74″:
1/2 yd. background creamy snowflake fabric (I added a bit of a border of background fabric just to give it an even border all the way around. The top of the trees already have about 2.5" above the tree tops, so I just added right, left, and bottom borders to make it look more even.)
Cut into four 2.5" strips for the right and left borders
Cut two 1.5" strips for the bottom border
1 yd. blue snowflake fabric for outer border:
Cut seven 5.5" strips and sew end to end. Then add that border all the way around your quilt. I usually sew on the right and left sides first, press, then add the top and bottom border strips.
Backing/Batting/Binding: If you add the extra borders you'll need 4 1/2 yards for the batting and backing fabric and 2/3 yards of fabric for your binding (cut into 8 – 2.5" strips).
This quilt is mostly half square triangles with a few quarter square triangles in it as well. I would categorize it as a medium experience quilt, but with a little practice I think most people could whip this together fairly easily!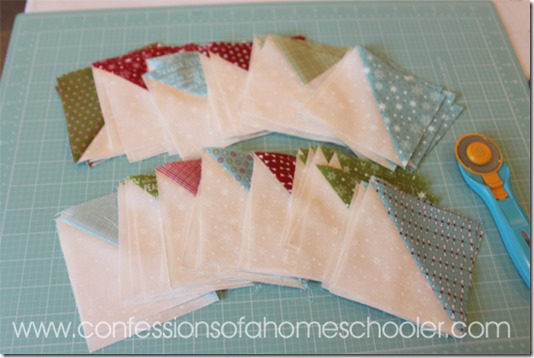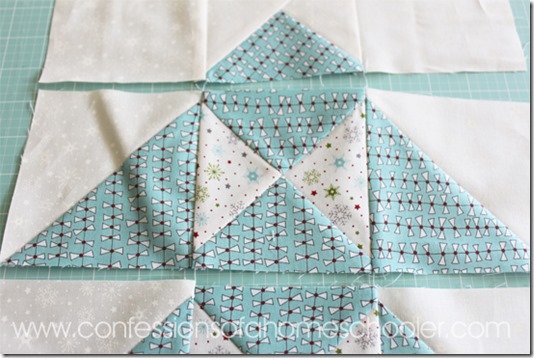 I usually do all of my quilting myself, and when it comes to Christmas quilts I like to do a fun loop-de-loop pattern. I think it just reminds me of ice skating or something wintery ha-ha! Either way I think it turned out cute!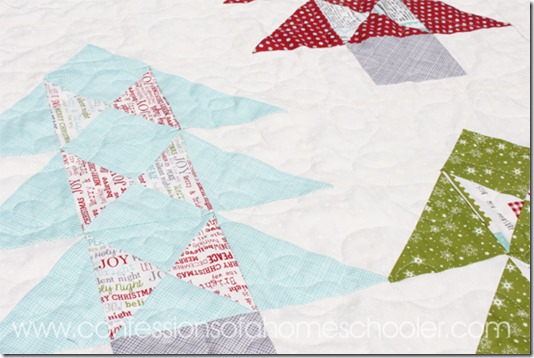 I ordered the recipe print from Stitches_N_Giggles4U for my backing fabric since it was just too cute. And if you're new to Sweetwater Fabric, the recipes they print on their fabrics are all real recipes that you can actually make! So it's delicious and cute LOL! The kit also comes with their Sweetwater award winning sugar cookie recipe on the back of the box too.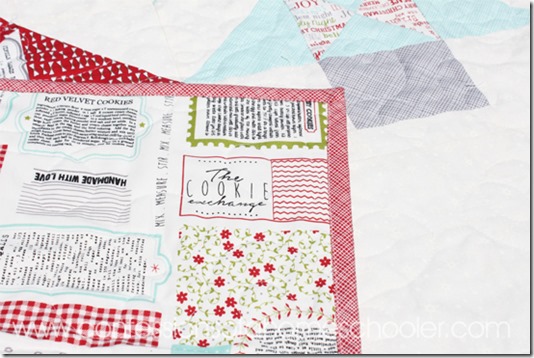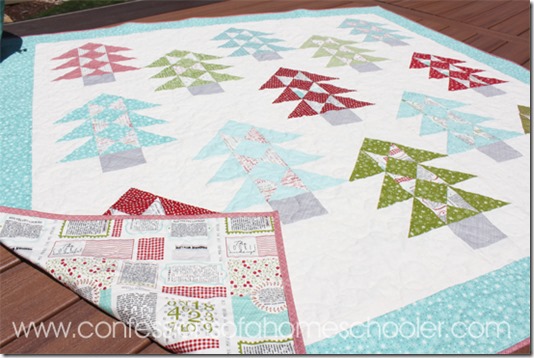 I even had quite a bit of fabric left over, I might have to make a matching pillow or something fun!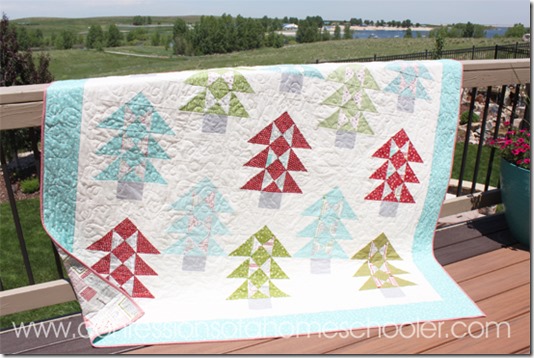 Check out the links below to get the pattern and kit below while supplies last!
And don't forget to stop by and favorite Lori's Stitches 'n Giggles 4U Etsy shop or follow Stitches_N_Giggles on Instagram to thank her for such a great giveaway!
Win it!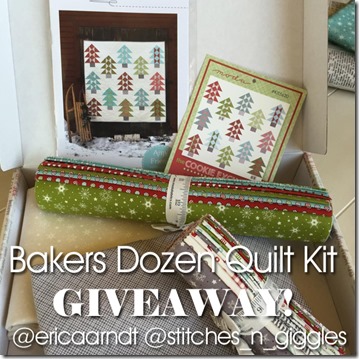 Stitches 'n Giggles 4U is sponsoring a giveaway for the Baker's Dozen Quilt Kit! Yay for free fabric right!?
Fill out the rafflecopter below to enter to win and join in on the fun with us!