Hey everyone! It's July first, can you believe it!? Summer is already flying by for us, and there's so much I still want to do before school starts! But worry about what to cook isn't one of them. So today I'm sharing my July 2016 Monthly Meal Plan with everyone. This way we can spend time having fun with the family, and not worrying about what to make.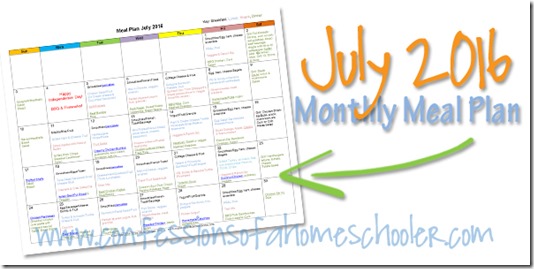 I don't know about you, but being home all day with 4 kids makes me feel like I'm just going from one meal to the next. As soon as breakfast is cleaned up, people start asking about lunch! Not to mention snacks and dinner prep. So if you're like me and don't want to worry about it, this meal plan is my gift to you! Go forth and enjoy your summer!
Download the 2016 July Monthly Meal Plan:
If you haven't already used this before, you can click on any of the underlined menu items to get to the recipe.
I like to shop once a week, so I just make a list off of my menu plan and head to the store. I find that I spend less when I shop off of a list, then flying by the seat of my pants. I also end up with ingredients that will actually go together instead of a bunch of random items that don't amount to anything.
For more fun recipes, visit my Recipes Page!
Here are some of our favorite smoothie recipes, just click on the image below!