Hi friends! As most of you know we've been using the Homeschool in the Woods Project Passport units for several years now and we love them! We've gone through all four of their Project Passport units and I'm excited to try the Ancient Rome unit coming soon!
And I have a fun giveaway for you all as well, so make sure to read through to the bottom of this post to enter to win one of these units for your family!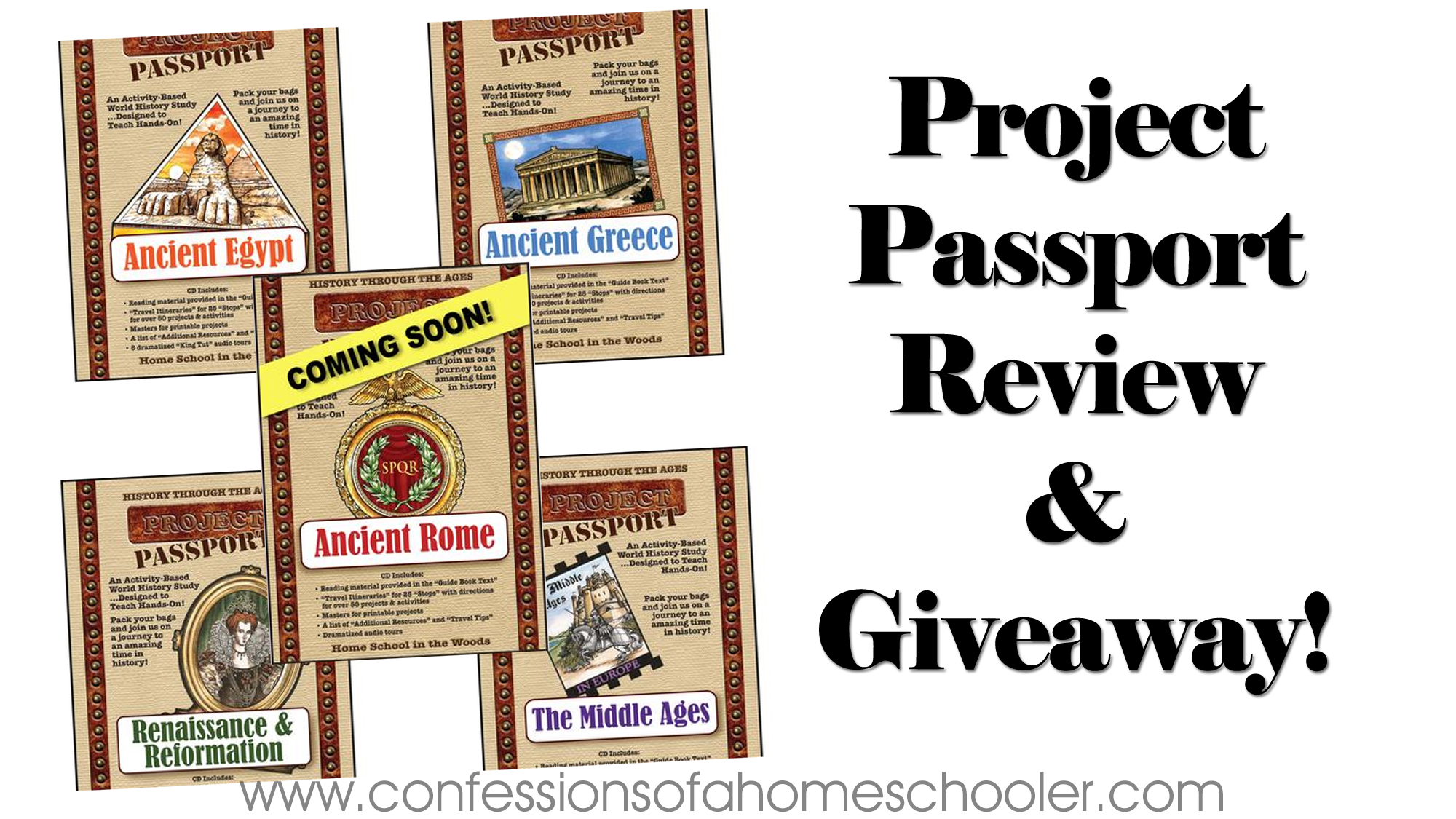 Previously we've used the DVDs, however this time I think I'm going to go for the digital download. Our newer computers don't have CD Rom drives anymore, and the older CD drives are having issues

So I've found that we prefer the digital access better at this stage of the game!
Along with the Project Passport units, they now have a NEW section for A La Carte items which is really cool! Many of the items listed in the a la carte section are from the larger units, but at a lower price so you can use them to create your own unique history unit.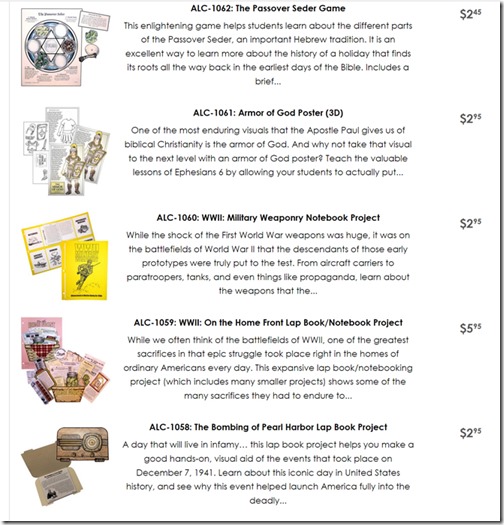 I also have a Medieval Times Creative Writing Newspaper FREEBIE for you as well! You can get this fun freebie by signing up to receive their newsletters.
–>> Click here to get the Medieval Times Subscriber Freebie <<–
Want more info?
You can find more information on the Homeschool in the Woods products here!
Check out my Homeschool in the Woods product reviews here: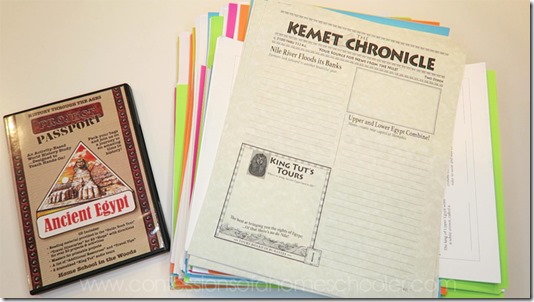 Products we use along with this curriculum:
Preparing your Project Passport Materials
Step 1: Organize the teacher's materials.
I get a lot of questions on how I organize all of these materials. The first thing I did was to look over the CD and pick out the teacher's lesson PDF files. I then printed all of the "stop itineraries(lessons)" and set them aside. It took a little time, but once I figured out which PDFs were for me everything went smoothly.
And here's my pretty teacher's binder all done!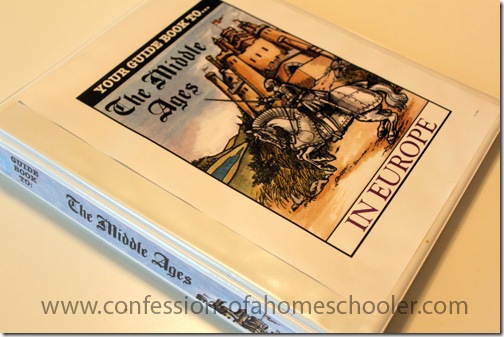 Step 2: Optional – Print the text/reading pages.
For each lesson there is a reading text PDF that you'll want to print out. I suppose you can keep this on your iPad or computer, but for me I like having things printed. So I printed all of those in order for each stop and set them aside. Again all of the lesson text pages are individual PDFs so printing took some time.
Step 3: Optional – Organize the Teacher's Binder.
This is totally optional, I like to have things printed out. But you could always just open the TM on the CD each day and skip the printing. I purchased a 1" 3-ring binder for my materials. Inside I organized them like this:
Stop Itinerary/lesson plan on top, followed by reading text for that lesson, followed by any additional maps and teacher's keys.
So in my binder it looks like Stop 1 followed by Text 1, Stop 2 followed by Text 2, and so on. I also added any maps or teacher keys behind the text for that stop. That way I can locate them easily. You can see this in the image below.
Next I put divider tabs between the stops and the Timeline teacher's key. Since they add to the timeline as you go through the lessons, I wanted to have it all in one place for easy reference so I didn't separate out those sheets behind the lessons like the other materials.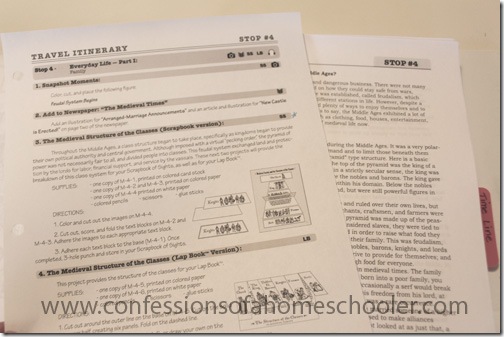 Step 4: Read through each Stop and choose your activities.
As I mentioned before each stop has several activities to choose from. I doubt we'll be able to do absolutely everything, so I went through and marked the things that I knew I wanted to do for sure. I figure later on if I want to add something in I can.
As I read through the lessons, I also marked the crafts or recipes we plan to try. I also created a shopping list of supplies so I can go get them all at one time. With the exception of recipe ingredients that might go bad, I will go get our craft supplies before starting so we're prepared.
Step 5: Print Student Materials.
This portion definitely took the longest to accomplish. After selecting our activities in step 4, I went back through the stops and printed materials for our year. Each activity comes with very specific printing instructions. For example one might say:
Print 2 copies of page M-1-1 on colored cardstock

Print 1 copy of page M-1-2 on white cardstock

Print 1 copy of page M-1-3 on copy paper
I followed their instructions exactly, and printed enough materials for each student as necessary. You might consider printing as you go so you don't waste materials if you decide not to do something. But I find that we get so busy during the year, I really don't have time to do a lot of busy work like printing. So for me, it's just easier to print ahead of time. Plus if I have it ready to go I'm much more likely to actually do it.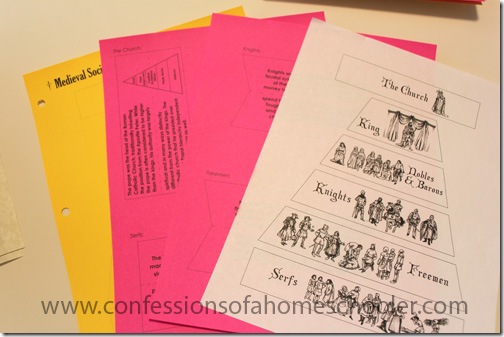 Step 6: Organize Student Materials.
Next I went through and sorted all of the items I just printed in step 5. Anything I knew would be added to their student binder I three-hole punched just so it would be ready to go.
I then stacked the pages together in order and paper clipped 1 lesson's worth of print-outs for all of my students together in one bundle. So it looks like this now, and I can just hand out papers as we go through each lesson.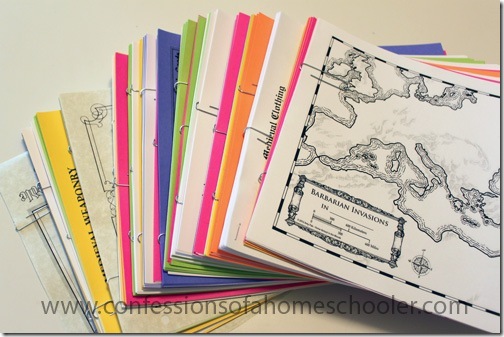 Step 7: Set up the Student Binder.
The next thing I did was set up the student binder. Each one of my kids will get their own binder. There is an option for a lapbook at the end of the year, and we may put one together, but for now we'll keep our materials in their binder, and I'll probably have them add the mini-book activities to their binder as well, maybe just glued to a piece of cardstock and inserted into their binder.
You might consider printing as you go so you don't waste materials if you decide not to do something. But I find that we get so busy during the year, I really don't have time to do a lot of busy work like printing.
So for me, it's just easier to print ahead of time. Plus if I have it ready to go I'm much more likely to actually do it.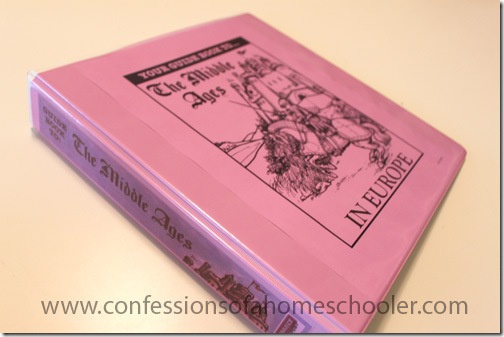 Just to make life simpler, I also prepared a couple of things ahead of time that I knew would save us time as we went through the lessons.
The Newspaper: One thing they add to throughout the year is a newspaper. So I went ahead and printed the newspaper pages and stapled them together so that when we get to those lessons I can simply have them add their article to the newspaper. At the end of the year, they'll have a completed paper!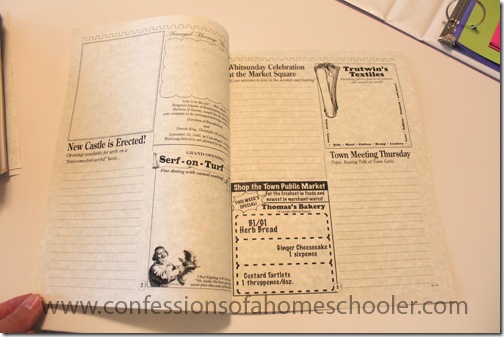 Post Cards: I also premade the postcard holder. For each lesson they'll be adding post cards to it, and I decided that the holder would be easier to have done ahead of time. That way they can focus on creating their post card, and not having to make the holder.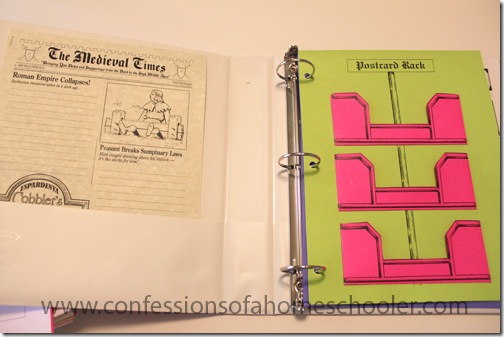 Timeline: I also printed their timeline and added it behind the post card holder as well. This way they can add their timeline figures to it as we go. They are the blue pages behind the green post card rack in the above photo.
BEFORE: So what started out looking like this…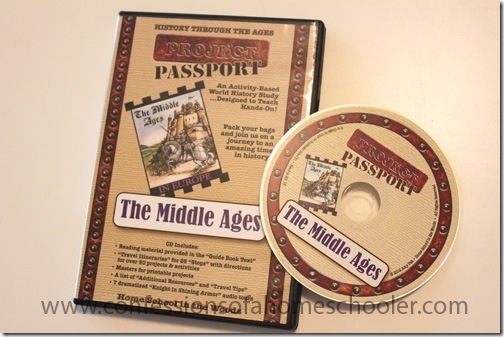 AFTER: Now looks like this… And make sure to hang on to the CD because there are listening/audio activities as well and you'll want to keep your CD close by.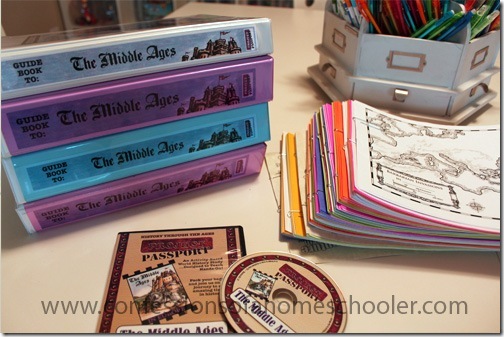 Total Prep Time = Approx. 1 Day
I definitely spent an entire literally FULL day printing and organizing all of this material. But I all of the prep work is definitely worth it. Preparing for this curriculum will make our year go much smoother!
——>>  GIVEAWAY!! <<—–
Homeschool in the Woods is kindly sponsoring a GIVEAWAY for us as well! I'll be choosing FOUR WINNERS and you can choose which digital download Project Passport you want from these:
Ancient Egypt, Ancient Greece, The Middle Ages, OR Renaissance & Reformation!
Enter below to win this curriculum for your family!