Hi everyone! We've removed all of the carpet on our main floor and have replaced it with hardwood flooring! I thought it would be fun to show our journey from start to finish so you could see the process along with the finished look.
Check out our journey from carpet to Hardwood Flooring video here!
With six people, a dog and a cat our floors have definitely seen better days. It's a bit embarrassing to show this before picture because we cleaned the carpets often and vacuumed constantly. But look at those stains after moving the couch. Ewe!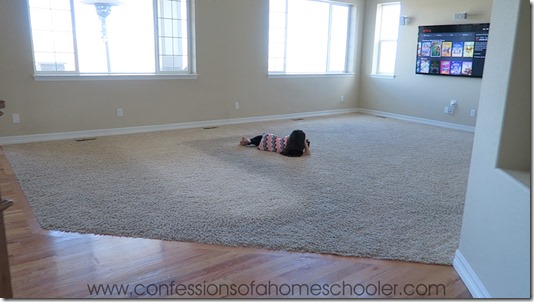 Stairs…same deal, lots of staining in the center of the walk-way.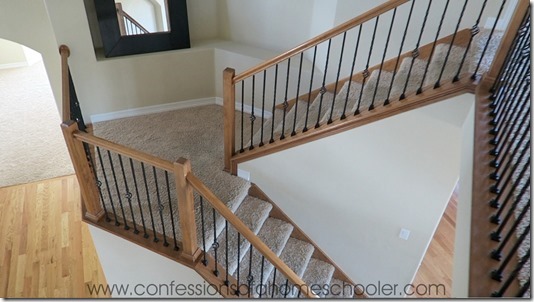 Sewing Room…this used to be our school room, and yep. You can see right where the desk used to be!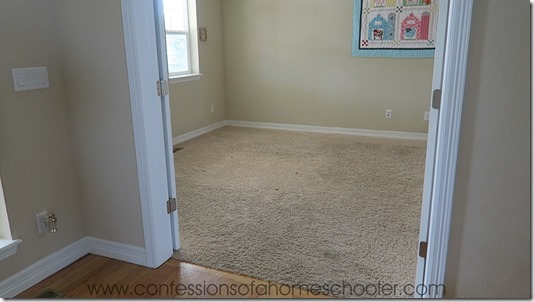 Dining Room…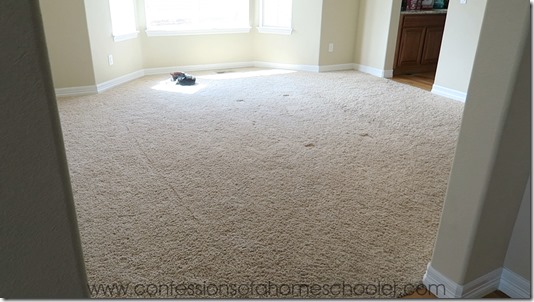 Powder Room…after starting the new flooring, we decided it would look nicer to remove the tile and add hardwood in here as well.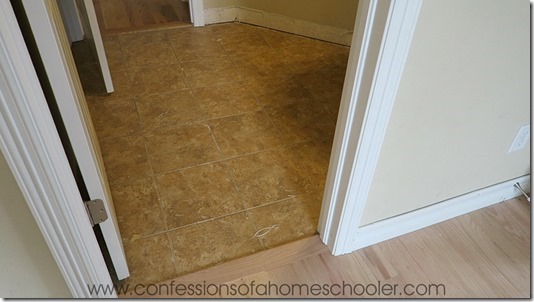 Here are a few of our "in progress" shots. The entire process took about 7 days start to finish. You can see more details on this in the video.
We decided to match our existing flooring so we didn't have to rip everything out. That meant we went had to go with 3/4" red oak.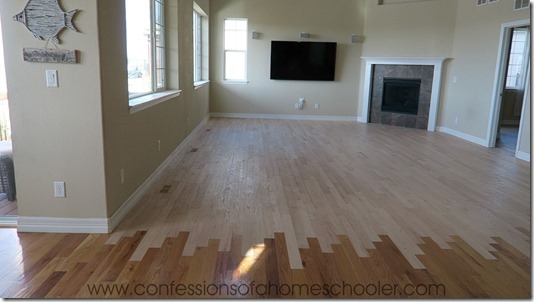 Here is an up-close of the feathering. After sanding you honestly can't tell which are the old floors and which are the new.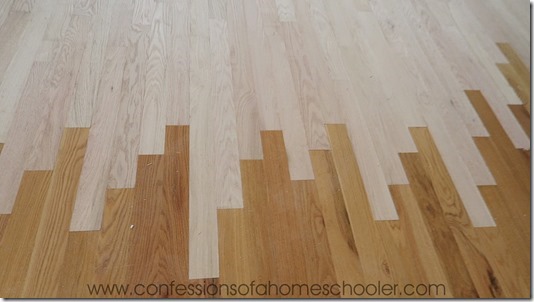 And here are the after pics…
We chose a water based clear coat sealant and so the wood color is basically natural and light. It is showing a little more red in some of the photos than it really is. It's quite light and natural.
I really like the choice we made, it lightens up the room and makes everything look bigger and brighter! Plus with all of the traffic we get dark floors just weren't in our future. We had dark flooring in our last home and it was so beautiful, but sooo hard to keep clean.
The whole process wasn't too bad. Since this is our main floor it was a little intrusive but nothing we couldn't handle. We did have to leave during the day for the last two days so they could get the sealant on but since we used water based sealant it was only for a few hours. And we were able to come back in the evenings.
And the dust level was definitely there, but not too bad. They did what they could to keep the dust low, but of course it still gets everywhere. So we just did a thorough cleaning after they were all done!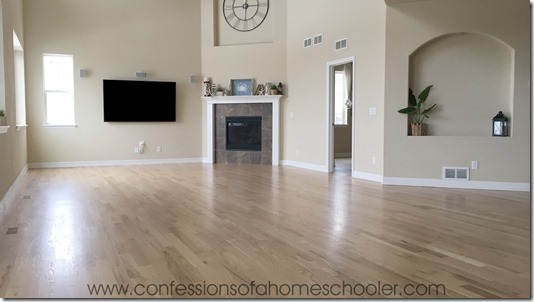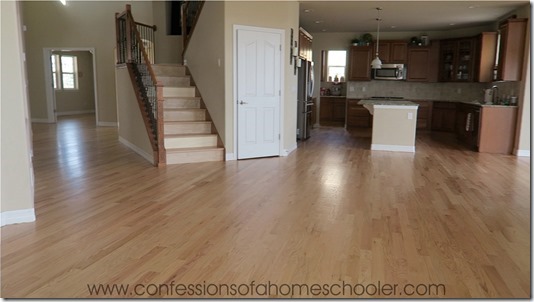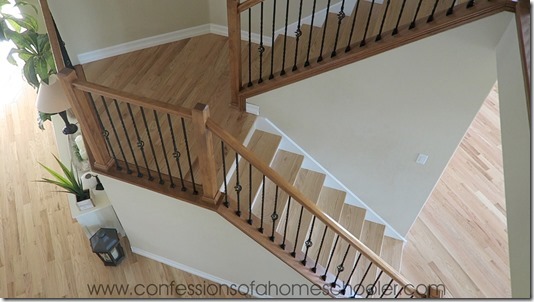 Before & After because I love to see those don't you?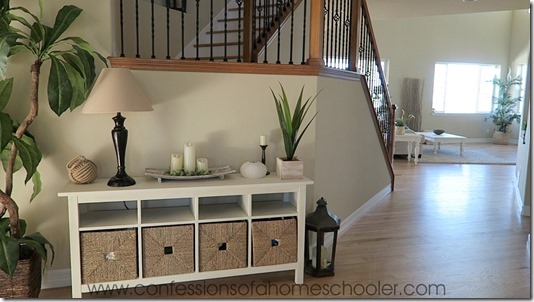 Living room…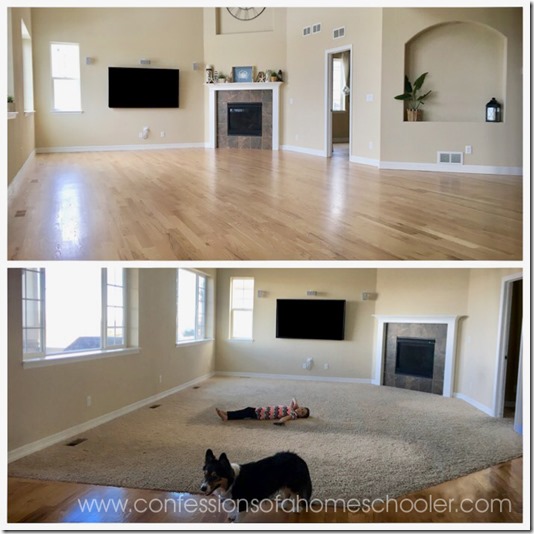 Stairs…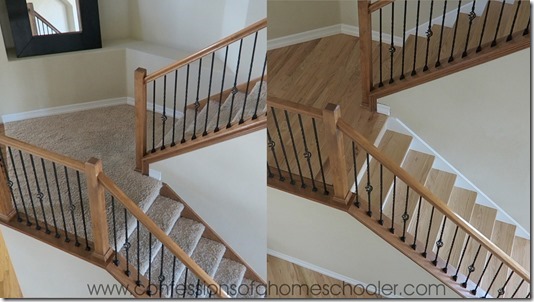 Dining room…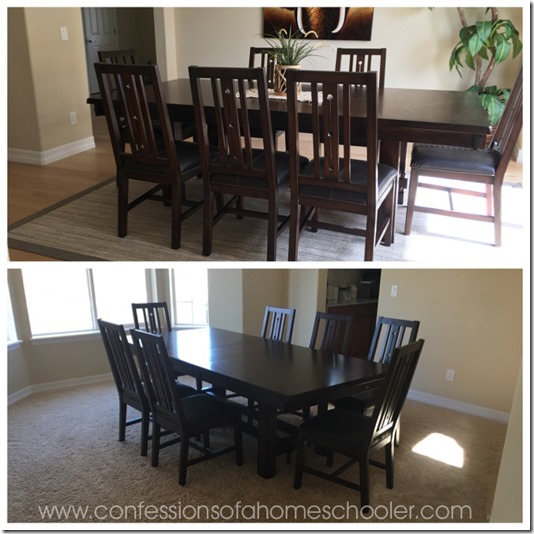 Sewing room…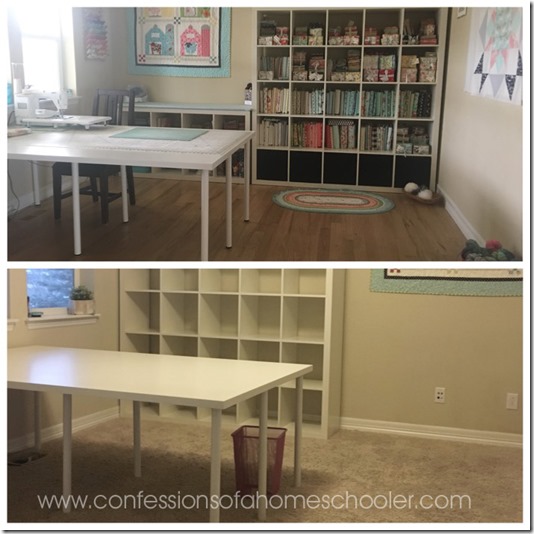 Powder room…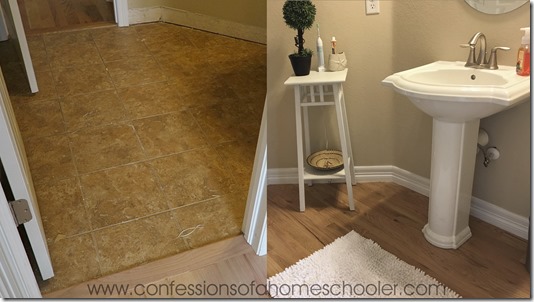 A Final Look…
And here's what it looks like now that we were all done decorating. And by "all done decorating" I mean…you know, aren't we all sort of in a constant state of re-decorating? No? Okay so Just me then. (wink, wink)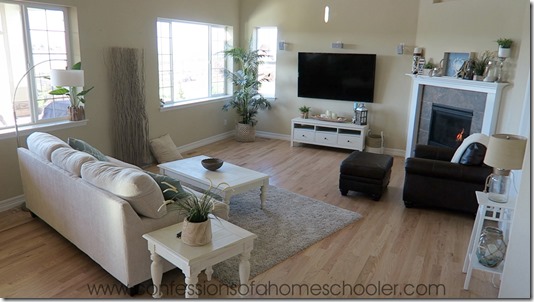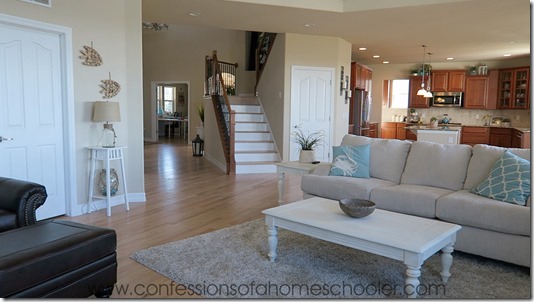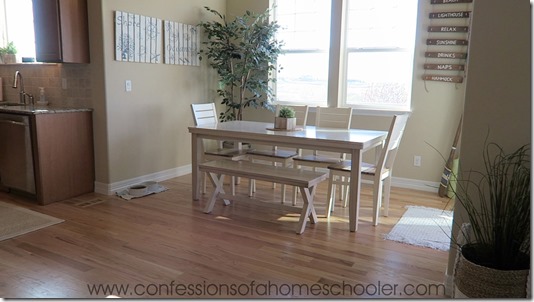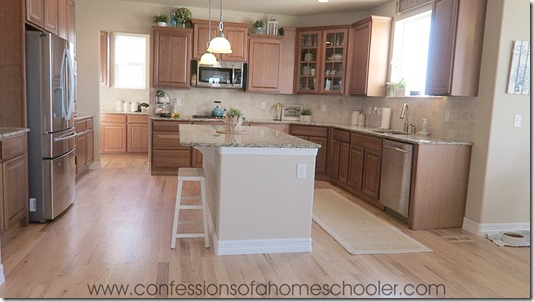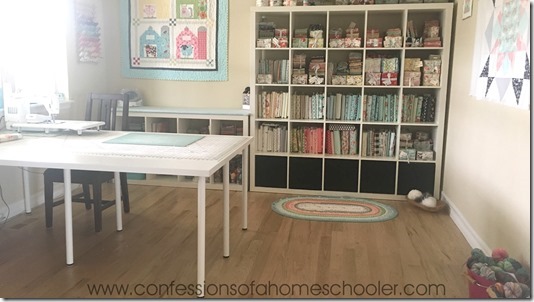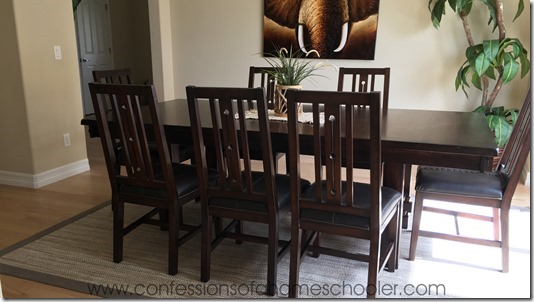 And that's it friends!  All in all, I'm really glad that we decided to get rid of the carpet. The hardwood flooring looks so nice and is much easier to keep clean.
If you want more info on what company we used, or have any specific questions about the process feel free to email me.