I love making homeschooling an engaging and hands-on experience for my kids!
My main goal when we started homeschooling was to make learning fun! Adding in tactile, hands-on, and engaging activities to our day encourages my kids to enjoy learning, and using all of their senses helps make the experience all that more memorable as well!
Finding ways to change otherwise boring, worksheet-type activities, into hands-on, tactile, and even kinesthetic activities can really help foster your child's love for learning.
Here are some of my tips for making activities hands-on and fun!
Get a cookie sheet, fill it with sand, sugar, or salt and let your child trace letters in the sand.
Practice writing on a white board with dry-erase markers (kids love those!)
Have your use a stamp and ink, then stamp inside the letter shapes
Cut letters out of construction paper, lace through the letters, poke the letters with a push pin (activities all available in my Letter of the week Preschool Curriculum)
Fill a gallon ziplock bag with washable tempera paint about 1/3 fill, then carefully seal the bag so it lays flat. Tape it to the counter and have your child write the letters in the paint. The counter will show through where your child presses.
Use Do-A-Dot Markers to fill in letter shapes
Use bubble magnets to write letters (Or make your own pom-pom magnets)
Use pattern block tiles to create letter shapes
Use dry-erase markers to practice wriring
Use Jumbo push pins or toothpicks to poke holes along a printed letter
Read TO your kids a LOT! Find SHORT books they are interested in and sit and read with them in the evenings before bedtime. Make it a routine. Find books with pictures as well, most beginner readers come with fun illustrations. And if they are younger get a book that is tactile as well.
Be patient 🙂 Reading comes with practice and lots and lots of patience! Kids will get it when they are ready, some earlier, and some later.
Another thing I loved making more kinesthetic and hands-on was our phonics and spelling practice. We used word cards to spell the words with Magnetic Letters. I just used a colorful little cookie sheet, and printed out her word list on paper, then cut them out.
Letter Tile Spelling: I love using letter tiles! I have this colorful little cookie sheet, we practice spelling out our words on the tray with the letter tiles! It's not only fun but also a great way to work on fine motor skills, letter recognition, and spelling all at the same time!
Stair Phonics:
I used to do this with all 3 kids at the same time! They each got a question and if they got it correct, they hopped down one stair. If they were incorrect, they hop back up one stair. The first one down wins! Man, I miss these days!
Prek: Letter/number flashcards: Name the Letter & Sound
Kindergarten: Show a CVC word card, have your child read the word
2nd Grade and up: I say a spelling word, have your child spell it
Hop Along Phonics
We also do the same type of activities with our Hop Along Balls. I'll sit on one side of the room and they hop around in a circle. Each time they get to me, they have to answer a question to get through the gate, a.k.a. my arm or leg sticking out.
Some days I'll even let them use the balls as chairs at their desks. Just simple movement helps them focus on the work at hand. I got our Hop Along Balls here, and I have to say it's been the best money I think I've spent! They love these balls, even when not in school. Our "Jumping Phonics" usually ends like this, with everyone giggling and smiling and knowing their phonics and spelling words!
Spelling Strips: These are are dry-erase wipe-off sentence strips. We use the cards to practice writing their spelling words on. I don't know what it is about dry-erase markers but my kids love them!
Alphabet Stamps: I love this activity, it works on fine motor skills, hand-eye coordination, letters, spelling, and reading all at once! Simply give your student some plain copy paper, cute alphabet stamps, and some colorful ink pads, and let them practice writing their spelling words! Have them read the words back to you when they are finished.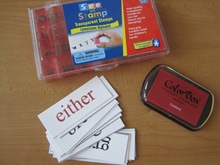 One of the lovely things about homeschooling is that we can meet our kids where they are and help them unlock any blocks they may be experiencing through our curriculum choices! Making activities hands-on and tactile can really improve their learning experience, help them focus, and improve memory retention too!
I hope these ideas have given you some inspiration to make your homeschooling experience more engaging and fun for your kids!