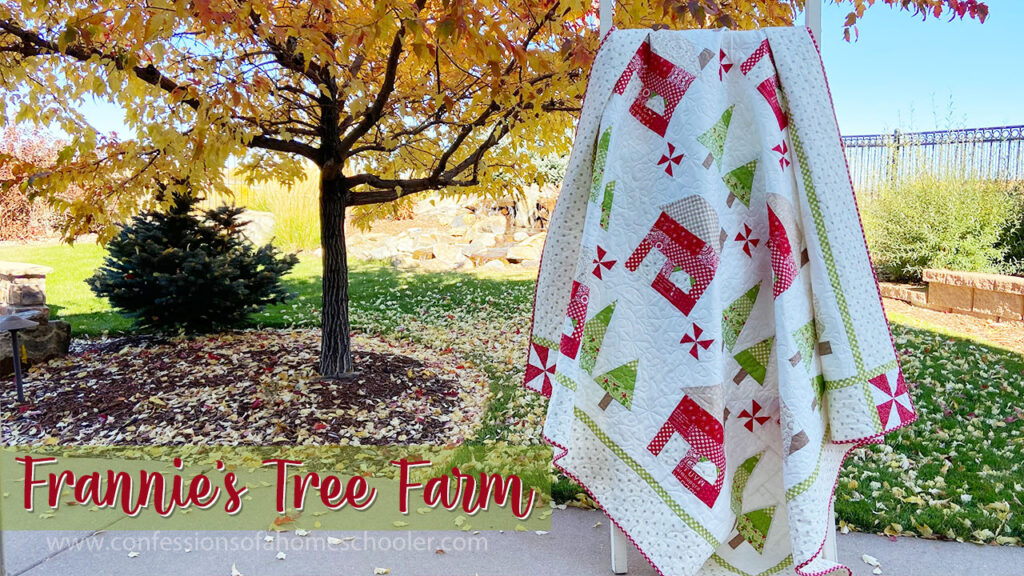 It's time for some festive holiday sewing! Frannie's Tree Farm is the perfect quilt to bring Christmas cheer into your home!
It's totally beginner-friendly, and super fun to put together. I used a creamy white for the background along with a soft creamy print for the borders. And of course, it wouldn't be Christmas without some pinwheels! I also did an adorable holly and snowflake quilt design. I free-handed this design on my longarm, and I think it turned out great!
Get Frannie's Tree Farm here!
Finished Size: 75″ x 75″
Fabric Requirements: (Catching Stitches has pre-made kits! See INSTAGRAM for a giveaway!)
Background: 3 yards
Green: 5 FQs
Red: 6 FQs
Pinwheels (Red) 1/2 yard
Low Volume: 1 FQ
Tan: 3 FQs
Brown 1 FQ
Border 2 (Green): 1/2 yard
Border 3 (Low Vol.): 1-1/2 yards
Binding: 5/8 yard
Backing/Batting: 5 yards
The houses and trees on Frannie's Tree Farm are both Fat Quarter (18" x 21") and Jellyroll (2-1/2" x 42") friendly!
I used a line called "Christmas Stitched" by FigTree for Moda Fabrics. It is the perfect blend of classic Christmas!
The backing print is Multicolored Grandma's Sampler, and the outside border is Multicolored Snow and Pine Cones.
The binding is Poinsettia Little Schoolhouse. The white background fabric is Moda 9900-97. The personalized label is from Sweetwater Fabric Co.
And a special thank you to my diligent "quilt holder" who worked hard to make these pictures perfect!
Watch my Frannie's Tree Farm video to see it up close!