The Liberty QAL and SAL are starting today! If you haven't gotten your supplies yet, don't worry we have until June 29 to get your progress pics posted, so grab some supplies and join in the fun!
What are a QAL (quilt-a-long) and SAL (stitch-a-long)?
It's a fun group of friends who quilt and stitch together on the same project at the same time. Hanging with friends makes everything more fun, and sewing with others gives us all a little extra motivation too! And of course, there will be some fun patriotic prizes involved!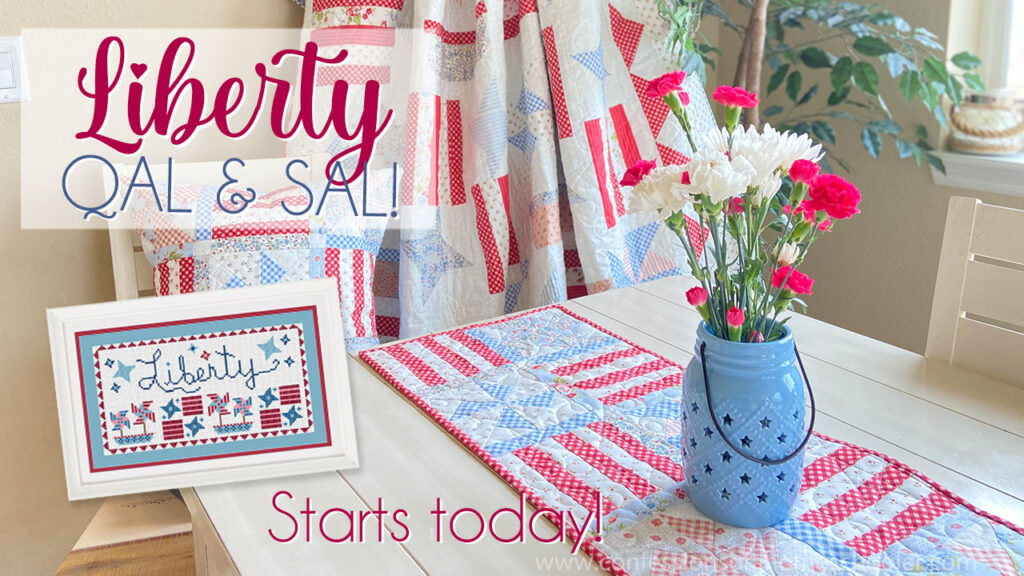 Here's how to participate:
Join our LIBERTY Facebook Group
Post your pics using #libertyqal or #libertysal
Quilt and/or stitch along following the schedule below
I'll choose winners from the hashtags once we are all done!
Have fun!
Watch the LIBERTY QAL/SAL Kick-Off Video here!
QUILT-A-LONG INFORMATION
Supplies:
Quilt-a-Long Schedule:
June 12 – Kick Off + Flag Blocks!
June 15 – Pinwheel Blocks
June 19 – Sashing + Flying Geese Border
June 25 – Assemble Quilt Top
June 29 – Baste, Quilt, Bind!
July 1 – Winners Chosen!
STITCH-A-LONG INFORMATION
Supplies:
Floss Colors
DMC 3326 Rose Light
DMC 816 Garnet
DMC 519 Sky Blue
DMC 517 Wedgewood Dark
DMC 3842 Wedgewood Very Dark
DMC 3862 Mocha Beige Dark
Stitch-a-Long Schedule:
June 12 – Kick Off + Flying Geese Border
June 15 – Liberty
June 17 – Stars
June 19 – Left Pinwheel
June 20 – Left Flag Block
June 21 – Right Pinwheel Block
June 22 – Right Flag Block
June 25 – Finishing!
And that's about it! If you have any questions please email me, otherwise, I hope you'll join us for the next few weeks of fun!