Hi everyone! I had such a great response to my Elementary Daily Learning Notebook, and Preschool level Daily Learning Notebook! I also had a bunch of requests for a cursive version, and frankly I don't know why I didn't make one to start with since Strawberry Shortcake is a cursive guru! So as requested…
Today I have the Daily Learning Notebook – Cursive Version!!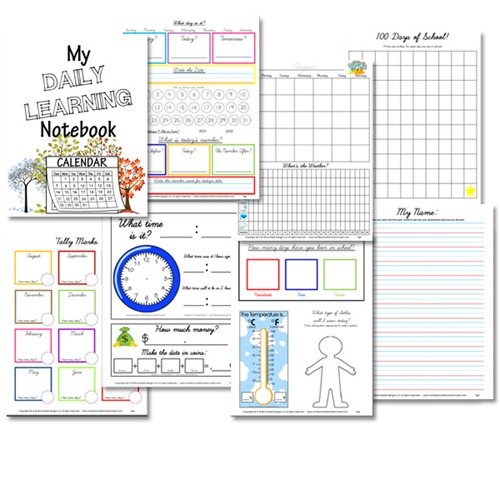 –> Download the Daily Learning Notebook-Cursive <–
What's Included in the Download? This printable is identical to the other Daily Learning Notebooks (Links below).
The first page talks about today's date, days of the week, and numbers:
What day is it?
What was yesterday?
What will it be tomorrow be?
Write the date
Color in the day number
Is today's number ODD or EVEN?
Write today's number
Write the number that comes before and after today's number
The next page covers money and time:
What time is it?
What time was it 1 hour ago?
What time will it be in 2 hours?
Make the date in coins.
Tally Marks: We also keep track of our days in school using tally marks, at the end of the month we'll count up all of our school days then write the number in the circle at the bottom of that month's box.
100 days count down: We're also keeping track of our days in school up to 100. If you can't read the numbers below, don't worry! Strawberry Shortcake has taken to writing fancy little stick people on all of her numbers…
Monthly Calendar and weather tracking: We are also tracking our calendar days in school, they'll write the month on the top of each calendar, then write the day's number each day. At the bottom of the page is a place to track weather for each month. At the end we'll discuss which type of weather we had most, least, etc. (The download has months in school year order: August – July, I also included a blank month for those of you who prefer to have students write the month titles on their own.)
If you missed my previous Daily Learning Notebook posts you can click to download any of the versions below:
MAC USERS: MAC users are saying that they get black lines across the file. If you install Adobe Reader, then open the file with that I think that takes care of the issue. Apparently Safari tries to open the file in preview or something instead of full view. Hope that helps!