Good morning everyone! I'm excited to share a new resource for getting God's Word into your child's heart! It's called "The Dig For Kids" and it was written by Patrick Schwenk. I'm sure you have all heard of the wonderfully inspirational site "The Better Mom", it is authored by Ruth, Patrick's wife, and I had the pleasure of meeting her in real life at a Sally Clarkson conference!
Patrick is a pastor, husband, and father of four. He is dedicated to training up his children in the Lord and has written "The Dig For Kids" as a way to get God's Word into their hearts and train them up in the way they should go.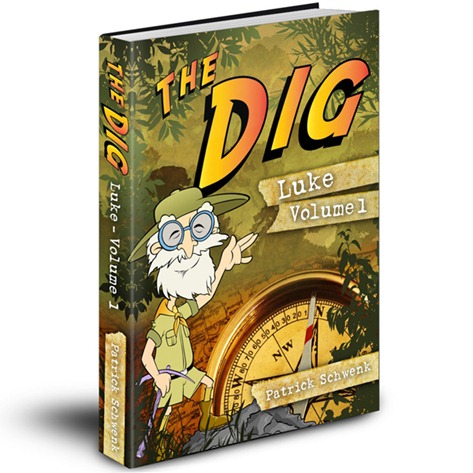 A typical Dig lesson consists of the following four components:
1.  The Map: Each lesson has a map.  The map tells you and your child where you'll be going in each lesson.  It is a short summary of the study ahead.
2.  The Dig: The Dig is the main passage you will be studying.  Following each passage will be several questions designed to help conversation and understanding.  They are meant to be a guide.  You can use them or tweak them to help you talk with your children.
3.  The Treasure: The Treasure is the big idea of each lesson.  In a short statement, it is what you want your child to remember from the passage you studied.
4. The Display: When an archaeologist finds a treasure, they will clean it up and out it on display for everyone to see.  This is the basic idea of the Display.  It is the application of the Treasure you have found!
After completing a round of study, students get to the "Oasis". It's a chance to review what they've learned so far, and usually include some type of coloring activity along with a quiz to help you review.
The Dig for Kids is available on Kindle, Nook, or as a PDF for just $4.99! (Just click one of the links below!)
Want more info? You can download a sample lesson free, just click here!
Now for the fun part! Patrick and Ruth are offering a FREE copy of "The Dig For Kids" for 3 of you!
Whoohoo!
Enter to win below!