I received this precious gift from one of my favorite authors and people, Darlene Schacht.
Some of you may remember her from the wonderful book that she co-authored with Candace Cameron Bure called "Reshaping It All". Ever since then I've remained friends with Darlene and have continued to be inspired and encouraged by her amazing blog Time Warp Wife and all of her sweet facebook posts.
I always look forward to hearing from Darlene, and when I heard she was releasing another incredible book I couldn't wait to see it!
Psst…keep reading for a chance to win a FREE copy!!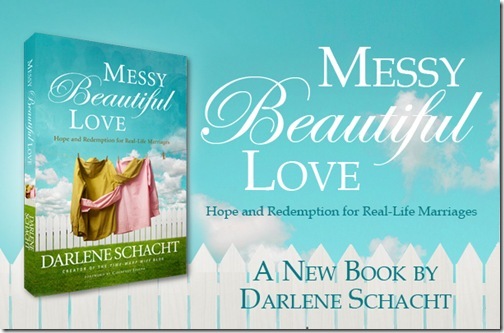 So what is her new book all about?
Love gets messy.

Financial problems, sickness, aging parents, a chronically unhappy spouse . . . trials will inevitably come that threaten your marriage. No matter how long you've been married or how strong your relationship is, sooner or later you are going to have a mess to clean up.

Messy Beautiful Love is about cleaning up messes God's way, exchanging your ideas for His, and being prepared for both the best and the worst that marriage has to offer.

When you surrender your relationship to God, then and only then will you experience the blessing of marriage as He intended. This is the blessing of obedience.

Messy Beautiful Love is an invitation to that obedience. The cynical world says marriages don't last, but God knows better. Tune out the world and tune in to Him. When you do that, a beautiful marriage is not only possible, it's inevitable.
Let's hear from Darlene herself on this book's focus, relevance, and vision…
Why did you write Messy Beautiful Love and what do you hope it accomplishes?
I wrote it to encourage women in their marriages, and to remind them that they're not alone on this journey. We all struggle in this life, and if we haven't yet it's inevitable that we will. That's why it's imperative that we equip ourselves by studying the gospel and keeping our marriage in prayer. Love is a beautiful thing, but the reality is that life is messy at times. When we live out our roles in marriage as God ordained them to be we discover joy and peace unlike anything else.
How is Messy Beautiful Love different from other books on marriage and relationships?
Because I've been through a lot in my own marriage, I understand the importance of grace and forgiveness. I offer hope to women where hope would be otherwise lost. Can a broken marriage be repaired? Can a stale relationship be revived? Messy Beautiful Love answers those questions with a resounding "Yes!"
Why is this book important and relevant in today's culture?
What we're seeing too often is a society that's tossing marriage aside. This world is cynical when it comes to marriage, believing most won't last. And those that do last? Well, surely one spouse or the other must be a miserable soul. That's what we tend to see when we look at the standard this world has to offer. God's standard, on the other hand, is rich. He offers abundant life to those who are exercised by faith. We serve a God who's the same yesterday, today and forever. The beauty of the marriage covenant hasn't changed over time—our view of it has. Those who give up too soon are missing out on the blessings that come with staying the course.
Want to be inspired by Darlene? Subscribe to her social media outlets below, you won't be sorry!
Ready to check out Messy Beautiful Love for yourself? You're in luck, it just released yesterday! Click below to get your copy and if you have time, stop by Darlene's facebook and send her some love and encouragement!
Win it!
Darlene is offering two free books to giveaway on my blog! YAY!! That means 2 winners, so make sure to enter to win your free copy below!