Hi everyone! It's no secret that I'm a huge fan of Math-U-See! And thanks to their awesome staff, they've offered a great giveaway for my readers today.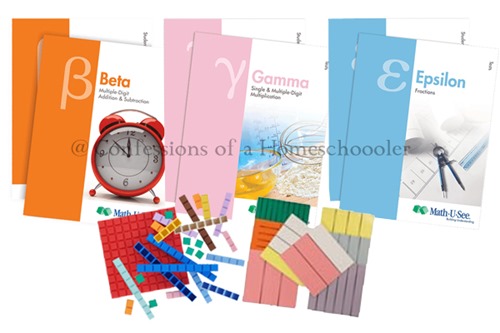 One thing I love about Math-U-See is that they teach to mastery, and that means your student might not learn a certain skill right off the bat. They build on concepts so that the math skills actually make sense for your student.
Students also use the MUS visual manipulatives to help further understand whatever skill they are working at the time. However to my surprise the students do not become depending on the manipulatives to solve problems. They're simply hands on training tools to use until a concept is mastered.
This is what the Math-U-See looks like in our workboxes. I pull out their worksheet each day and keep the video DVD and our little plastic storage container.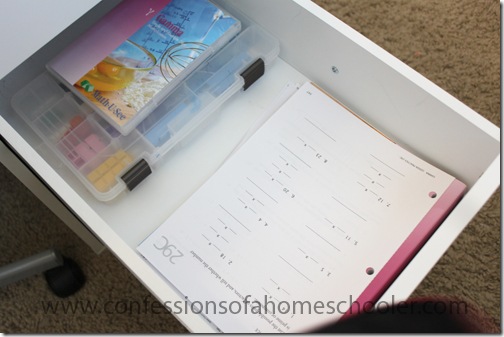 I also have a couple fun organization ideas for all of those blocks for you! For our large set of blocks I purchased the Small Craft Organizer from The Container Store. This worked great until we had to start sharing blocks.
Once we had more than one kiddo needing blocks we decided to divvy them up so they could do math at the same time. I found these moveable divider storage at either Michael's, JoAnn's, or Walmart in the bead area. (I don't remember exactly which one, but they all have them.) It's a bead organizer with adjustable dividers which make it easy to fit all of the various sized blocks.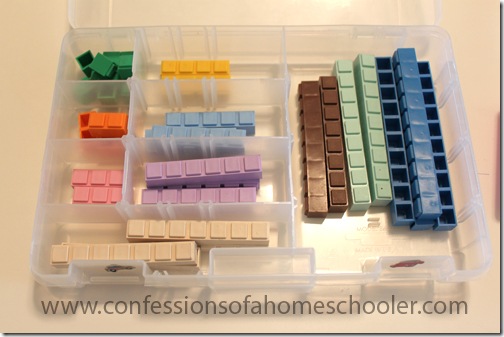 Here's the same thing, just a little different. I've purchased three of these now, so they're each a little different, but all work the same.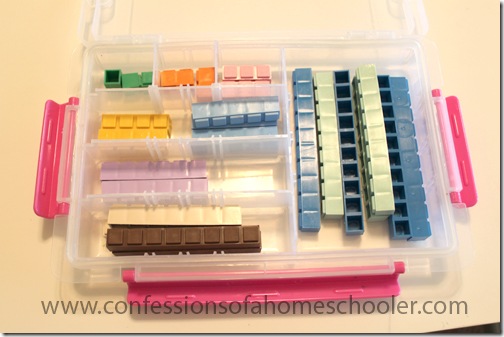 Since I know those blocks can be pricey, today thanks to the super cool team at Math-U-See I'm giving away one Math-U-See grab bag full of goodies. The bag will contain:
Manipulative Block Set
Wooden Block Box
Math-U-See T-Shirt
Yes, you read that right, I'm giving away a set of Math-U-See blocks and their cool wooden organizer! (That's over $65 value for you, FREE!)
Click the rafflecopter below to enter!
More Math-U-See posts you might enjoy: