Hi everyone! Since it's a new year, I thought I'd put up a What's in the Workbox Wednesday post so you can see what we're doing this year! For those of you who missed it, you can check out my 2014 Curriculum post to see more details.
Today we're taking a quick look at Strawberry Shortcake's workboxes today, for those of you who don't know, she's in 6th grade this year. Sniff…sniff…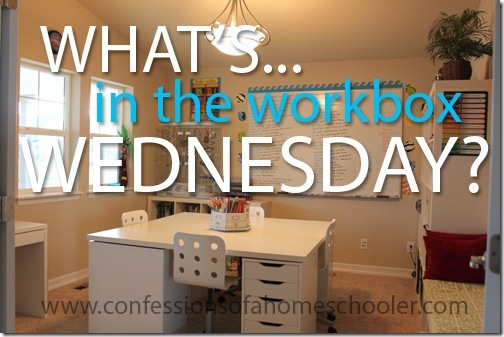 Drawer #1:
1) As you've probably already seen, our top drawer houses our expandable drawer organizer and it holds all of the pencils, glue, erasers, lip gloss, etc. that a 6th grade girl needs on a daily basis. It hangs on the drawer sides, so it can slide back and forth out of the way which is a nice feature. It also expands/contracts to fit most drawer sizes.
2) This drawer also holds our Picture Smart Bible student notebook, which is going great so far. This curriculum is great for elementary aged students.  We do this as a group with my kindergartener, 3rd grader, 5th, and 6th grader. For the kindergartener she is just coloring in my teacher pages, but the others have the traceable pages in their spiral notebook. You can read more about how we use this program here.
3) It also has her weekly assignment printout. I get a lot of questions on this, and it's just a report printout from www.homeschooltracker.com that I print and spiral bind for them. Granted a few things changed since we started the year, so you might prefer to print this out on a weekly basis, but for the most part it works to help her keep track of her daily workload.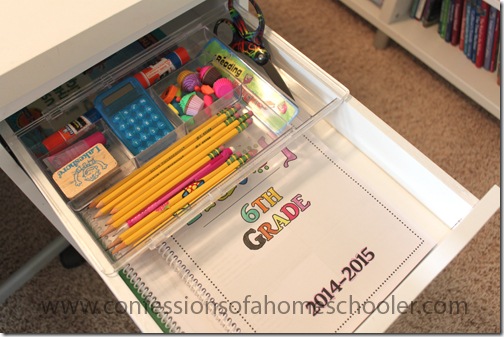 Drawer #2:
This drawer houses all of our math stuff. Strawberry Shortcake is using Math U See Zeta this year, so she has the algebra/decimal inserts along with her student workbook, test bookelet, and DVD. I pull out her worksheet each day and lay it on top of the workbooks of she knows what to do.  Although Math U See has plenty of word problems each day, I wanted them to have a little more practice, so she also does a worksheet from the Evan-Moor Daily Word Problems booklet.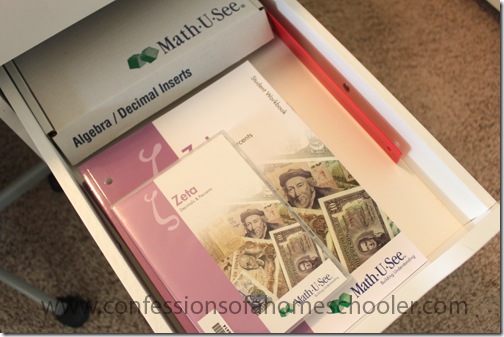 Drawer #3
1) Spelling: For spelling this year we're doing a combination of the Spelling You See Level D and the All About Spelling Level 7 .  I keep the teacher's manual for All About Spelling stacked underneath so you can't see it, but when she gets to her spelling drawer, she pulls it out and we do the lesson. Then she goes through and does her next page in the Spelling You See notebook which is mainly copywork so far. We're still trying this out, so we'll see if it helps with spelling later on when we do testing.
2) Vocabulary: For Vocabulary this year we're doing Vocabulary Workshop. So far it is "okay". I can't say I totally love it, it's a little better than the Wordly Wise we tried prior. I'll keep you posted on how we do with it this year. And you might notice her Abeka  Read and Comprehend Skill Sheets 6 under the vocab booklet. At the end of each week they do a test from these. They're quick 5 minute reading comprehension drills that not only help with test taking, but also improve comprehension.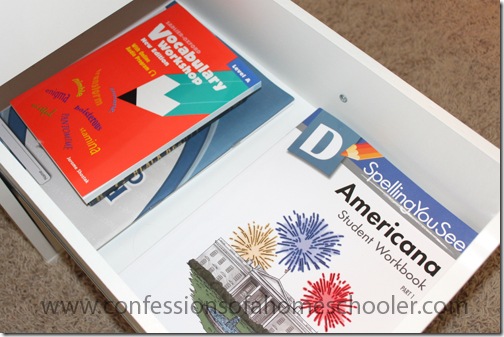 Drawer #4
1) History: We are using The Middle Ages unit from Homeschooling in the Woods this year. I'm so excited to be doing something fun and hands on since we've previously been using Abeka. Don't get me wrong, Abeka is perfectly fine, it's just not that exciting. So it's nice to be going with something new this year. I'll have a more formal review of what we think of this curriculum coming up, but you can read about how we organize and use it all in my Homeschool in the Woods post.
2)  We also have the BJU Press English level 6 in this drawer.  We moved back to BJU English this year and so far it's going well. As with the other subjects, I normally pull out the day's worksheet and place it on top of the workbook so she knows what to do each day.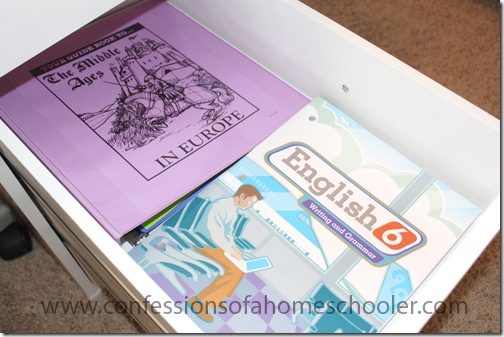 Drawer #5
Drawer 5 is kind of a catch drawer because all of the little projects we're working on pile up in there somehow. It's clean right now because it's the start of the year, but it houses our art lapbooks, any Classical Literature books she's reading and that lapbook,
1) Photography: This year Strawberry Shortcake wanted to do an elective and since she loves photography I thought that would be a great place to start. I'm using a new curriculum created by a friend of mine called  The Foto Finch Composition & Photojournalism. It's great for beginning photographers, and though it's advertised as a highschool level curriculum, my 6th grader is doing great with it.
This unit isn't as technical as her other one, but it's more of an artistic type unit. This course DOES NOT require the student to have any specific kind of camera.  They can do this course with a DSLR, point & shoot, even a phone camera, whatever they have available. She's using one of my old Canon point and shoot type cameras and it's working out great. I'll have a more formal review of this coming soon, but I will say that so far we love it!
2) The Dolphin notebook is our Colorado Unit Study that we're just finishing up. We had some left over from last year.
3) Writing: One thing that didn't make it in the photo for some reason is her Institute for Excellence in Writing binder. We are using this daily and so she normally keeps it in this bottom drawer.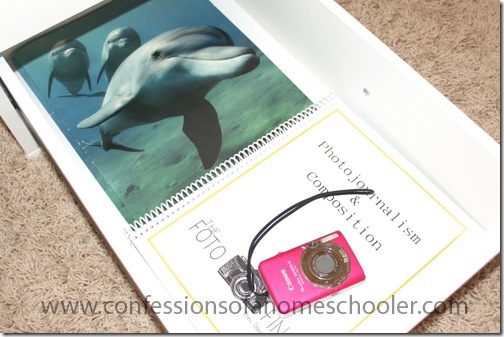 Here are some other things that Strawberry Shortcake is doing this year, but that aren't stored in her workboxes: