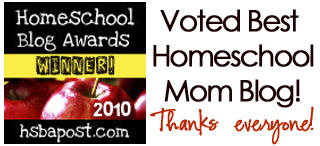 As the winner of the 2010 Best Mom Blog, I'm super excited to see all of the 2011 Homeschool Blog Nominees! Each year there is a list of amazing homeschool blogs, including new blogs as well! It's a wonderful resource for ideas, inspiration, and a great way to give a little love to all those bloggers out there who have inspired you!

Nominations will open next week, October 10 –21, so make sure to visit HSBA to vote for your favorite bloggers!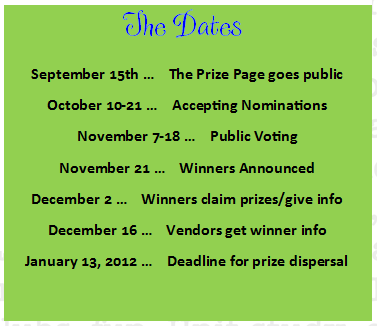 Here are the categories for this years awards:
Best Homeschool Mom Blog (Thanks to everyone who voted for me last year!)
Best Homeschool Dad Blog
Best Blog Design
Best Photos
Best Crafts, Plans & Projects Blog
Best Family or Group Blog
Best Encourager
Best Current Events, Opinions or Politics Blog
Best Homemaking or Recipes Blog
Best Teen Blog
Funniest Homeschool Blog
Best Special Needs Blogger
Best Curriculum or Business Blog
Best Variety
Best Thrifty Homeschooler
Best SUPER-HOMESCHOOLER
Best Nitty-Gritty Homeschool Blog
Best NEW Homeschool Blog
Best Homeschooling Methods Blog
Best Homeschooling Nature/Field Trip Blog
You'll also want to head on over to see what prizes are being offered this year.  They have thousands of dollars worth of quality prizes for the top 20 blogs this year. HSBA will have a long list of new blogs to check out for everyone who stops by — because no one should have to homeschool "alone" out there!
Make sure to visit the awards page to stay updated!