Hello fellow teachers! I have a much requested post for you today. I'm going to share some of my "must-have" items that have been favorites in our homeschool! Of course all of these things are totally optional, but they all have been well loved and used in our homeschool and I have absolutely gotten good use out of them, so I thought I would share.
Desktop Carousel: I know you've all seen my supply caddy that literally holds our Ikea school desks in place. I honestly do LOVE this thing! It's called the Making Memories Desktop Carousel. I found ours at Michael's craft store and bought it using a 40% off coupon. They range $40 or so. Here's one at Overstock.com. I've also seen a new one called Recollections Desktop Carousel if that helps any of you out there! I keep the majority of our supplies in this caddy so everyone can share.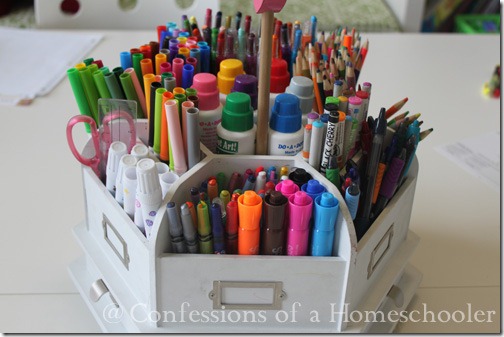 What's in my desk: I keep all of our supplies in my drawer. The kids know to ask me before taking them…usually…sometimes…okay, not really but it would be nice. Anyway, here's a list of the supplies I keep handy: Expo dry-erase markers, Mavalus tape, scissors, sharpies, spare glue sticks, scotch tape, push-pins, stapler, sticky tabs, pens, post-its, and my favorite pencils ever…Ticonderoga.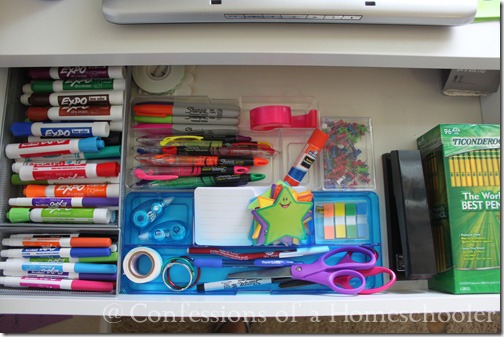 Laminator: You can either laminate at home, at a local teacher or office supply store, or not at all, it's up to you. If you do choose to purchase a laminator, which most homeschoolers find quite useful, I recommend this one, you can find it at Wal-mart and Sam's Clubs. It's about $30 for the laminator and $14 for refill packets.  You can get them here: Scotch Thermal Laminator & 9×11 Scotch Thermal Pouches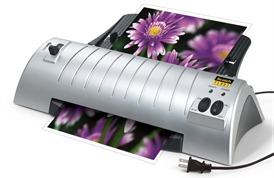 Random Supplies:
Hole Punch (I have a single hole punch as well as a 3 ring hole punch.)
Mavalus Tape! (This is a must for me! It's like masking tape, but it holds literally everything on our walls, and doesn't mark or take off paint!)
Stapler & Staples  (Nothing fancy here, just a plain ole' stapler.)
Workboxes (I have used the Cropper Hopper 10 Drawer Rolling Carts, and now we use our Ikea drawers. Either work great. Click here to read all about our workboxes! They revolutionized how we do school. No kidding.)
Calendar Poster (This is held onto a cork board with small thumb tacks. Click here to see more details on our Calendar Activities)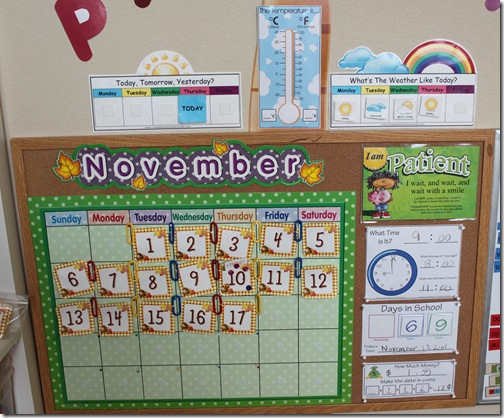 Stickers: Okay, I know this might not be a new concept, but I absolutely swear by these little stickers! The rule in our home is that if you get an A on a worksheet, you're allowed to put a sticker on top. I know it sounds silly, but everyone, even Strawberry Shortcake loves these! Whenever I'm out and about I'll look for new, fun, smelly, sparkly, or puffy stickers to add to our collection. Everyone loves them. And yes, for the most part I grade all worksheets promptly upon turn in and if they've received an A, they get to visit the sticker caddy to adorn their work.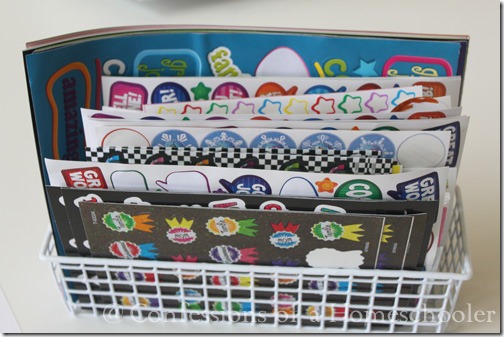 Highlighters: You can use any brand of these you want, I was just suckered in by the color selection of the Sharpie Accent Liquid Highlighters. One of them did leak, just so you know. But we use these every single day to mark off completed items as we go through our lessons. Strawberry Shortcake usually takes them all and marks her own sheet, while I typically mark Tinker Bell and Turbo's sheets. Strawberry prides herself on using every single color in the pack.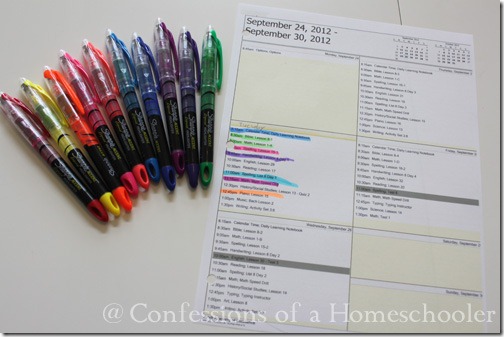 Pencils. We use pencils. A lot of pencils. And this year I've recently discovered the Ticonderoga pencils. I know they're not new, but they're new to me, and I'm in LOVE! These pencils sharpen perfectly, actually erase, last longer, and the eraser actually stays attached to the pencil, even after use by say someone like Turbo.
I always buy fun colorful pencils at the start of the year, and these pencils are so awesome that even my kids prefer them over the pretty ones when serious work is involved. I keep a sharpened caddy on my desk so that if someone needs one they can grab it. They'll simply lay the dull pencils on my desk so we can sharpen them and put them back in the caddy.
I use both the regular pencils, the Ticonderoga Red Correcting Pencils, and also grabbed some of the Tri-Write Pencils and the Beginner Wide Pencils to help with pencil-grip issues. Not sure they work for that, but they're more comfortable to according to Tinker Bell.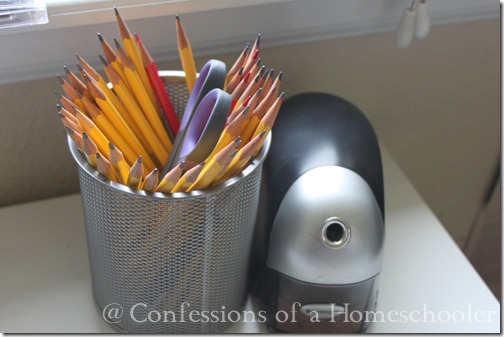 I also finally broke down and found an electronic sharpener. Really for me, with the amount of sharpening that goes on in our home, its just an essential product. We currently have the Bostitch QuietShapr Electric Sharpener – $23.62. For the most part I've been happy with this, but recently it decided to be weird, and now the sharpener runs constantly, so we have to unplug it when not in use, then plug it in to use it. Mildly annoying… Probably will try a different one after this one dies, but I'm just sayin' an electronic sharpener is nice to have around.
Stacking Files: These mesh stackable paper trays were found at our local office supply store. I have four of them, one for each of my kiddos. As they complete their work for the day, they put their work on a pile on my desk. I do my best to grade them immediately and hand them back for correcting, or sticker-izing…is that a word? Stickering…sticker-bedazzling…whatever. Once they're corrected and/or decorated, completed work is turned into these files. Really it's just a holding place so I don't have to put them in my 3-ring binders immediately because I'm lazy. Once they're full the work goes into the binders.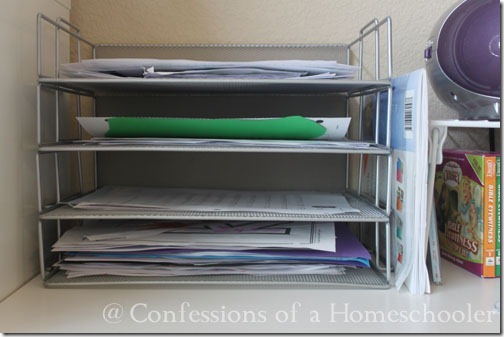 White Board: Until I win the lottery and get an electronic smart board, I've got this bad boy. It's a 5×8 white board that was picked up at a used sale for…..drum roll please…$5! No kidding! That's a deal in America man! And we use this…I mean U S E it! Actually I'm running out of room as you can see below, but whatever you do, I highly suggest a chalk or white board.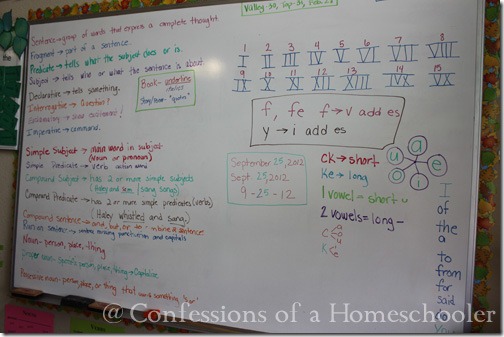 To go along with the whiteboard…I find Expo cleaning clothes and of course dry-erase markers useful. I happen to have a few of these Melissa & Doug erasers just because that's what was at the store when we went, but you can use anything you want. Even paper-towels will work. I don't use the white board wipes all the time, only when my board starts getting that left-over marker residue on it that won't wipe off with an eraser.
And no, I really don't use other brands of dry-erase markers. So far the washable ones I tried do not erase well at all, and other brands just don't show up as well on the board, so I haven't bothered. If you know of a wonderful brand that is less expensive please let me know!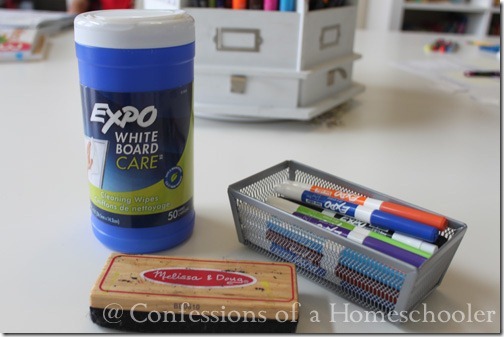 File folders: Lapbooks…organization…'nuff said.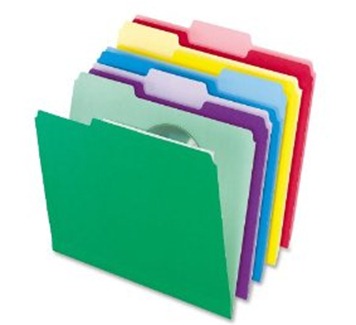 Reading Incentives: I've mentioned these before as well, but those of you who are new, these are our reading incentives! I visited ImageStuff and ordered a variety of reading incentive brag tags!You can see my full post on these gems in my homeschool reading incentive post.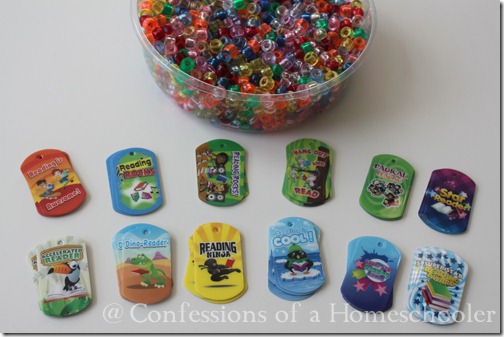 Alphabet Stamps & Ink: One of my new happy finds are these Hampton Art Ultra Washable ink pads. The Teeny Tot has been using the See and Stamp alphabet stamps from Educational Insights lately and I was sooooo happy to find washable ink! The other stuff gets everywhere and then doesn't come off easily so I always hesitated to let her use the stamps. Now I don't have to worry about it! Plus…they're scented which is so fun!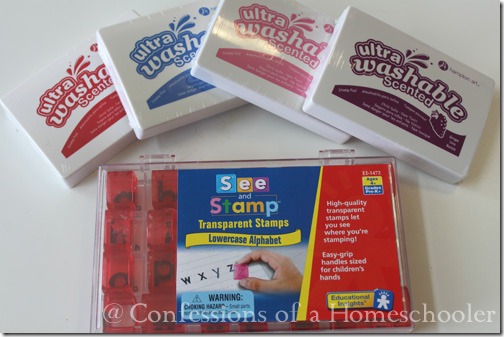 Storage:
The next shelving unit is the Expedit 25 cubbie shelving unit. This is one of my favorite storage units ever! The top row are all of my LOTW binders and our school work binders. I keep all of their finished worksheets in their annual binders, then at the end of the year, they go down to the basement for storage.
The next row of blue bins are books, lapbooks, then some other miscellaneous games and activities. Mostly for the Teeny Tot. The Blue Organizer Bins are from Lakeshore Learning.
The next row are one of my favorites. They are Small (10×11) Clear Document Cases from The Container Store. They house all of our manipulatives, math links, alphabet tiles, color cubes, lacing buttons, wooden shape blocks, etc, etc. We also put our art supplies in them which makes it very easy to store and access all of our supplies.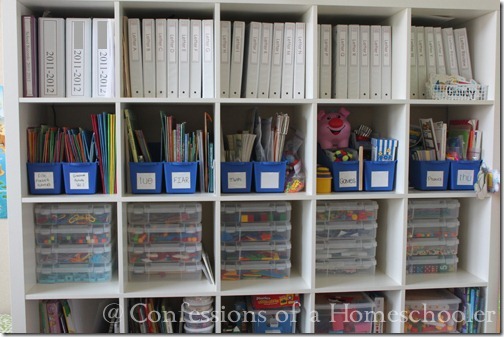 Small Manipulative Storage: I mentioned these little beauties in previous posts, but they're take-out containers from one of our local BBQ restaurants. I simply washed them out and now they house all of our tiny manipulatives that we use for preschool. It's great to be able to pull out one little tub for one of the Teeny Tot's workbox games.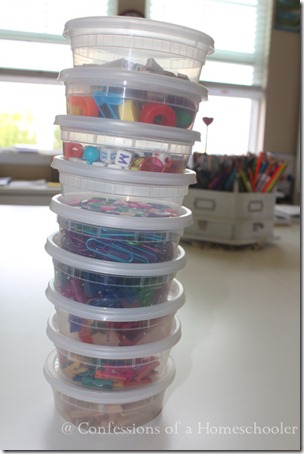 Storage and Record Keeping: Each year I use 3" 3-ring binders to store the schoolwork for each student for the year. I keep them in our homeschool room so I don't get behind in storing their work. As my file stacks get filled, I take all of the papers out and put them in these binders which will eventually make their way to the basement for permanent storage. The small pink one holds all of my information, attendance, product receipts etc. You can see details here in my storage and record keeping post.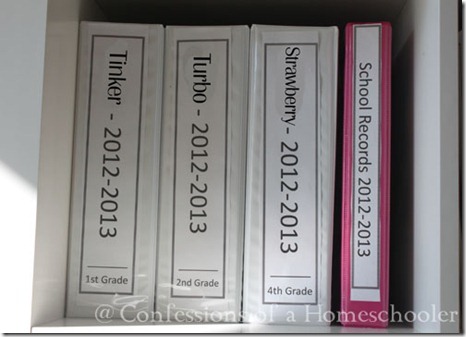 More organization posts that you might enjoy:
So those are some of my top picks for what it's worth!
Have a favorite supply you can't live without? Leave a comment below!
Disclaimer: This is not a sponsored post, all items were purchased with my own money, I just love them and wanted to share!