Hi everyone! I've had several requests to make a Calendar Printables Set, so here it is! I'm excited to present my Gingham Calendar Days!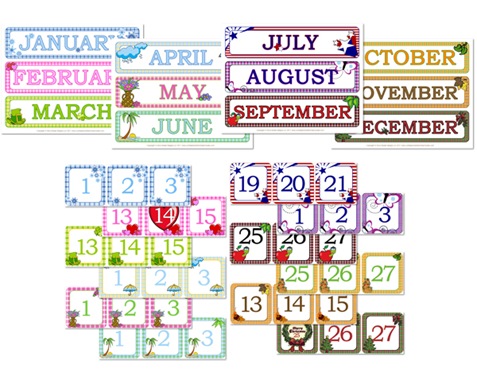 Click below to download:
(NOTE: If you are having troubles getting the file to download, please RIGHT click on teh above link then select "SAVE LINK AS". You will then be prompted to SAVE it to your hard drive. I also divided it into 2 downloads to make the file a little smaller. Hope that helps! )
What's included in the download?
The Gingham Calendar Days set comes with 12 Month Banners, and different themed Calendar Day cards for each month. There is also a page with Mon-Fri day titles so you can use these cards with a Pocket Chart instead of a Calendar Poster.
The calendar Month Banners are 2.5" x 10.5" and the Day Cards are 2.75" x 2.75" each. The cards will fit on most standard Calendar Posters (Approx 18" x 24" in size.)
Tips: I recommend printing on cardstock. Place 2 pages back to back (so the printed side is facing out on both sheets) then run through a laminator. Cut the cards and month banners apart. Use Velcro on the backs of the cards to stick them to your calendar.
What do we do for our daily Calendar Time?
We start each day with group time which includes our calendar activities. Several of the printouts you see here are part of my Letter of the Week curriculum. Here is what our "calendar area" looks like and some of our activities: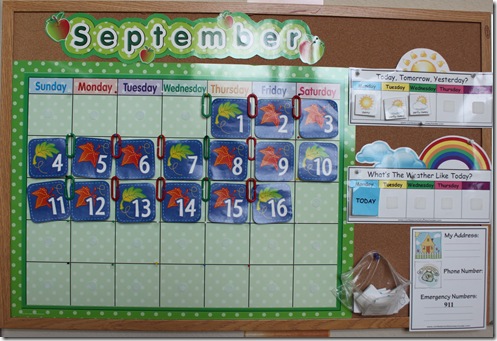 You can't see them very well, but there are small round velcro dots on the calendar poster in the blank spots. (My calendar is called "Polka-Dots" from Lakeshore Learning. I can't find it on their site, but found it at Amazon for you. That calendar only comes with one set of numbers.)
Pledge of Allegiance: We start each day with the USA Pledge of Allegiance, and we are in the process of learning the Biblical Pledge of Allegiance as well.
Memory Verse Review: Click here for my A-Z memory verses
ABC Song: This is only for my younger kids, but it never fails that the older ones like to sing it too!
Days of the Week song: (To the tune of Adam's Family")
Days of the week (clap clap)
Days of the week (clap clap)
Days of the week (clap clap)
Days of the week, Days of the week, Days of the week
There's Sunday and there's Monday,
there's Tuesday & there's Wednesday,
there's Thursday & there's Friday
and then there's Saturday!
Days of the week (clap, clap)
Alternate Days of the Week Song: (To the tune of "frere Jacque")
Today Is Monday, Today is Monday
All Day Long, All Day Long
Yesterday was Sunday
Tomorrow will be Tuesday
Let's have fun, let's have fun!
Month's of the Year song: (To the Macarena)
January (Right hand out)
February (Left hand out)
March (Right hand palm up)
And April (Left hand palm up)
May (Right hand on left shoulder)
June (Left hand on right shoulder)
July (Right hand on right ear)
And August (Left hand on left ear)
September (Right hand on left hip)
October (Left hand on right hip)
November (Right hand on right hip)
December (Left hand on left hip)
12 months in a year! (Hop in circle as singing)
Count our calendar:
Each day we add today's number card on calendar, then count up to that number. We also put up our colored math link to continue our pattern for the month. We also say the complete date: "Today is Friday, September 16, 2011"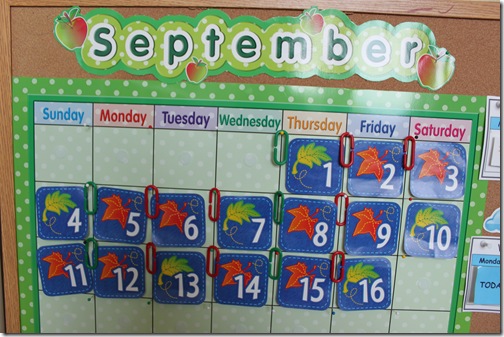 Today/Yesterday/Tomorrow: We discuss what today is, what yesterday was, and what tomorrow will be and update our chart:
Chart the Weather: Each day we chart the weather and discuss appropriate clothing, whether it is cold or hot outside. Then fill in a square on our Weather Graph. At the end of the month we discuss which type of weather we had the most of, least of etc.

Seasons Chart: We don't do this daily, but we do discuss the name of the season when we chart our weather and appropriate clothing. We talk about what kind of activities we do during each season as well.
Address: We review our Address and Phone Numbers:
For song & movement time we use one of these fun ideas: