Good morning everyone! I hope you are all having a blessed week. We have just finished our final week in our Ephesians Study! Wow, that went really fast and I can't believe it's over! I wanted to say that I am so blessed that so many of you showed up for our group! We had 648 ladies join our group, that is so cool!
I really hope this study blessed you all as much as it did me. I enjoyed seeing everyone's comments in the discussion group, and hope to be able to do this again sometime! So thank you all for participating, and I hope you enjoyed the study!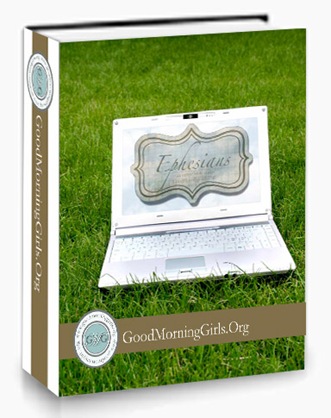 Ephesians 6:10-24 – "The Armor of God"

Finally, be strong in the Lord and in his mighty power. 11 Put on the full armor of God, so that you can take your stand against the devil's schemes. 12 For our struggle is not against flesh and blood, but against the rulers, against the authorities, against the powers of this dark world and against the spiritual forces of evil in the heavenly realms. 13 Therefore put on the full armor of God, so that when the day of evil comes, you may be able to stand your ground, and after you have done everything, to stand. 14 Stand firm then, with the belt of truth buckled around your waist, with the breastplate of righteousness in place, 15 and with your feet fitted with the readiness that comes from the gospel of peace. 16 In addition to all this, take up the shield of faith, with which you can extinguish all the flaming arrows of the evil one. 17Take the helmet of salvation and the sword of the Spirit, which is the word of God.

18 And pray in the Spirit on all occasions with all kinds of prayers and requests. With this in mind, be alert and always keep on praying for all the Lord's people. 19 Pray also for me, that whenever I speak, words may be given me so that I will fearlessly make known the mystery of the gospel, 20 for which I am an ambassador in chains. Pray that I may declare it fearlessly, as I should.

Final Greetings

21 Tychicus, the dear brother and faithful servant in the Lord, will tell you everything, so that you also may know how I am and what I am doing. 22I am sending him to you for this very purpose, that you may know how we are, and that he may encourage you.

23 Peace to the brothers and sisters, and love with faith from God the Father and the Lord Jesus Christ. 24 Grace to all who love our Lord Jesus Christ with an undying love.
Our study comes to a close this week as Paul gives us some tangible things we can do to guard ourselves in this world. I don't know if you've noticed yet or not, but there can be some opposition to the choice to homeschool. Mostly from those close to us…family, friends, neighbors who may not totally agree or understand the choice. And sometimes the opposition can even come from deep inside ourselves, as we too can be doubtful of our decision.
The one thing that Paul doesn't tell us in this book, is that the Christian life will be easy. Instead we know that we'll be challenged regularly, and that we'll experience trials. But we can also rest knowing that He has overcome this world, and He has given us the tools we need to be guided through it as well.
I went through my own season of doubt and trial when we first started homeschooling. I was only semi-compliant to the choice for the first couple years. I always had public school to fall back on as a safety net if I needed it. I had the same stereo types that most people do, even criticized my homeschooling neighbor stating to my husband that "I would never do that [homeschooling] to my kids!" As though it were some sort of death sentence or something! I asked the same silly questions I hear all the time now about the dreaded "S" word… "Socialization" ugh. That along with my superficial and vain conceit coming through as I was concerned we might actually "look" like homeschoolers at some point, and the all too familiar self-doubt that most likely plagues us all.  I had a couple big hurdles for me to get over…
It wasn't until a couple years ago that my husband and I really decided to commit to this calling and homeschool for "real". I think up until that point I was just testing the waters so to speak, and my kids were young enough that I figured I wasn't doing much harm. But as the years passed by, and I saw the results of our efforts, I slowly became more convinced that this was indeed our true calling. You can read all about my struggles here in my Candid Conversation with God.
I have to say that looking back I can now see how my God is so patient with me, with my preconceived notions. I can imagine that He must have been chuckling to Himself, wondering why I've chosen to waste so much of my time will silly pointless concerns. But hind sight is 20/20. The year that we sat down and really committed to it was one  of the best years we've had. I've since repented for my half hearted obedience to what I knew was a clear calling on my life and never turned back.
It was then that we sat down and wrote out our reasons for homeschooling.  I needed to have something concrete that I could look back on when times were rough, to remind me of why we chose this path. Something that would set my priorities straight when I had criticism from others or from myself. Every home is different, and I think it's beneficial to take a minute to jot down your goals so you have something to help keep you going. You can read Why we homeschool here.
As homeschoolers we need to be prepared to take criticism for choosing a path less traveled, one that is different than the norm, and stand firm in our choices. Putting on the full armor of God along with our fervent prayers will keep the self-doubt and criticism from crumbling our calling.   I love how the armor of God protects our whole body, He leaves no weak spot for infiltration. He leads us, teaches us, and then fully equips us, so we can face each new day with confidence and strength!
Thank You!
I want to take a minute to thank all of you who entered into this study with our group, you have all been a blessing! Along with Good Morning Girls for hosting the study, they are an amazing witness to the Love of God! And since Paul said it best…Peace to the brothers and sisters, and love with faith from God the Father and the Lord Jesus Christ.  Grace to all who love our Lord Jesus Christ with an undying love.

If you didn't have a chance to do this study with us, don't worry, it's not too late! You can definitely go through the study on your own time. Feel free to so start fresh this week and commit to spend time in the Word each day! You will be blessed for any time you give to the Lord, so don't sell yourself short, or condemn yourself for not keeping up! Each day is a new opportunity to start fresh and dig into the Word to see what God has for you!
Download the GMG Ephesians Study Guide FREE
Sign up for the Good Morning Girls email list so you can stay in touch with future studies!
Can't wait to see what's next?
If you're already interested in the next study Good Morning Girls is doing, they made the big announcement this week! This summer they will be going through The Proverbs 31 Woman: One Virtue at a Time by Courtney Joseph! (www.womenlivingwell.org) I downloaded this study awhile back and it's wonderful! Courtney has a heart for God, and her blog is devoted to encouraging and blessing others, even if you don't have time for another study right now, I highly encourage downloading her free eBook!
Subscribe to Courtney's blog and receive her ebook for FREE!
Plan ahead for in the next study: