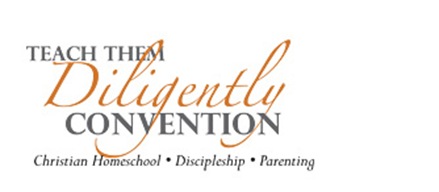 Do I have any South Carolina readers out there? Check out www.teachthemdiligently.net for information on a great homeschooling convention!
"Teach Them Diligently" is offering a discount for my readers of $5 off the already low Early Bird Registration at The Teach Them Diligently Convention in Spartanburg, SC., March 15th-17th, 2012, at the Spartanburg Expo Center.  Your whole family can attend for $25 with the discount!! The facility is very convenient, located an hour from Columbia, Asheville, and Charlotte, and thirty minutes from Greenville.  The keynote speakers are Voddie Baucham, Ken Ham, and Doug Phillips, and there will be more informative workshops than you can attend.  With a large vendor hall to shop, great speakers, informative workshops, and great children and teen programs, this will be one of the best homeschool conventions in the nation.  Please visit their website at www.teachthemdiligently.net to register today!
Just place FRIEND in the promo code for the discount.   Offer expires October 31st, 2011.

Some of the additional features of the Convention are:
Children's Program featuring Kidz Vision and based on Pilgrim's Progress and the armor of the Lord running Thursday and Friday.  The Children's Program is for ages 4-11 and will include combined sessions and breakout sessions that are age specific.  There will be crafts and a teaching time in the breakout sessions.
Filmmaking Track featuring Stephen Kendrick, producer of Fireproof, Facing the Giants, and Courageous.  Also, including Doug Phillips who is the founder of the San Antonio Independent Christian Filmmakers, and Ken Carpenter of Family Springs Media and Shatterpoint, creators of Jericho.
Special Needs Track featuring Joni & Friends.  Also including Heather Laurie of specialneedshomeschooling.com, Pamela Berthume, and Ellen Doman of National Association of Child Development.
Homeschooling and Politics Roundtable presented by South Carolina Home Educators Association (SCHEA).  This is an opportunity for homeschooling families to interact with legislators in South Carolina and nationally on homeschooling.  Roundtable will be moderated by Orin Smith of Palmetto Family Council.
Classical Education Track presented by Classical Conversations.  Classical Conversations is the premier classical education organization in the country and will present the popular method to families interested in introducing it to their home.
There are many other great opportunities such as a Teen Program, Men's Breakfast, Daycare for babies and toddlers, and many others at the Teach Them Diligently Convention, March 15th-17th, 2011.  Please check their website at www.teachthemdiligently.net for more info.