Hi everyone! The
GMG Ephesians study
starts today!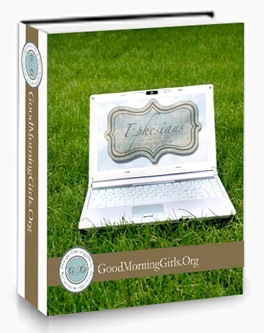 Some things to do if you haven't already:
I'd like to encourage you all to subscribe to the
Good Morning Girls
blog so that you will receive their M-W-F posts to keep up with what is going on with the study.
Tomorrow we'll start week 1 in the SOAP reading plan, so make sure to stop by GMG and download your study if you haven't already!
And finally, make sure to stop by our Facebook group to keep up with the discussions! I'm hoping to use the group as a way to discuss, share, encourage, and lift one another up during our study!
Looking for a discussion group to join?
If you're still looking for a group to join, stop by and join in with our
Facebook group
, don't worry if you're late, we'd love to have you!
Here's the schedule for those of you who are interested:
Assignment for today:
I'd like to start off today by doing a little introduction so we can get to know who we have participating! Feel free to share your blog if you have one so we can learn more about you!
Something simple like this:
Most of you know me already, but if not, I'm Erica and I blog at

www.confessionsofahomeschooler.com

. I am a Christian, mom, homeschooler, and digital designer! I look forward to meeting all of you and growing in Christ together as we study through Ephesians! God Bless!
Your turn!
I'm looking forward to meeting everyone, so make sure to take a few minutes to introduce yourselves to us! And don't worry if you haven't signed up yet! There's still time, just download the study and hop over to my facebook and "attend" our event!
If you don't have facebook, make sure to go over to Good Morning Girls and click on "Message Board". There you will find instructions to join a group via their forum!
Blessings Sisters!